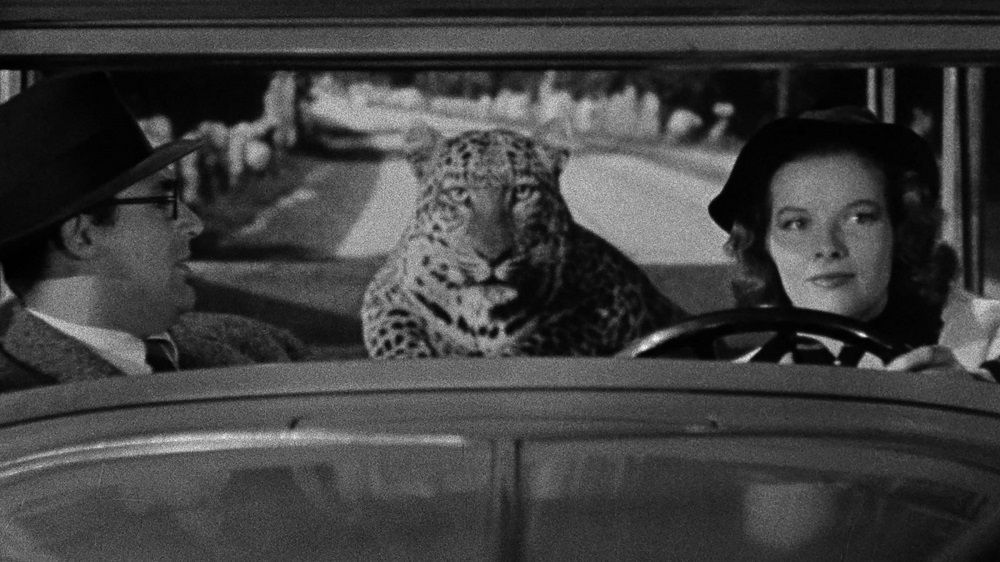 Bringing Up Baby: Childhood memories, "third grandmothers," and celebrating the 85th birthday of an essential Grant-Hepburn screwball classic
NOTE: This feature originally appeared in the February 24, 2023 edition of the Seattle Gay News. It is reprinted here by permission of the publisher Angela Craigin.
If you catch me on the right day and ask what I think the best comedy of all time is, it's very likely I'll say it's 1938's screwball classic Bringing Up Baby. At a minimum, I'll proclaim this Howard Hawks masterpiece the most consistently laugh-out-loud funny motion picture I've ever seen, and that alone puts it in the upper echelon of the genre as far as I'm concerned.
But it's the memories I associate with this farcical bit of goofy nonsense that makes the film so special. I remember watching this Cary Grant/Katharine Hepburn lark when I was still in elementary school. I was over at my elderly next-door neighbor Alice's house (more than likely batting my eyelashes and fishing for some candy or an orange soda). The movie was on her television, and I sat down to watch it.
I can't say if it was four-year-old me who adopted her or the other way around. Either way, Alice was like having a third grandmother. She became my mom's confidant. She poked and prodded my dad in ways that continually brought a smile to his face, even on his down days. She was at the hospital when my little sister was born, even though she rarely left her house. She put me to work removing dandelions from her yard, mowing her grass, and shoveling snow off the sidewalk, all the while slipping candy bars or a random $5 bill into my pocket without my parents' knowledge.
From the second we moved to Spokane and into the neighborhood, Alice was a de facto member of the family.
She always had her television on when I visited, but it wasn't like she consistently watched certain channels or programs (other than The People's Court; dang, she loved that show). Since she lived alone, I believe Alice liked having the background noise. She's one of the few people I know who could voraciously read while having the TV or radio loudly blaring in the background. I feel like I picked that trait up from her, as I can do the same.
I recollect heading over to Alice's house one day after school. I had to have been in first or second grade, as this was long before I started regularly doing yardwork or coming up with "reasons" to pay a visit. No, I was young enough that I could show up, knock on the door, chirp out a happy "hi!," give a quick hug, and then quickly skip across the driveway back to my house.
This time, when I went through the door, there was this crazy black-and-white movie on Alice's television with two people chasing after a leopard (which I kept calling a tiger for some reason). This was the silliest thing I'd ever seen. There was a tiny dog frantically burying things in a yard, and everyone seemed to be trying to find a missing dinosaur bone. I sat down on Alice's crocheted rug, transfixed, giggling madly for the longest time. Eventually, my mom was at the door wondering what had happened to me, and I immediately began to babble nonstop about the "tiger," the funny dog, the ridiculous people, a second "angry" tiger, and the giant dinosaur that collapsed into a million pieces.
This was my introduction to screwball comedy, and it unquestionably left a mark. When I got older and started snagging films out of the library on my own without needing my parents' permission, Bringing Up Baby was one of the first I brought home. As a teenager, I watched it with fresh eyes. I could see how dynamically it was paced, the pinpoint comedic precision of the performances, and the dexterous creativity that drove Hawks' confident direction. I found layers that went far beyond "two zany adults fall in love while trying to capture a tame leopard."
It was an exquisite revisit, and from that second glance on, I knew the film would rank as one of the best I'd ever see, no matter how many thousands of features I'd watch in the decades to come.
The great thing about this experience is what seeing it again led to next. His Girl Friday, The Lady Eve, The Philadelphia Story, To Be or Not to Be, Sullivan's Travels, Holiday, It Happened One Night — all of these and more I discovered in my early days of high school. The film made me fall in love with Cary Grant, and from The Awful Truth to I Was a Male War Bride to North by Northwest to Monkey Business to Charade to Gunga Din, if I could find a picture with him in it, it was pretty much a guarantee I was going to watch it.
Much has been written about Bringing Up Baby and its undeniable greatness, notably how it was Hepburn who was labeled "box office poison" when it initially flopped and not Grant, and I don't have anything new to add. There is a reason this comedy has withstood the test of time and why its humor hasn't been diluted. Hawks, along with screenwriters Dudley Nichols and Hagar Wilde, deserve every ounce of credit they've received over the eight-plus decades since the film's original release.
Alice never had the passion for cinema that I did. I honestly don't know if I ever saw another movie on her television, so this was an utterly random occurrence. As I grew older, she would, with a fascinated smile, kindly listen to me talk rhapsodically about whatever it was I had recently watched, but I always knew she was doing so out of kindness and love and not actual interest. It was that I was taking the time to share with her that mattered, and I don't think I fully knew how important that was until I left for the University of Washington and could no longer make my random visits to her front door.
Unbeknownst to me, Alice read everything I wrote. When I became the first teen film critic for the Spokesman-Review, she collected all of the newspapers my stories and reviews appeared in. I had no idea. Before I left for college, she and my mom secretly collaborated on a project. They created a portfolio with each article, every piece carefully snipped out of the paper, laminated, and bound together as if it were a giant coffee table book. It's magnificent. I treasure it to this day.
When Alice passed after almost a full century of living an extraordinary life, I think I watched Bringing Up Baby five or six times over a single weekend. I'm pretty sure my roommate at the time wanted to throttle me. No matter. As great as this comedy is, it is these personal connections that I treasure the most. It is my link to my beloved "third grandmother" that makes the film not just unforgettable but a vital piece of my heart I'll hold on to for the rest of my life.
Now celebrating its 85th anniversary, Bringing Up Baby is available on Blu-ray and DVD and to purchase digitally on multiple platforms. It is currently streaming on HBO Max.