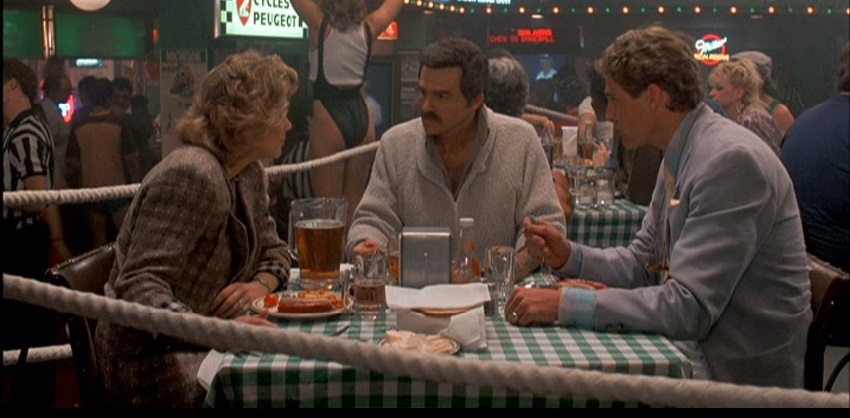 Switching Channels: Gender roles, the nightly news, and political malfeasance all vie for the front page in a forgotten 1988 screwball romance worthy of reappraisal
NOTE: This feature originally appeared in the March 31, 2023 edition of the Seattle Gay News. It is reprinted here by permission of the publisher Angela Craigin.
March of 1988 was a sneaky-great time to go to the multiplex. Director Gabriel Axel's Danish Academy Award winner for Best Foreign Language Film, Babette's Feast, went into general release. Future classics Beetlejuice, The Milagro Beanfield War, Biloxi Blues, and Stand and Deliver all opened to critical raves and box office success. Eventual cult favorites made their debuts, like directors Annabel Jankel and Rocky Morton's D.O.A. remake and the risqué teen comedy Johnny Be Good with Anthony Michael Hall, Robert Downey Jr., and Uma Thurman. Heck, there was even an entry in the long-running (if god-awful) Police Academy series.
As worthy as the majority of those titles are for 35th-anniversary celebrations, the March 1988 film I want to shine the spotlight on is director Ted Kotcheff's Switching Channels, starring Kathleen Turner, Burt Reynolds, and Christopher Reeve. I'm not sure why I have watched it so many times over the years — I just have, and whatever the reason, every time I do, the darn motion picture makes me smile as if I were watching it for the first time.
I get it: Kotcheff's 24-hour cable news slapstick farce is another remake of 1931's The Front Page. It is a film that makes no attempts to hide how much it's also cribbing from the screwball heavyweight titan, 1940's undisputed classic His Girl Friday, directed by Howard Hawks and starring Cary Grant, Rosalind Russell, and Ralph Bellamy. If judged solely on how it compares to those two masterworks, for all of Turner, Reynolds, and Reeves' chemistry and modern-day movie star panache, it understandably comes up short.
But so what? Turner, fresh off of a string of masterful performances in works as varied as Body Heat, The Man with Two Brains, Prizzi's Honor, and an Oscar-nominated turn in Peggy Sue Got Married, was at the height of her creative powers. Reynolds, a terrific comedic talent when challenged and forced to interact emotionally with his co-stars and not float by on his trademark smile and cocksure (some might say smarmy) charm, is as lively and as engaged as he ever was during the latter half of the 1980s. As for Reeve, he was always an underrated physical comedian (take a look at Deathtrap and Noises Off), and he showcases those gifts magnificently as the third point of an aggressively sexy love triangle.
Yet my connection to Switching Channels runs deeper than my affinity for this trio of above-the-title stars. By the time Kotcheff's comedy was released, I was fully suppressing my issues regarding gender identity and was tragically attempting to transform myself into the stereotypical "all-American boy" I felt like my parents, teachers, and friends all wanted me to be. It was a constant struggle, a battle to destroy feelings, traits, and tendencies I'd had long before I even knew they were there in the first place.
Along came this comedy. Superman himself plays a snobby, slightly effeminate fuddy-duddy who also happens to be an incredible athlete and is the owner of a slew of sporting goods stores worth millions. Reynolds, fast-driving Smokey, is a laid-back lout who comes to realize that hiding behind his quick wit, barked orders, and sycophantic grin may get him a terrific lead story for the 6:00 p.m. newscast but will also likely lose him the heart of the love of his life forever. Turner, the quirky damsel-in-distress who transformed into a fearless treasure hunter in Romancing the Stone, is fiercely feminine, unapologetically strong-minded, and resolutely determined to be the smartest person in the room no matter what.
I responded to all of this. My freshly teenage mind marveled that two giant, unabashedly masculine superstars like Reynolds and Reeve would play second fiddles to Turner, and in the process be systematically emasculated with gigantic grins on both their faces. I loved that the female lead didn't have to be any one thing, that she could stand up for herself with zero shame, still dress like a million bucks, and eat greasy hot dogs and runny cottage cheese with plucky abandon. Stereotypical definitions of masculinity and femininity were social constructs meant to be exploded. Considering all I was concealing in my personal life, this was a fantasy I eagerly embraced.
While I obviously still hold Switching Channels in high regard, I'm not about to herald it as some misunderstood masterpiece or comedic marvel that should be spoken about in the same breath as either the original The Front Page or the far-ahead-of-its-time His Girl Friday. Kotcheff's direction is not nearly as confident as it needs to be. Jonathan Reynolds' efficient, if not altogether inspired, screenplay hits a few risibly sour notes, and anytime Turner, Reynolds, and Reeve aren't the focal point, things noticeably drag.
None of which changes my feelings that this remake got a raw deal in 1988, and it continues to be frustratingly forgotten 35 years later, although all three of its leads — two of whom are sadly no longer with us — remain household names. Notably, I'd go further and state that this is one of Turner's finest performances, her level of commitment to the material and what she does with it frequently astonishing.
But it's my personal connection to Switching Channels that keeps me coming back three-plus decades after its original release. While it's a product of the 1980s, there are still several elements that remain progressive even by today's 21st-century standards. What it says about gender roles, political malfeasance, and the absurd power of major news outlets owned and operated by wealthy special interests is as prescient as ever.
Most of all, though, it's just plain funny, and that's the biggest reason I find Switching Channels unforgettable, and that's really all I need to say.
Now celebrating its 35th anniversary, Switching Channels is available on DVD and to purchase digitally in HD on multiple platforms.