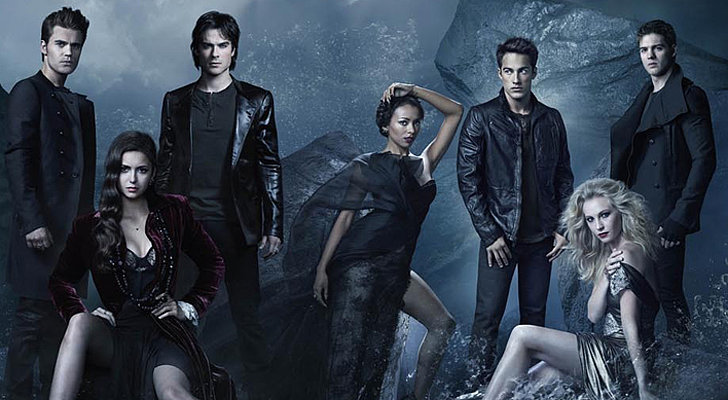 How does the Blu-ray/DVD Disc stack up? (all ratings out of 10.)
Movie
Video
Audio
Extras
Overall
SYNOPSIS
Bonnie (Kat Graham) and Damon (Ian Somerhalder) are trapped on the Other Side. Stefan (Paul Wesley) is on an extended road trip ostensibly searching for answers. Caroline (Candice Accola) has left school in order to try and solve the mystery surrounding the magical force field keeping supernatural beings out of Mystic Falls. Matt (Zach Roerig) has joined a community watch making sure things remains quiet inside the town's borders. Jeremy (Steven R. McQueen) has given up being a Hunter, is barely going to school and has turned to alcohol and sex to quell his depression and despair. And, while Alaric (Matthew Davis) is back in the land of the living, he's also now a vampire, Elena (Nina Dobrev) doing what she can to help him find solace in being a member of the undead even if it's the last thing he ever wanted to be.
CRITIQUE
Season 6 of The Vampire Diaries has a lot on its mind, just not a lot that feels original, fresh or new. Same time, it has just enough energy, just enough heat, to make it through 22 episodes with decent enough aplomb, everything building towards a final episode that says goodbye to the show's main character – Elena Gilbert – while also setting up a number of intriguing possibilities for where things could go next.
The stuff dealing with the supernatural barrier surrounding Mystic Falls isn't dealt with in a satisfying manner, and that's just unfortunate. Additionally, it sets up an interesting way for vampires to deal with their own mortality – and potentially return to being human – that's dismissed so quickly, and so stupidly, one wonders why the showrunners thought it was a good idea to head that direction in the first place.
Granted, they do so because, if they don't, then the central romance between Alaric and hospital physician Dr. Jo Laughlin (Jodi Lyn O'Keefe) cannot come to pass, so I'm tempted to forgive them because, without a doubt, this is easily the season's strongest subplot. Their relationship builds slowly, believably, making the emotional traumas to come resonate with far more oomph than they would have otherwise. Davis and O'Keefe have sublime chemistry, and it's a shame the season does what it does with the latter never giving her or her character the room to shine like I found myself hoping it would.
Bonnie's plight on the Other Side takes forever to come to a climax, her return to Mystic Falls moderately anticlimactic. Jeremy is given nothing to do for the entire season, almost as if the writers were ready to get rid of him long before the final episode. Stefan is also particularly uninteresting this season, and save for a brief relapse where he's forced to turn off his humanity there's little room for him to maneuver and evolve.
Thankfully, Caroline's arc is a good one, and while certain elements recall a bit too much of a classic subplot from season 5 of Buffy the Vampire Slayer that doesn't lessen just how terrific Accola during the entirety of these 22 episodes. Her chemistry with Marguerite MacIntyre, returning once again as her character's mother Sheriff Liz Forbes, is superb, making what transpires all the more heartbreaking thanks to their divine emotional synchronicity. If anyone is the star of this season it is her, the actress getting all the juiciest moments going out of her way to make the most out of them as she possibly can.
As for Dobrev's exit, I'm of multiple minds on what to think of it. I like how much of the final episode plays, the way Elena is dealt with and how she is finally allowed to be herself again. At the same time, it's pretty silly the way the writers cut her from the show but also leave the door open for the character to return if the actress ever feels like she wants to, the last 10, maybe 15 minutes of the episode to cute for their own good. It's something of a minor copout, no one wanting to do anything definitive knowing that by doing so they could have potentially angered legions of fans even if by going the route they do it cheapens the character's heroics over her six season adventure and makes her something of a delicate flower in need of being saved instead of the strong, selfless young woman she'd evolved into over the course of 130-plus episodes of television.
Same time, by getting rid of the show's main character, its raison d'etre, if you will, it does set up numerous intriguing possibilities for The Vampire Diaries to travel to next. With Stefan and Damon's long-lost mother (a luminous Annie Wersching) suddenly part of the mix, and with Caroline given more to do than just be a bitchy comic relief blonde bombshell, and most of all with Alaric looking ready to go on the war path, season 7 has the potential to be one of the more intriguing this show has offered up yet. Here's hoping it can rise to the occasion.
THE VIDEO
Season 6 of The Vampire Diaries is showcased on 4 dual-layer 50GB Blu-rays with MPEG-4 AVC encodes and 1.78:1 1080p transfers.
THE AUDIO
These Blu-rays feature English DTS-HD Master Audio 5.1 soundtracks as well as Portuguese Dolby Digital 2.0 and Japanese Dolby Digital 5.1 tracks, each coming with optional English SDH, French, Spanish, Danish, Finnish, Korean, Norwegian and Swedish subtitles.
THE EXTRAS
Extras here include:
Audio Commentary with showrunner Julie Plec on Episode 15, "Let Her Go" – Series co-creator and frequent writer Plec provides an engaging and informative commentary track for one the season's most notable episodes, one which also proved to be her directorial debut.
The Vampire Diaries: Good Bite and Good Luck – Cast and crew say goodbye to cast members Nina Dobrev, Steven R. McQueen, Michael Trevino and Marguerite MacIntyre, all of whom exited the show by the climax of the sixth season.
The Vampire Diaries: Best. Reactions. Ever. – Amusing piece with members of the cast reading hyperbolic tweets from viewers one assumes were posted while watching the tweeted about episodes during their initial airing. Funny stuff.
2014 Comic-Con Panel – Fairly typical Comic-Con fluff with the cast and crew fielding questions from a packed auditorium eager to cheer, laugh and do what fans do at these sorts of things.
Unaired Scenes – Not a lot of them. More, they're not particularly interesting.
Come Visit Georgia PSA – Exactly what it says it is, nothing more, certainly nothing less.
Second Bite: Gag Reel – As per usual, this (way too long) gag reel isn't particularly amusing or funny, not that longtime fans of the show are probably going to care. 
A Digital Copy of Season 6 is included with the release. 
FINAL THOUGHTS
The Vampire Diaries is getting a little long in the tooth (pun intended), and many of its more notable plot points are noticeably recycled from similar, and better, programs (most notably Buffy the Vampire Slayer and Angel). Still, there are plenty of effective episodes, and bringing Matthew Davis back a series regular was an exceedingly good idea. More, it will be interesting to see how the show does now that Dobrev has exited, and while her sendoff wasn't perfect it is just good enough to provide a spark of curiosity as to where the residents of Mystic Falls – most notably Damon and Stefan – go from here.