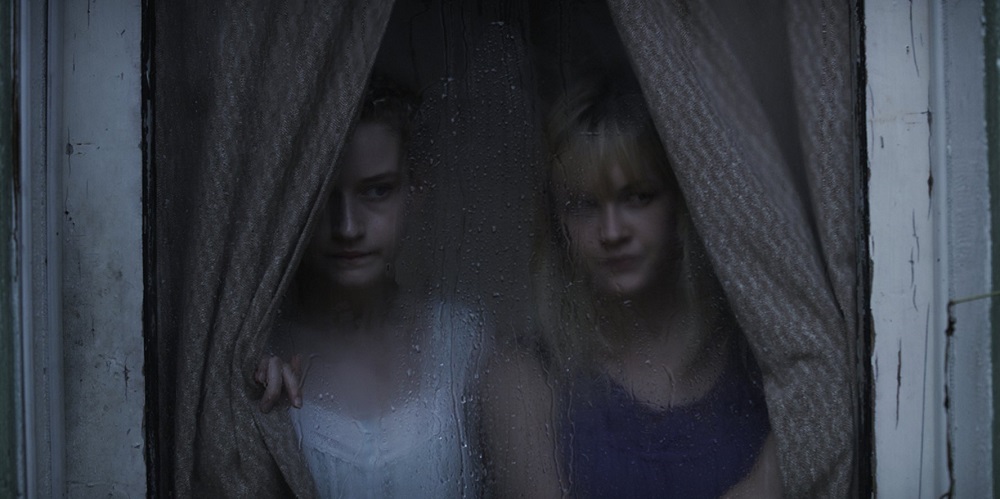 We Are What We Are a Horror Remake Worth Devouring
Emma Parker (Kassie DePaiva) is dead. The victim of a freak accident while she was out shopping for supplies to help her family weather an upcoming storm, daughters Iris (Ambyr Childers) and Rose (Julia Garner) would be beside themselves in grief if they didn't know they had to take care of their younger brother Rory (Jack Gore) while also making sure their devastated father Frank (Bill Sage) doesn't fall to pieces. Additionally, Lamb's Day is upon them, and if they don't follow the sacred rituals passed down through their clan for generations even more calamity will certainly befall them all. As she is the oldest, it is Iris's responsibility to make all preparations for the holiday, but not having had enough time with their mother to learn everything she needed to know there's no way she can finish all of the sacred tasks without Rose's assistance.
I'm not going to say anything more as far as plot goes as it pertains to director Jim Mickle's creative and inspired remake of the 2010 Mexican horror feast We Are What We Are. He and writing partner Nick Damici (Stake Land, Mulberry Street) outdo themselves by composing their most ambitious and confident motion picture yet, staying true to the general concept and overall themes of filmmaker Jorge Michel Grau's original while also going in a direction entirely of their own design. They've crafted an unsettling rural treasure of suspense, tension, gore and emotion that grasped me by the throat for the majority of its 105-minute running time, everything building to an explosively audacious conclusion that took me by complete surprise.
The film itself is as slow a burn as they come. Mickle builds things gradually, with precision, allowing each piece to fall upon the next with shocking ease. Keeping things centered on Iris and Rose, he allows this mysterious family drama to play itself out naturalistically, the true horror of what they are going through only coming to fruition right at the end as all hell starts to break lose. There is nothing clean about any of this, that fact alone allowing the inherent emotional nuances of the piece to come to life as they never would have otherwise, the bonds of sibling togetherness and love the movie revels in both heartwarming and horrific at the exact same time.
Mickle and Damici's screenplay is a model of efficiency, each character's motivations coming from a place of gut-wrenching authenticity making the grave situations everyone connected to the Parkers finds themselves facing all the more abhorrent. Iris, Rose and Frank are as complex as they are contradictory, all three feeling compelled to take actions that border on unforgivable yet still seem understandable when taken in full context of the lives all of them have lived up to this point. The tragedies circulating around the family filter through every moment, the emotions spilling forth permeating my cellular structure, even when the narrative lost a little of its urgency and lost a some bit of its eerily unsettled focus.
The performance are great. Sage is as creepily unnerving a father figure as any to grace a theater screen this year. He's a force to be reckoned with yet still remains a loving parent who understands the strain he's putting his two daughters through in forcing them to maintain the family's religious customs in the wake of their mother's tragic death. As monsters go, he's disturbingly human, his theological dogmatism threatening the Parkers's survival in ways he barely comprehends let alone has the ability to control. Sage brings all of this to robust life, his last scenes filled with a serene rage-filled love for his little girls that sickened me to my core right while it also brought a quiet tear to my eye thanks to its demoralizing sincerity.
The rest of the cast is equally outstanding, Michael Parks great as the town's nurturing if still inquisitive coroner who begins to make inquiries that could eventually lead to his unearthing what happened to his own missing teenage daughter. Kelly McGillis also plays a pivotal part, her next door neighbor allowing her heart to reach out in way that could prove lethal if she doesn't keep her more motherly instincts in check. As for both Childers and Garner, they're wonderful, but as strong as each actress is I find I don't want to wax too poetic about either of them in order to keep their emotional shifts as they consider what to do in regards to their family's safety as big a mystery as I can.
There are some flashback sequences revealing the whys behind the Parkers's once-a-year dinner plans that aren't necessary, a few scenes between Childers and Wyatt Russell, playing the town Deputy smitten with his former classmate Iris, are shoehorned into the production rather inelegantly. Also, while I appreciate the understated tone and the measured pace, I can't deny the film does feel a little long, and I can't help but think that a few judicious trims would have augmented the crushing tension the story soaks in rather nicely. Still, as remakes go Mickle and Damici nail this one rather spectacularly. They've done a superb job making We Are What We Are palatable for a whole new type of audience eager to gorge on the banquet put before them, this gore-filled family feast a genre treat many will want to a second helpings of.
Film Rating: 3½ (out of 4)