Unsurprising Arbitrage Showcases a Powerful Richard Gere
Respected hedge fund manager Robert Miller (Richard Gere) isn't the model of perfection he works very hard to appear. He's made a couple of bad calls this past year, hiding hundreds of millions of dollars in losses in the hopes that an expected merger with another company will erase his debts and keep his hands clean in the eyes of the FCC. His children Brooke (Brit Marling) and Peter (Austin Lysy), heirs to the company throne, don't have the first clue as to what he's been up to. Neither does his wife Ellen (Susan Sarandon). All they know is that Robert's been acting strangely of late and is being exceedingly cagey about the family's financial holdings, leading them all to understandably suspect he's up to something.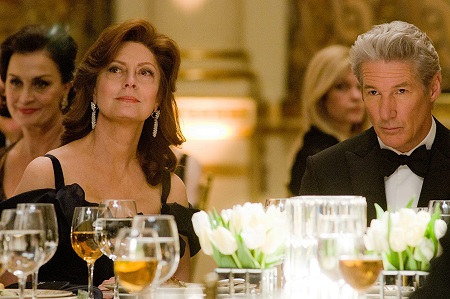 It gets worse. Robert's been having an affair with beautiful French artist Julie Côte (Laetitia Casta), but when a late-night drive home goes horrifically wrong the Wall Street wizard finds himself in the middle of another cover-up potentially even more dangerous than his financial indiscretions. Turning to the troubled son (Jimmy Grant) of a former friend for help, they attempt to cover-up this roadside tragedy. Their best efforts notwithstanding, the pair have managed to attract the attention of NYPD Detective Michael Bryer (Tim Roth), and he's determined to discover the truth no matter what the cost.
Writer/director Nicholas Jarecki's main claim to fame is that he co-wrote the atrocious The Informers, the all-star 2008 adaptation of the Bret Easton Ellis novel directed by Gregor Jordan. On a positive note, he also directed the quite good 2005 James Toback documentary The Outsider, following in the footsteps of his documentarian siblings Andrew Jarecki (Capturing the Friedmans) and Eugene Jarecki (Why We Fight).
With Arbitrage the filmmaker tackles themes present in both his previous works while also attempting to move into dramatic territory that speaks directly to the here and now. Using the 2008 financial collapse as a backdrop, Jarecki paints a frigid picture of wealth and power struggling to keep its head above water, a man on the edge pulling out all the stops to do what he feels is right both for himself and his children.
The good news? Richard Gere dominates the film in a way that makes it feel immediate and genuine. His performance is superb, mining depths and going into dank, dark territories a lesser actor would do their best to avoid. He doesn't worry about making Robert redeemable and doesn't dwell on trying to make the audience sympathize with his plight. The actor does all he can to make him authentically three-dimensional, the financial titan uses one hand to fill in this self-created ditch while the other caresses the shovel that originally dug the hole.
As great as he is, and he is legitimately fantastic, we've seen facets of this game from him before. It isn't like the actor isn't covering any new ground, elements of everything from Pretty Woman, to An Officer and Gentleman, to Unfaithful, to Shall We Dance helping to make up facets of Robert's personality. Particularly as things revolve around the affair, the crashed car and the subsequent cover-up, there's not much new here, Gere's determined forcefulness noticeably rising above the rote predictability of this facet of Robert's story.
Still, from multiple standpoints the movie is a first-class effort. The talented Marling shines in her small but pivotal role as Robert's trusted daughter, while Sarandon brings unexpected layers to the otherwise thinly written Ellen. Only Roth fails to impress, and while his performance is perfectly fine, it's not like he's venturing too far beyond tropes and tricks we've come to expect from him in everything from his Oscar-nominated turn in Rob Roy to his three-year stint headlining Fox's "Lie to Me."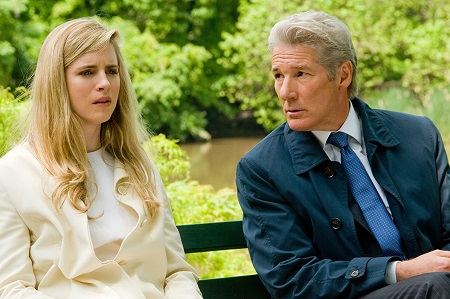 As far as the financial stuff goes, the memory of J.C. Chandor's outstanding Margin Call haunts this one something fierce as it covered similar ground in far greater detail and with much more panache just last year. I kept having the feeling that Jarecki wasn't particularly interested in the Wall Street angles, throwing them in to give the picture a hot-button hook indicative of recent headlines analyzing the 2008 financial crisis.
It isn't like Arbitrage is a bad movie. It's too well-acted, especially by Gere, for that to be the case. But for as confident as Jarecki's handling of it all might be, and as breezily paced as the story is, it's just too hard to get past the inherent sense of dramatic déjà vu that permeates the production. The film is largely enjoyable for what it is but that doesn't mean it's still anything I can bring myself to state must be viewed sitting inside a theatre.
Film Rating: 2½ (out of 4)