a SIFF 2012 review
Visually Audacious Beasts a Wildly Uneven Sojourn
Hushpuppy (Quvenzhané Wallis) is a six-year-old girl living with her daddy Wink (Dwight Henry) in the Bathtub. He is sick, probably dying, and is intent on getting her to learn how to live, and thrive, without him. Hushpuppy becomes convinced she can find the mother who abandoned them, certain if she does so she'll learn how to help her daddy in his time of need.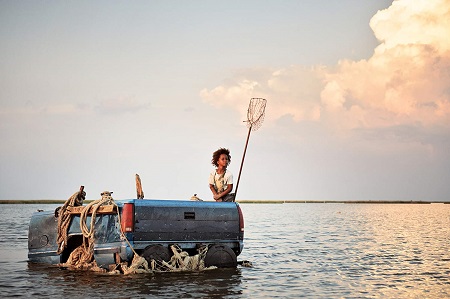 There's a lot more to Sundance and Cannes Film Festival favorite Beasts of the Southern Wild, I'm just not sure how to describe it. The movie plays like myth, moves like fable and is consumed with showcasing visuals utterly unique to this world that's been imaginatively crafted for them to exist within. It plays to the deepest of human emotions, in the process delivering a family saga of a father and a daughter trying to survive in the bleakest of circumstances and the most barren of worlds.
It's hypnotic stuff, director and co-writer Benh Zeitlin, working with fellow scribe Lucy Alibar, delivering as unique a cinematic experience as anything 2012 has offered up so far. But for all its floridly kinetic panache, for all its deeply felt originality, the movie still had me scratching my head wondering what all the fuss has been about. Hushpuppy's story was lost on me, her saga of personal triumph amidst the backdrop of massive poverty not one I could ever fully embrace or get behind.
There are plenty of massive wows, at least there are from a purely technical standpoint. Set somewhere in the middle of the Louisiana Delta in a flooded badland cut off from the rest of the world thanks to massive levies that are on the verge of collapse, Zeitlin unearths sights that boggled my mind. He and cinematographer Ben Richardson are working on another level, capturing images that left me breathless. The camera moves with unhurried grace, and whether pulling back to showcase this barren waterlogged landscape in full or zooming in to examine every nuance of Wallis' angelic face it's almost as if the duo can do no wrong as far as their visual compositions are concerned.
But what is the point of it all? What is it that Zeitlin and Alibar wanted me to take away afterward? This is the kind of movie I kept waiting patiently for that signature moment, for that one sequence that would bring all the others into some sort of emotionally symmetrical line. I kept waiting and wanting, dying to explore this world in greater detail and know why Wink and Hushpuppy felt so strongly about remaining in the Bathtub.
There were moments where I think I got an idea of what the filmmakers were going for, most notably a stunning sequence inside a rundown eatery-slash-brothel located in the middle of nowhere. Hushpuppy and a few of her fellow pintsized compatriots make their way there in search of answers and discover a safe haven for both themselves as well as the women who work there that's intimate and soulful. While no answers are given, while nothing is resolved, the strength of spirit this unexpected melting pot delivers felt blissfully genuine, the sequence achieving an ethereal universality that's sublime.
Yet this saga of finding beauty in poverty, of discovering inner strength while overcoming horrific personal circumstances, left me exasperated. The music swelled, the visuals became even more self-indulgent and the hoped-for one-on-one meeting between the diminutive starlet and prehistoric beast became a reality, but none of that meant much as far as I could tell. I was left cold, more appreciative of the technical showmanship required to bring it to life than I was anything more emotionally substantive.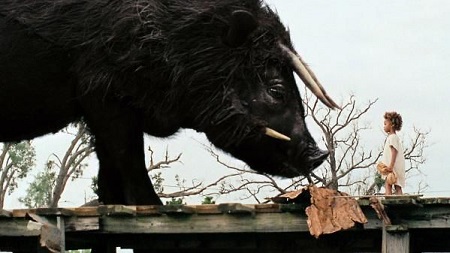 I do somewhat get all the euphoria directed this film's way. It's different and unique, set inside a landscape unlike few others I've seen recently. It's like Zeitlin has channeled The Road Warrior, Picnic at Hanging Rock and Walkabout but moved the action to a decidedly American locale yet still retained the surreal otherworldly dreamscape inherent to those Australian classics.
I wanted more. There is no closure to Beasts of the Southern Wild, nothing to hold on to that I felt was satisfying. I love the fire and the passion it must have taken for Zeitlin and Alibar to bring the film to life, but that wasn't enough as far as I was concerned. The emotional center of the saga was just as bewildering and vaporous at the end as it was at the beginning, my journey into the dingy, dank corners of the Bathtub leaving me feeling anything but clean.
– Review reprinted courtesy of the SGN in Seattle
Film Rating: 2½ (out of 4)