Pixar Floats to the Top with Finding Nemo
If only my hometown Seattle Mariners had batting averages like the group at Pixar does. Sure Ichiro, Edgar Martinez and Brett Boone are all hitting above .300, but Disney's favorite computer animation superstars are currently batting 1.000 (Toy Story, A Bug's Life, Toy Story 2, Monsters, Inc.), all four of their films making my year-end top ten. Seeing that each takes five or more years to animate and bring to life, that's pretty darn impressive.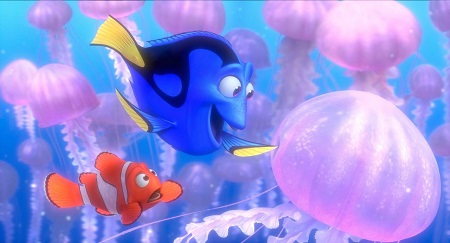 Make that five-for-five, for with their first summer offering, the wildly imaginative Finding Nemo, Pixar officially stakes their claim to being the best animation studio in business today. Well, at least outside of Japan. I'm sure Spirited Away and Princess Mononoke director Hayao Miyazaki would disagree. But as far as American animation goes? Pixar is top gun, and Finding Nemo might just be their best effort yet.
It's definitely the group's most emotional and adult film. Marlin (voiced by Albert Brooks) is an overly neurotic clownfish who loses his wife and family of un-hatched eggs to a vicious predator. All of them save one, a single offspring with a damaged fin he names Nemo (Alexander Gould) who he promises to protect from all dangers no matter what they might be. But children grow up, and over-protection comes with a price. In this case, that price is Nemo swimming off of their protected reef into the open ocean. This act of defiance is mostly a way to prove to his dad he can finally stop babying him, making Marlin's devastation that much more palpable when his son is scooped up by a diver and whisked away to destinations unknown.
With only a pair of goggles lost by the strange human as his only clue, the paranoid clownfish sets out to find Nemo. He is helped by a friendly bluefish named Dory (Ellen DeGeneres) who just happens to be able to read English. Only problem? She also has short-term memory loss, meaning she's just as apt to forget what it was she was talking about two seconds after reading out the name and address of the owner of this plastic piece of human paraphernalia.
No matter. Friendship and adventure ensue as Marlin and Dory make their way across the ocean as they travel to Sydney coming into contact with stoner sea turtles, a school of trout adapt at synchronized sign language, a vicious deep sea hunter, a field of forgotten human landmines and a life-zapping bailiwick of floating jellyfish. Best of all, they meet up with a trio of sharks named Bruce (Barry Humphries), Anchor (Eric Bana) and Chum (Bruce Spence). They're going through AA-style meetings to help them to give up eating fish, and Marlin and Dory are lured to their gathering on "bring a buddy to lunch" day.
As far as Nemo's side of the story is concerned, he's making new friends. Thrown into a seaside dentist's (Bill Hunter) aquarium, he's quickly introduced to a menagerie of aquatic life including blowfish Bloat (Brad Garrett), starfish Coral (Elizabeth Perkins) and another fin-damaged critter like himself named Gil (Willem Dafoe). À la The Great Escape Gil has been trying to get out of the tank and back to the ocean for quite some time, and with Nemo's help he and the gang just might make it.
With each successive motion picture Pixar's output just gets more and more impressive. Finding Nemo is one of the single most gorgeous films I've seen this year. The animated renderings of underwater life are exquisite, most of them like nothing I've had the pleasure to sit inside a theatre and witness before now. The way things move, turn, roll, swoop and soar is nothing short of incredible. From a purely visual standpoint, director Andrew Stanton and co-director Lee Unkrich's family-friendly comedic adventure is continually astonishing, and it would take multiple viewings to be able to fully absorb everything that is happening inside the colorful frame at any one time.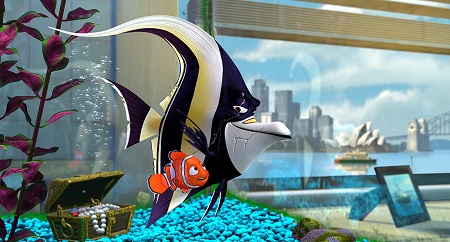 What's most impressive, however, is how Pixar's creative teams manage to keep hitting that delicate balancing act of kid-centered entertainment that adults will adore just as much as their offspring do. While the themes in here are some of the most advanced the studio has ever attempted, it's nothing children who've seen Bambi, Pinocchio or The Lion King haven't experienced before. Stanton's screenplay is so intricately crafted, so on the money, it's hard not to be moved to tears as the narrative progresses to its suitably heartfelt coda. The voice work is also impeccable, and while Brooks shines as Marlin it is DeGeneres who steals the show. It almost goes without saying, but expect any kid who watches this one to be speaking whale for the rest of 2003.
What else is there to say? Finding Nemo is a timeless film that again establishes Pixar as a true dream team where it comes to computer-animated filmmaking, their latest worth diving into the moment the box office opens and tickets go on sale.
Film Rating: 4 (out of 4)