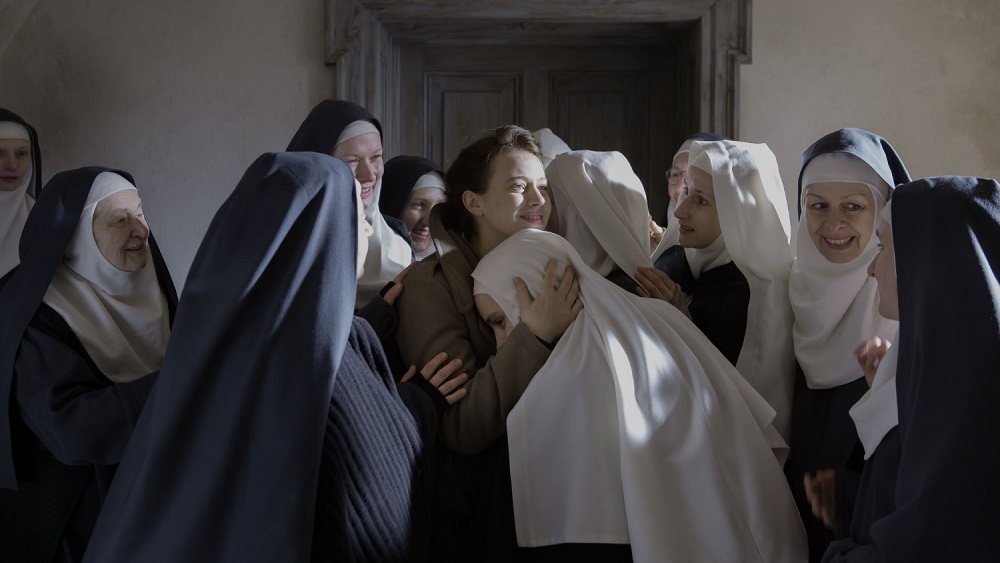 Top Ten Films of 2016
1. The Innocents (d: Anne Fontaine)
Fontaine's intimate epic of faith, science, resilience and sacrifice, inspired by a true story, is a monumental achievement, this post-WWII saga of a French doctor (portrayed brilliantly by Lou de Laâge) coming across an abbey filled with pregnant Polish nuns an unforgettable stunner that held me spellbound first frame to last. Masterful.
2. Hell or High Water (d: David Mackenzie)
Writer Taylor Sheridan follows up his masterful script for last year's Sicario with this remarkable modern Western, Mackenzie orchestrating the dual stories of a pair of bank robbing brothers (Chris Pine, Ben Foster) and two grizzled Texas Rangers (Jeff Bridges, Gil Birmingham) with dexterous ease. Unforgettable. (Additional Link: Interview with Gil Birmingham)
3. Moonlight (d: Barry Jenkins)
Jenkins' sophomore feature is a powerhouse tale of Black masculinity, gender, sexuality, parenthood and poverty that transcends easy genre clichés to become something timeless, powerful and intimately universal. Few films achieve the eloquent subtlety this motion picture does, its final images a haunting aria to togetherness, forgiveness and love that is as important as it is essential.
4. Love & Friendship (d: Whit Stillman)
Featuring a career-best turn by star Kate Beckinsale, Stillman's adaptation of Jane Austen's novella Lady Susan is a whip-smart whirligig of pithy humor and witty insights the cuts to the bone like a sharpened razor coated with arsenic. Calling it all brilliant is a decided understatement.
5. 13th (d: Ava DuVernay)
In the wake of one of the most contentious and controversial (and in some corners downright depressing) Presidential elections in U.S. history, DuVernay's explosive documentary takes no prisoners as it ravages through over a century of racial exploitation and politics, the director laying things out like a crack prosecutor aiming for a quick conviction. Just extraordinary.
6. Under the Shadow (d: Babak Anvari)
Anvari's terrifying debut is an unsettling look at warfare and motherhood that just so happens to add a supernatural antagonist to the mix, a young Tehran mother doing all she can to save her child from having its soul destroyed as her doctor husband is out on the front lines trying to save lives during the Iran/Iraq War. An unsettling tour de force worthy of multiple viewings.
7. Certain Women (d: Kelly Reichardt)
Reichardt takes Montana author Maile Meloy's short stories and makes something intensely lyrical out of them, this three-pronged story of women doing what they can with what they've been dealt a moving masterwork that grows in power and intimacy as things move along to their quietly powerful conclusion. Laura Dern, Michelle Williams, Kristen Stewart and newcomer Lily Gladstone are all superb. (Additional Link: Interview with Kelly Reichardt)
8. Hidden Figures (d: Theodore Melfi)
Melfi's incredible sophomore feature just keeps growing in resonance the more I ponder it, this story of three astonishing African American women who just so happened to be instrumental in making sure NASA sent John Glenn into orbit positively spectacular in all ways that matter. Make no mistake; I love this movie, every single solitary mind-blowing second of it.
9. 10 Cloverfield Lane (d: Dan Trachtenberg)
Coming out of nowhere, this lightning in a bottle apocalyptic thriller is a three-character chamber piece of paranoia and tension where up is down, down is up and sideways gets spun up on its head as if the world was being disassembled into a billion little pieces. John Goodman gives one of the year's best performances, and even if Oscar ends up refusing to recognize it as such history sure as heck will.
10. Pete's Dragon (d: David Lowery)
Disney's remake of their fondly remembered, but not actually all that great, 1977 favorite is an unanticipated gem, director Lowery crafting a heartfelt, irresistibly timeless marvel that could go down alongside The Black Stallion or E.T.: The Extra-Terrestrial as a must-watch family-friendly classic. At the very least, the film is a brightly burning candle on the water that illuminates the way to entertainment ecstasy well worth keeping lit.
Best 1991 Film Released Domestically in 2016
Only Yesterday (d: Isao Takahata)
Best 2015 Films Released Domestically in 2016
A War (d: Tobias Lindholm), Demon (d: Marcin Wrona), Disorder (Alice Winocour), In Order of Disappearance (d: Hans Petter Moland), Viva (d: Paddy Breathnach), The Wave (d: Roar Uthaug)
Top Five Documentaries
Cameraperson (d: Kirsten Johnson), De Palma (d: Noah Baumbach, Jake Paltrow), Gleason (d: J. Clay Tweel), O.J.: Made in America (d: Ezra Edelman), Weiner (d: Josh Kriegman, Elyse Steinberg)
– Portions of this feature reprinted courtesy of the SGN in Seattle