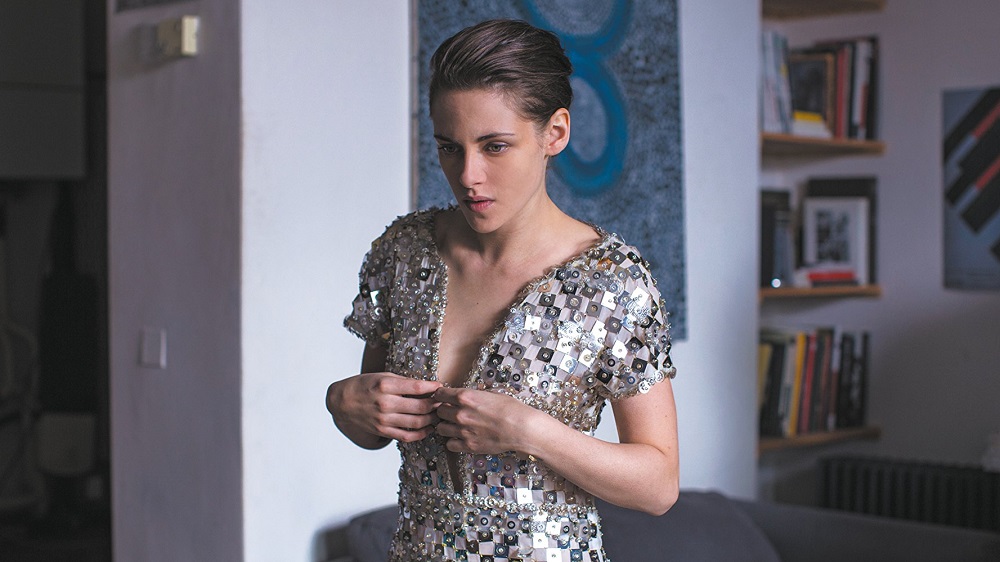 A SECOND TWENTY (because I can)
After the Storm (d. Hirokazu Koreeda)
Japanese director Koreeda returns with this richly textured, sweetly honest drama about broken family forced to weather out a typhoon in the home of the ex-husband's mother. Extraordinary in its simplistic authenticity, After the Storm is a constant revelation that's difficult to resist.
B.P.M. (Beats Per Minute) (d. Robin Campillo)
Campillo's latest chronicles the birth of Act-Up in France during the 1990s as a response to government inaction in regards to the ongoing AIDS crisis. The resultant procedural is a provocative, emotionally astute stunner that never ceases to amaze for nearly every second of its 140-minuted running time.
Band Aid (d. Zoe Lister-Jones)
Making her directorial debut, screenwriter and star Lister-Jones takes couples therapy into the local club for open mic night, a husband and wife forming a rock band with their next door neighbor in a last-ditch attempt to save their marriage. The music is incredible. The performance by Lister-Jones is even better. Her take-no-prisoners, psychologically shrewd script is best of all. [Interview with Zoe Lister-Jones]
The Big Sick (d. Michael Showalter)
If the romantic comedy as a genre is on life support, writers Kumail Nanjiani and Emily V. Gordon, along with director Showalter, have gone a very long way in proving this isn't necessarily so with their heartbreakingly endearing The Big Sick. Nanjiani and Gordon's scenario connects on a deeply personal level. It's also very, very funny, while at the same time offering up supporting roles for Holly Hunter and Ray Romano deserving of award recognition.
Blade Runner 2049 (d. Denis Villeneuve)
Villeneuve's long-in-coming sequel to Ridley Scott's 1982 science fiction classic Blade Runner is a complex examination of self bringing up ideas about what exactly it means to be human that stir the soul and engage the intellect. It's also one of the most flat-out astonishing visual masterworks of the 21st century.
Call Me by Your Name (d. Luca Guadagnino)
There is a hushed gracefulness to director Guadagnino screenwriter James Ivory's adaptation of André Aciman's best-selling novel that broke my heart and enraptured my soul in almost equal measure. The film also showcases a performance from relative newcomer Timothée Chalamet that's revelatory, the actor instantly establishing himself as young talent worth keeping an eye on.
Detroit (d. Kathryn Bigelow)
Bigelow's Detroit is a terrifying reminder that, no matter how much things change, racism, social unrest and police misconduct all still go hand-in-hand, this 1967 true life horror story at the Algiers Motel in Detroit not as far removed from similar events happening throughout the United States today as so many would like to believe.
The Devil's Candy (d. Sean Byrne)
The sophomore motion picture from acclaimed writer/director Byrne is an invigorating horror yarn about a heavy metal family moving into a secluded Texas homestead only to discover one of the former residents is still fairly attached to the property. Scary as heck, film also features a barn-burning performance from Ethan Embry that just might be the best of his career.
In This Corner of the World (d. Sunao Katabuchi)
Watching this animated marvel I was continually in awe of the love and care writer/director Katabuchi was handling this story with, every piece of this WWII-set coming of age saga an absolute heartfelt joy to behold. The last half hour had me sitting in a pool of honestly earned tears, almost all of them having more to do with the main character's decisions and how she persevered through unimaginable tragedy than it did for the reasons most would expect (i.e. the dropping of a nuclear bomb on Hiroshima on August 6, 1945).
Last Flag Flying (d. Richard Linklater)
Steve Carell, Bryan Cranston and Laurence Fishburne prove to be a winning team portraying a onetime Navy Corpsman and two former Marines reuniting decades after the end of Vietnam to bury the former's son killed in Iraq under mysterious circumstances. An incredibly moving drama that is as funny as it is tear-jerking, everything builds to a moment of brotherhood, service, respect and friendship that's absolutely superb.
Logan Lucky (d. Steven Soderbergh)
Soderbergh's return to theatrical moviemaking is worthy of a standing ovation, this giddily enjoyable NASCAR backwoods heist comedy one of 2017's most crowd-pleasing achievements. While terrific performances from stars Channing Tatum and Adam Driver are worth the ticket price by themselves, it's Daniel Craig who steals the show, his sidesplitting turn as an incarcerated West Virginia bank robber so amazing it needs to be seen to be believed.
The Lost City of Z (d. James Gray)
Watching Gray's daringly austere drama about explorer Percy Fawcett earlier this year was one of the more deliciously profound experiences I had the pleasure to have, this gorgeously shot epic (lensed by the great Darius Khondji) an awe-inspiring marvel of courage, tenacity and hubris I didn't want to see come to an end. When they say they don't make them like they used to, they're talking about films like this.
Graduation (d. Cristian Mungiu)
One doesn't expect lightness and levity from the filmmaker behind bleakly disturbing emotional dramas like 4 Months, 3 Weeks and 2 Days, and neither of those elements play a part Mungiu's latest stunner, either. But what is amazing about Graduation, for as unsettling and as miserable as things might prove to be there is a side to the film that is still angrily hopeful. It's an energized call to action that resonates in any language, making what's happening inside this very human drama a universal experience viewers around the world owe it to themselves to see.
Only the Brave (d. Joseph Kosinski)
Kosinski's Only the Brave is a fearless examination of heroism and family, it's depiction of the ill-fated Rocky Mountain Hotshots municipal firefighting crew rarely dipping into sensationalism. Josh Brolin delivers one of his finest performances, while Jennifer Connelly is equally sensational as a wife who knows exactly what it is her husband is fighting to become and what it has taken for the both of them to get their lives back together.
Personal Shopper (d. Olivier Assayas)
This movie gets under your skin. Assayas delivers an insidiously unnerving spectacle where grief and melancholy relentless stalks its prey, in the process granting its intended victim an insight into the unknown that slowly filters into every aspect of her life. Featuring an amazing performance from Kristen Stewart that left me flabbergasted, Personal Shopper is a dreamy nightmare of introspective analysis that's supernaturally insightful. [Interview with Olivier Assayas]
Phantom Thread (d. Paul Thomas Anderson)
Reported to be Daniel Day Lewis's final film as an actor, Anderson's latest complex, emotionally stifling drama is a fascinating examination of creation, imagination, longing, power, lust and maybe even love, all of it playing out inside the world of 1950s British high fashion. Lewis is incredible (no shock there) as the obsessive fashion designer, and Lesley Manville is electrifying as his controlling, fastidiously self-aware sister. But it is newcomer Vicky Krieps who steals the show, her performance a magnificently complex balancing act that grows in passion and depth as events progress to their breathlessly haunting shocker of a conclusion.
Raw (d. Julia Ducournau)
Ducournau's Raw is not your typical 16-year-old-vergetarian-vetinary-student-becomes-a-cannibal movie in that, it's not quite the grotesque horror yarn most would assume it to be. Instead, the film is far more daringly self-aware, it's emotional components have an intimately haunting quality to them that makes all that ends up transpiring even more psychologically crippling. Young Garance Marillier is a revelation.
Star Wars: The Last Jedi (d. Rian Johnson)
The Skywalker story is forever altered in Johnson's daring, multilayered Star Wars opus, the acclaimed filmmaker having the guts to craft a motion picture that harkens back to all the themes talked about and debated in George Lucas's original trilogy but never with this sort of honest, mournfully candid fervor. The Force is strong with Episode VIII, J.J. Abrams having his work cut out for him if he's going to come half as close to achieving the same sort of saga-shattering magnificence with 2019's final chapter, the still untitled Episode IX.
War for the Planet of the Apes (d. Matt Reeves)
Reeves brings this new Planet of the Apes trilogy to a rousing conclusion, his War for the Planet of the Apes a shockingly personal drama that never played out in any of the ways I expected it to. Andy Serkis gives his most introspectively complex performance yet as the Ape leader Caesar, his final moments as the character beyond any I ever could have hoped for.
Wonder Woman (d. Patty Jenkins)
While Warner Bros and DC Comics have had their obvious issues brining their cinematic universe to life, thanks to Jenkins and stars Gal Gadot and Chris Pine (not to mention a whole island full of kick-ass Amazons led by Connie Nielsen and Robin Wright), Wonder Woman came amazingly close to righting the superhero ship for the two studios. No moment in 2017 equaled the sight of Diana of Themyscira walking selflessly into No Man's Land, showing she was willing to do for herself what others – al of them men – claimed was impossible.
Wonderstruck (d. Todd Haynes)
I was floored by what Haynes was able to accomplish with Wonderstruck, his adaptation of the acclaimed Brian Selznick (who co-wrote the screenplay with the director) novel as magnetic and as priceless as anything I ever could have hoped for in my wildest imagination. Brilliantly shot by the great Edward Lachman, spotlighting a stupendous performance from deaf actress Millicent Simmonds, this movie sent my heart into the stratosphere, it's final minutes so cathartically stupendous I almost didn't want them to come to an end.
WORTHY OF INLCUSION
American Fable, Colossal, Columbus, A Cure for Wellness, A Dark Song, The Disaster Artist, First They Killed My Father, Get Out, A Ghost Story, Goodbye Christopher Robin, The Greatest Showman, Hostiles, John Wick: Chapter 2, The Killing of a Sacred Deer, Lady Macbeth, Mudbound, Patti Cake$, The Shape of Water, Split, Wind River, The Zookeeper's Wife
HONORABLE MENTIONS
All the Money in the World, American Made, Annabelle: Creation, The Ballad of Lefty Brown, Before I Fall, Blade of the Immortal, Crown Heights, Free Fire, From the Land of the Moon, Gifted, Girls Trip, God's Own Country, Good Time, Gook, Guardians of the Galaxy Vol. 2, Happy Death Day, The Ice Cream Truck, IT, It Comes at Night, The Journey, Jumanji: Welcome to the Jungle, Killing Ground, Landline, The Little Hours, Lost in Paris, The Lovers, The Man Who Invented Christmas, The Midwife, Molly's Game, Murder on the Orient Express, Okja, Reset, Super Dark Times, The Survivalist, Three Billboards Outside Ebbing, Missouri, Thor: Ragnarok, T2: Trainspotting, A United Kingdom, The Wall
– Portions of this feature reprinted courtesy of the SGN in Seattle