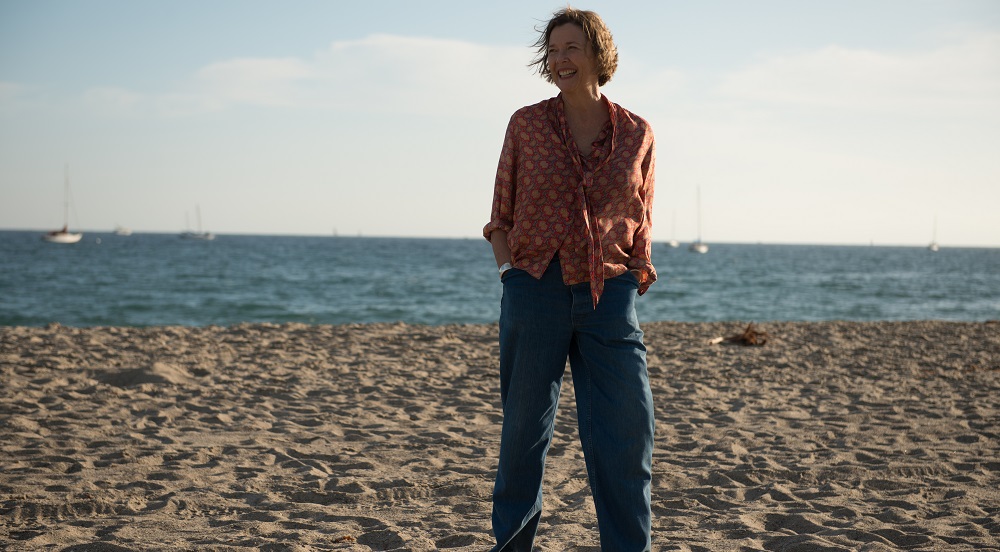 Compelling 20th Century Women Perfectly Imperfect
It is the summer of 1979, and Jamie Fields (Lucas Jade Zumann) is in the process of figuring out who he is and the type of man he potentially wants to be. Inside his southern California home, the boy's opinionated and intelligent mother Dorothea (Annette Bening) is doing the best she can to raise her son as she feels is right. But she's worried that, considering their large age differences, she doesn't always have a firm handle on what's going on in his life, doesn't know if she can relate to all the cultural influences vying for his attention. As such, she enlists punk artists Abbie (Greta Gerwig), currently renting a room in their home, and teenage neighbor Julie (Elle Fanning) to assist her in helping Jamie find himself.
Together, these three women try to give advice when they can and offer up new experiences when appropriate, each in their own way becoming a vital cog in the youngster's life. But Jamie isn't entirely certain what to make of all this, and whether it's worrying that his mom isn't interested in raising him or dealing with the early pangs of romantic longing as it concerns the slightly older Julie, all if it is becoming almost too much for him to process. Still, together they're all going to find a way to muddle through, and in doing so develop a bond that, might not last forever, even though it sure as heck is going to feel like it is going to.
From Beginners writer/director Mike Mills, 20th Century Women is a sparkling, intimately moving drama of growth, friendship and family that springs to life with invigorating authority, its easygoing truth rapturous to behold. This is a coming of age story where the feminine angle of growth is explored with stunning complexity, the filmmaker stepping back in order to allow his primary characters the freedom to roam around evolve with naturalistic grace. There is nothing rushed here, nothing overbearing or false, and as such the emotional terrains Jamie finds himself traveling through become all the more potently poignant than they ever could have otherwise.
Bening is incredible. She's as incredible as she ever been. More, her performance as Dorothea builds on many of her past triumphs, pieces of Myra Langtry (The Grifters), Virginia Hill (Bugsy), Carolyn Burnham (American Beauty), Sue Barlow (Open Range), Julia Lambert (Being Julia) and Dr. Nicole "Nic" Allgood (The Kids Are All Right) all readily apparent in one form or another throughout the film. Bening's restraint is coupled with her fearless ability to not care a single lick about how glamorous she looks at any given moment. Free of artifice yet also filled with an excitable eccentricity that's infectious, she makes Dorothea come alive in continually surprising and multifaceted ways, this woman a true original that's impossible to forget.
More than that, though, Mills isn't interested in perfection. If anything, he finds something even more incredible and long-lasting in failure, in taking stock of a situation and having the inner strength to admit when you've made mistakes, believing that the power to do so is far more inspiring than creating a façade that missteps are impossible. Better, this doesn't just apply to Dorothea, Abbie and Julie just as liable to take a left step when a right was what was called for. It gives this vibrant trio a vivacity that's continually inspirational, and even when things go off the rails the belief the train can be put back onto the track undamaged is omnipresent no matter what.
But it isn't just Bening, Gerwig (who, it must be mentioned, has likely never been better, and that includes her award-worthy work in 2012's Frances Ha) and Fanning who are extraordinary. So is Billy Crudup. Portraying another tenant renting a room in Dorothea's house, I just love how this mechanic and handyman slinks and saunters his way through the film with such cocksure personality. It's as if Crudup is portraying an older, wiser and a little bit beaten down variation on his rock star iconoclast Russell Hammond from Cameron Crowe's Almost Famous, and even though this film and that are roughly set right around the same time there's an intriguing symmetry between the two men that's found glorious.
Some sequences do work better than others, and Mills wraps things up with a little more tidiness and finality then this otherwise sprawling slice of late '70s Americana requires. There's also a climactic coda that, while fun and informative, also feels slightly flippant in a way nothing else in the movie can be compared to. It's not that I didn't like what the director did here so much as I felt it was plainly unnecessary, these insights into the otherwise uncertain future giving rhyme and reason interior dynamics I'd rather would have been left ambiguous so I could have imagined many of the ins, outs and various possibilities all on my own.
Even so, 20th Century Women is superb. Brilliantly acted, lovingly shot by Sean Porter (Green Room) and seamlessly edited by Leslie Jones (Rules Don't Apply), Mills shows that the near virtuoso brilliance of Beginners was hardly a fluke. While maybe not as instantaneously magnificent as that Oscar-winning drama proved to be, that does not make this follow-up any less wonderful. I loved this movie, and I have a sneaky suspicion my opinion of it will only grow as the years pass on by.
Film Rating: 3½ (out of 4)