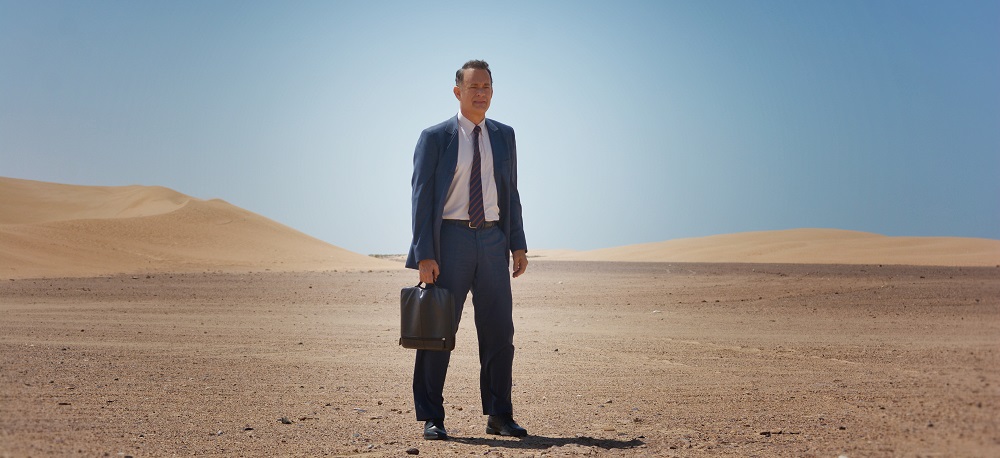 Tykwer's Hologram a Royal Dramatic Achievement
Alan Clay (Tom Hanks) is in Saudi Arabia to revitalize his career. The former executive, now a struggling salesman, reeling from a divorce and feeling like he's failing his college-age daughter because he can't afford to help put her through school, he's journeyed halfway around the world to pursue the deal of a lifetime. He's going to sell the king a state-of-the-art holographic teleconferencing system that will change the way the entire Saudi government does their business, and in doing so put himself back atop of the corporate world as a force to be reckoned with.
That's if the king ever arrives. Stranded in the middle of a not even half-constructed coastal desert ghost town of unfinished skyscrapers and condominiums nicknamed the "King's Metropolis of Economy and Trade," his team put out back in a giant tent with no air conditioning and, even worse, no Wi-Fi, Alan is at a loss as the best way to proceed. He begins to immerse himself in the people and culture, befriending his taxi driver and guide Yousef (Alexander Black), the pair making a whimsical connection that overcomes their more obvious cultural differences. But it is Alan's meeting with Muslim surgeon Zahra Hakem (Sarita Shoudhury) that really sends things truly topsy-turvy, their relationship beginning as one of doctor-patient before slowly morphing into something far more personal.
Acclaimed director Tom Tykwer's (Run Lola Run, The International) adaptation of best-selling author Dave Eggers' A Hologram for the King is an adult romantic drama that is still filled with a number of the filmmaker's expected imaginatively idiosyncratic touches. While relatively straightforward in nature, the narrative dances to its own atypical rhythms that consistently kept me on my toes. More than that, though, it presents its romantic elements with maturity, a simple elegance that's adult in nature and refreshingly minimalistic in execution. When the deft cultural observations are thrown into the mix, the odd casting of Black – who is admittedly excellent – as a Saudi national notwithstanding, Tykwer's film manages a dramatically moving sophistication that's noteworthy, this adaptation of Eggers' source material pulling the heartstrings and stirring the intellect both in equal measure.
Hanks is terrific. The two-time Academy Award-winner (and five-time nominee) delivers a performance that sits comfortably alongside his best work. The actor is funny. He's moving. He shows restraint when necessary and explodes in emotional exuberance with extraordinary believability when the moment calls for it. Hanks' responses to the idiosyncratic way the Saudi's do business are increasingly wonderful, having a spunk and spontaneity to them that held me spellbound. Best of all are his character's blossoming romantic feelings for Dr. Hakem, he and Shoudhury showcasing a form of intimate chemistry that's simply breathtaking to behold.
Tykwer's films, from Run Lola Run, to Perfume: Story of a Murderer, to his joining forces with Lana and Lilly Wachowski to bring Cloud Atlas to life, never follow a typical path. Even his espionage effort The International wasn't a by-the-book potboiler, instead filled with little quirks that helped make the relatively uninspiring central narrative of international banking irregularities and government conspiracies more interesting than it should have been. The filmmaker goes his own way, forges his own distinct path, and there have been times where his filmmaking bravado tends to inelegantly force its way into the spotlight when even a modicum of restraint would have served him better.
With A Hologram for the King, it isn't that Tykwer holds himself back so much as he finds a rather sublime balance between cinematic virtuosity and storytelling brevity that work in tandem with one another and happily not vice versa. While certain key sequences reminded me of something the Coen brothers might have imagined (most notably the pair's comedic barnburners The Hudsucker Proxy and Burn After Reading), others have an ethereal observational luminosity that recalls works as diverse as Abbas Kiarostami's Taste of Cherry or Yasujirō Ozu's An Autumn Afternoon. Yet, at the same time, in the same moment, this is undeniably Tykwer's film, start to finish, each image, each moment, each emotional element fitting perfectly inside the director's wildly diverse filmography with somewhat surprising ease.
There are some weird elements that stand out, but even those, like a brief foray to Yousef's village for an impromptu wolf hunt that comes between the second and third acts, sparkle with legitimacy, helping grow the emotional components in ways that are natural, complex and intimate. I also was blown away by an out-of-nowhere visit to Mecca, Tykwer presenting this unexpected narrative shift with a dexterous temperance that's hypnotic in its eloquent grace. He also allows cinematographer Frank Griebe (The Princess and the Warrior) to paint a number of unforgettable images, a spellbinding journey into the heart of the unfinished steel and glass desert jungle by Alan an absolute showstopper, as is a wondrous underwater courtship between the salesman and Dr. Hakem that helps propel events to their conclusion.
Some tangents are out of place, not the least of which is Alan's uneasy relationship with his cantankerous father (played by a woefully underutilized Tom Skerritt), but thankfully missteps are relatively few and happily even farther between. A Hologram for the King is a quiet film, one that doesn't shout at the audience, doesn't jump up and down ecstatically clamoring for love and adoration. Instead, confident in his presentation of the source material, Tykwer is happy to let the journey of his main character speak movingly for itself; and in the process the veteran director brings forth a motion picture I'm going to happily treasure for a long time to come.
Review reprinted courtesy of the SGN in Seattle
Film Rating: 3½ (out of 4)