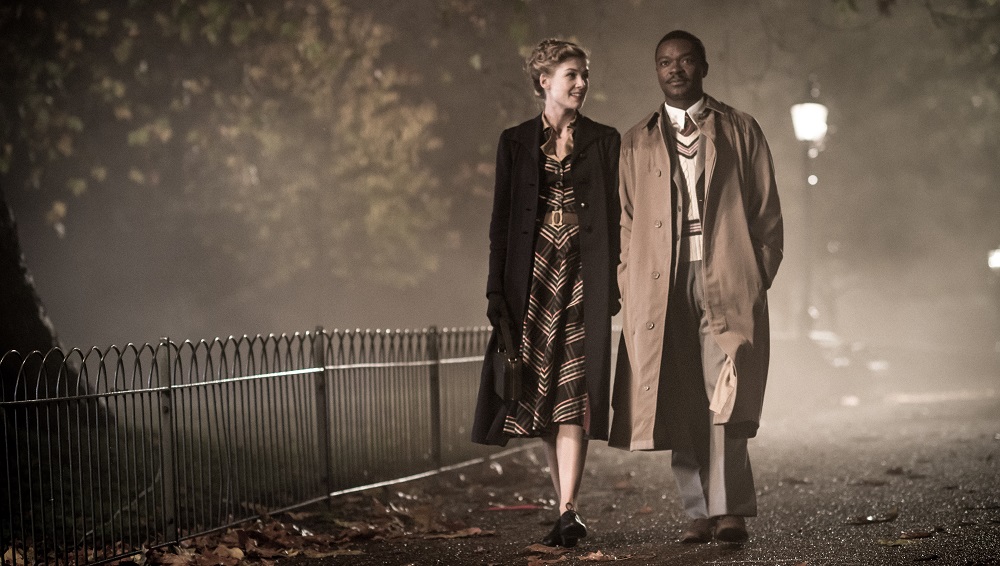 Intimately Graceful Kingdom an Exquisite Romantic Drama
In 1947 London, office worker Ruth Williams (Rosamund Pike) is dragged to a church dance by her younger sister Muriel (Laura Carmichael) and meets charming university student Seretse Khama (David Oyelowo). Not intending for anything to develop, the pair quickly see their new friendship blossom into something more. But before they can take things to a new level, Seretse reveals he is the Crown Prince of Bechuanaland, a British protectorate nestled right up against the racially turbulent South Africa. Yet Ruth knows her heart. She loves Seretse, and if he'll have her she willing to undertake any and all challenges moving the Africa and becoming his Queen might entail.
For a variety of fairly obvious reasons, this does not go over well with the British government. They do not want to see the erstwhile Bechuanaland ruler marry a White British national. They do not want to see South Africa, on the verge of implementing the policies of Apartheid, angry and upset. As such, under the pretense that Seretse's well-respected and revered uncle Tshekedi's (Vusi Kunene) is challenging his nephew's suitability to rule because of the marriage, the British government, led by African Affairs minister Sir Alistair Canning (Jack Davenport), decide to intervene. They banish the monarch from his homeland, forcing him to live abroad while his wife Ruth stays in Bechuanaland trying to prove to the country's people she stands with them and not the British.
Based on a true story involving the democratization of Batswana (formerly Bechuanaland) and revolving around an interracial romance that had the entire world talking, acclaimed filmmaker Amma Asante's A United Kingdom is the filmmaker's moving, intelligently authentic follow-up to her 2013 sensation Belle. Much like that superb motion picture, this one is crafted with precision and care, the filmmaker once again allowing her core actors, in this case Oyelowo and Pike, the freedom to move and evolve their respective characters in ways that feel entirely genuine. It's a heartfelt drama that's epic in scope yet intimate in execution, making it spectacularly easy to walk out the theatre with a smile after just having enjoyed one's self immensely.
At the same time, using Susan Williams' book Colour Bar: The Triumph of Seretse Khama and His Nation as its source of inspiration, Guy Hibbert's (Eye in the Sky) script is remarkably straightforward, rarely bucking genre conventions or expectations as it navigates its way through Seretse and Ruth's story. Unlike last year's Jeff Nichols' drama Loving which covered its own world famous 1960s interracial romance and marriage, this movie doesn't eschew melodramatic convenience as much as I would have liked. The sequences revolving around Canning and his Bechuanaland lieutenant Rufus Lancaster (Tom Felton), while well acted and professionally staged, still feel obvious and overly familiar. Additionally, the ways in which Ruth wins over the women in Seretse's family, namely is sister Naledi (Terry Pheto) follow a traditional template that's a little underwhelming.
But Assante is accomplished filmmaker, and the way she trusts Oyelowo and Pike more than speaks for itself. The former easily could have channeled some of the same mannerisms and character traits he utilized to such astonishing effect as Dr. Martin Luther King Jr. in Selma. Instead, he crafts a completely different character, one who is just as strong, just as inspirational, yet a man who is pulling from different influences as he fights for both his country's freedom to rule itself as well as his marriage to a White British national. As for Pike, she's divine, finding a way to showcase Ruth's inner strength, her emotional insecurities as well as her effervescent love for Seretse that's subtle yet fiery, the actress showcasing a resplendent sincerity that took my breath away.
It's all magnificently shot by Sam McCurdy (The Descent), he and Assante crafting a number of incredible visuals that are both pleasing to the eye yet also help drive the story forward. Much as she did with Belle, once again the director finds a way to tell a story that's nowhere near as well known as it likely should be and does so with passion, precision and a level of cinematic virtuosity that's sensational. While A United Kingdom might not rise to the same heights as that 2013 stunner did, this is still a sublime romantic drama I thoroughly enjoyed, the exquisite naturalistic grace of Seretse and Ruth's story one I'm likely to not soon forget.
– Review reprinted courtesy of the SGN in Seattle
Film Rating: 3 (out of 4)