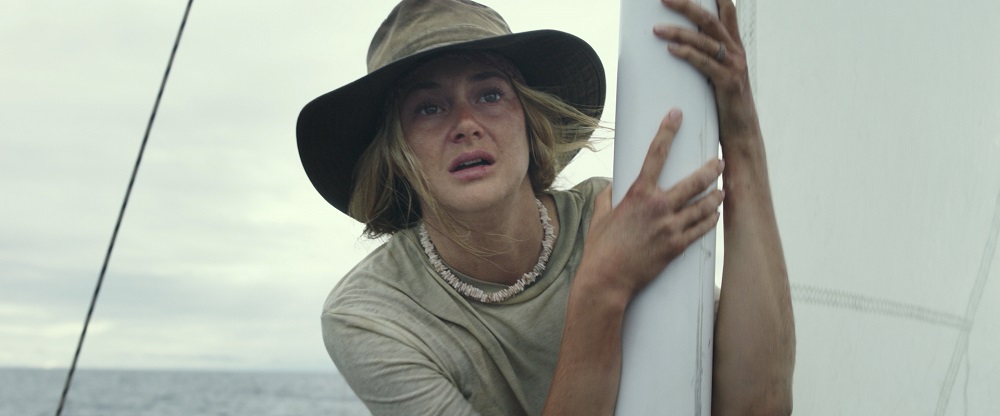 Woodley's Steely Resolve Keeps Adrift Afloat
In 1983 Tami Oldham (Shailene Woodley) and her fiancée Richard Sharp (Sam Claflin) were heading across the Pacific Ocean in the sailboat Hazana with a final destination of San Diego, California. Before they were even halfway there the pair encountered a massive hurricane that decimated the vessel. With Richard catastrophically wounded it is left to Tami to pilot the craft on her own. Utilizing the ocean currents, a damaged rudder and a makeshift sail, she makes the decision to head for Hawaii instead of California, feeling it better to have the wind at her back then it would be to continue battling against the elements in a boat that's on the precipice of sinking.
Based on the 41-day ordeal Tami Oldham Ashcraft faced when she was only 24-years-old, Adrift is a tale of resilience and survival on the high seas under the most excruciating and perilous of conditions. Kind of a makeshift combination of All is Lost and Kon-Tiki, this dramatic reenactment is just as much a heartfelt love story as it is a heroic thriller, director Baltasar Kormákur (Everest, 2 Guns) and vaunted, Oscar-winning cinematographer Robert Richardson (Hugo, The Aviator) attempting to do as much in-camera as possible all of which helps gives this story an authentic urgency that I found undeniably compelling.
What I didn't respond to was the elliptical, nonlinear narrative composed by Moana writers Aaron and Jordan Kandell and Ingrid Goes West scribe David Branson Smith. They tell Tami and Richard's story in a roundabout way I didn't find particularly effective. By jumping back and forth to different points of their love story the inherent tension of Tami's journey is frustratingly diluted, her attempts to keep piloting the Hazana when all hope looks to have been lost a heart-stopping saga of resilience and survival that didn't need any extraneous melodramatic embellishment.
Not to say Tami and Richard's love story doesn't serve a purpose. It does. No question. More importantly, Woodley and Claflin have instantaneous chemistry, the two actors manufacturing a connection that is deep, passionate and overflowing in heartfelt intensity. But by swerving back and forth there is a sense of exaggerated tedium that also slowly but surely rears its ugly head, lessening the importance of the pair's coupling at the worst possible moments. Most catastrophically, a climactic twist intended to reveal something significant about Tami's mindset and what she had to do in order to survive this oceanic nightmare feels oddly facile and obnoxiously ridiculous more than it sadly does anything else, the reason for this in large part due to the confused nature of the narrative construct.
But the scenes of this young woman combating the elements are mesmerizingly sensational. Kormákur and Richardson cast a visual spell that's intimate and seductive. Nature itself becomes the film's third, and arguably most important, character filled with its own incongruities, emotional maelstroms and tender embraces. Tami's constant, never-ending battle to overcome all the ocean throws her way is the foundation everything vital to this film's success is built upon, Kormákur managing to conceptualize this continual back-and-forth battle in a way that feels increasingly primeval and gut-wrenching as events progress.
Woodley is outstanding, delivering a performance that is raw in its nakedly relatable concentration. As stated, she and Claflin prove to be an enchanting pair of young lovers, their blossoming romantic entanglement having an air of winsome suppleness that's oftentimes charming. But it is on the boat where Woodley does her best work. Tami's fracturing mental state is showcased in all its uncomfortable complexity. This has the effect of making her stoic heroism all the more empowering, the actress creating a portrait of a character in crisis where fear, resolve, indecision and fortitude mingle together with fascinatingly believable ease.
All of which makes me wish I liked Adrift more than I do. Thanks to the way this story has been assembled, my emotional attachment to what was going on was never as unbreakable as I kept hoping it would be, its ebbs and flows keeping me annoyingly at arm's length. Even so, Tami Oldham Ashcraft's story is unquestionably gripping, and whenever Kormákur and his creative team focus on her attempts to steer the Hazana back to civilization I honestly couldn't take my eyes off of the screen. Coupled with Woodley's superlative performance, even with a small handful of reservations I still think this movie is worth seeing, and it's additionally quite possible my appreciation for it will only grow as time goes by.
– Review reprinted courtesy of the SGN in Seattle
Film Rating: 2½ (out of 4)