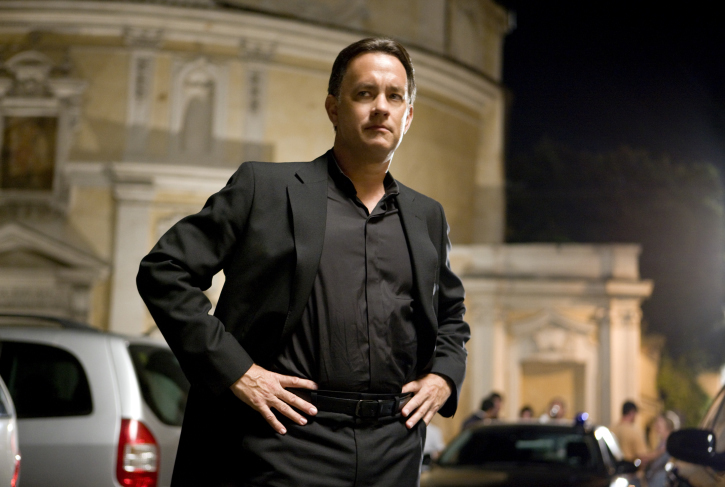 How does the Blu-ray/DVD Disc stack up? (all ratings out of 10.)
Movie
Video
Audio
Extras
Overall
SYNOPSIS
"Our church is at war. We are under attack from an old enemy. The Illuminati. They have struck us from within and threatening us all with destruction from their new god Science."
– Camerlengo Patrick McKenna 
CRITIQUE
Here's what I wrote about this one in my original theatrical review way back in 2009:
"When I heard actor Tom Hanks and director Ron Howard had agreed to make a follow-up to The Da Vinci Code I can't claim to being excited. Notwithstanding the fact author Dan Brown's Angels & Demons is a prequel, not a sequel, to that 2006 misfire (which, nonetheless, was a massive worldwide smash), I just felt like the duo sleepwalked through things the first time around, and any chance this was going to be anything other than more of the same seemed a distant possibility to my mind.
While it is nice to be proven wrong, I still can't recommend this further adventure of academic symbologist Robert Langdon (Hanks) to anyone other than the novel's rabid fan base. While both actor and director seem to be more than up to the challenge to prove they're fully engaged, the film is still undone by a last twenty minutes so horrible they're downright comical.
Still, for two hours I was willing to look past obvious shortcomings and hammy happenstance and admit to being adequately entertained. There is a zippy efficiency to Akiva Goldsman (I Am Legend) and David Koepp's (Ghost Town) streamlined adaptation. It has a hot-button immediacy that's compelling, and even though I knew how absurd it all was I still felt the need to keep watching. Howard achieves a breathless pace, and even though the constantly ticking clocks got a little old I was still curious to discover how all this religiously-fueled absurdity was going to play itself out.
What's nice is that the film comes to the perfect coda. Sure it's (almost hysterically) unbelievable, but I'd be lying through my teeth if I didn't say it was still freakishly satisfying. Langdon manages to figure out what's been going on, his female sidekick (a charming Ayelet Zurer) gets to do something worthwhile and the head religious figure (a fine, if slightly disinterested, Ewan McGregor) gets to potentially martyr himself in front of all of Vatican City. It's a thrilling turn of events, and while it still features plot holes big enough to carry 10,000 replica copies of the original Ten Commandments through, it's all so breathtaking I simply didn't care.
Problem is, this isn't the ending of the movie, not by a long shot. There are still another full act to suffer through, and to say Angels & Demons falls completely to pieces would be a disservice to all things that ever fell to pieces. Simply put, what worked (sort of, anyway) in a book doesn't come close to doing the same in a motion picture. The climax is twisty for the sake of being twisty, everything that came before a two-hour red herring totally superfluous to the actual denouement.
Worse, elements I was willing to gloss over before this foolish finale took place suddenly come to the forefront, all of the dramatic missteps and plot deficiencies now looking like an oceanic cruise ship running aground on an iceberg. It's unintentionally hysterical, and by the time fire was set inside the Vatican and flashbacks upon flashbacks were levied to try and make sense of it all I couldn't help but audibly groan.
What's even sadder is I wasn't the only one. I could actually feel the energy dissipate inside the movie theater, a semi-satisfied audience now making the rumblings and grumblings of a mass of viewers angry they'd just been sold a bill of goods long past their expiration date. If this had been a live performance, tomatoes would have been thrown onto the stage, nothing of merit that came before able to dispel the utter distaste of the horrifically putrid climax.
I'm not going to give a plot synopsis. For one thing, the masses who read Brown's novel don't need one. For another, those who didn't should let themselves be relatively surprised by the mystery Langdon attempts to decipher. Just know that the Catholic Church is in trouble and that they have to turn to the last man on the planet they'd rather like to in order to solve it, all of Vatican City in danger of being blown to smithereens by villains claiming to be members of the long thought defunct Illuminati.
You might think I'm being overly harsh but trust me when I say I'm not. In spite of my distaste for The Da Vinci Code, I was more than willing to give Angels & Demons the benefit of the doubt. After the first two hours, I was even ready to give it a hearty recommendation. But nothing can erase the bad taste of that finale, things derailing so spectacularly it would have taken divine intervention to make it even slightly palatable. This movie, sadly, is a lost cause, the only mystery worth deciphering being just how such a despicably dumb conclusion could force such a once promising adventure to eternal cinematic damnation could ever be allowed to have come to pass. What a waste."
Unlike The Da Vinci Code, my opinion of Angels & Demons has actually improved over the years. The film is fluff, but it can be enjoyable fluff, and I do find lots to love about the first two-thirds. But the climax is an abomination, that hasn't changed, and as such any goodwill that has developed in 2009 still hasn't grown enough to make get the bad taste out of my mouth of those final 20 minutes.
THE VIDEO
Angels & Demons is presented on a 50GB Blu-ray MPEG-4 AVC Video with a 2.40:1 1080p transfer.
THE AUDIO
This Blu-ray features an English DTS-HD Master Audio 5.1 track (along with a number of additional audio options) and includes English, English SDH, French, Japanese, Portuguese, Spanish, Arabic, Dutch, Korean, Mandarin and Thai subtitles.
THE EXTRAS
All of the supplements from the previous editions are included here (labeled "Legacy Supplements") save for the extended cut of the film that was previously released on Blu-ray. New extras here include:
Legacy of Langdon with First Look at Inferno (4:10) – A tiny bit different than the somewhat similar featurette found on the release of The Da Vinci Code.
Extended Cut Scenes (35:27) – All of the scenes from the extended version offered up as deleted and extended material.
Original Theatrical Teaser Trailer (1:11)
Original Theatrical Trailer (2:16)
A Digital HD Copy of the film is included with this release. 
FINAL THOUGHTS
I don't particularly mind Angels & Demons. Heck, if it had ended at the point it should have, I'd likely be one of its most vociferous defenders. All that said, Sony's new 4K Blu-ray of the film is glorious, and fans are urged to snatch it up at their earliest convenience.