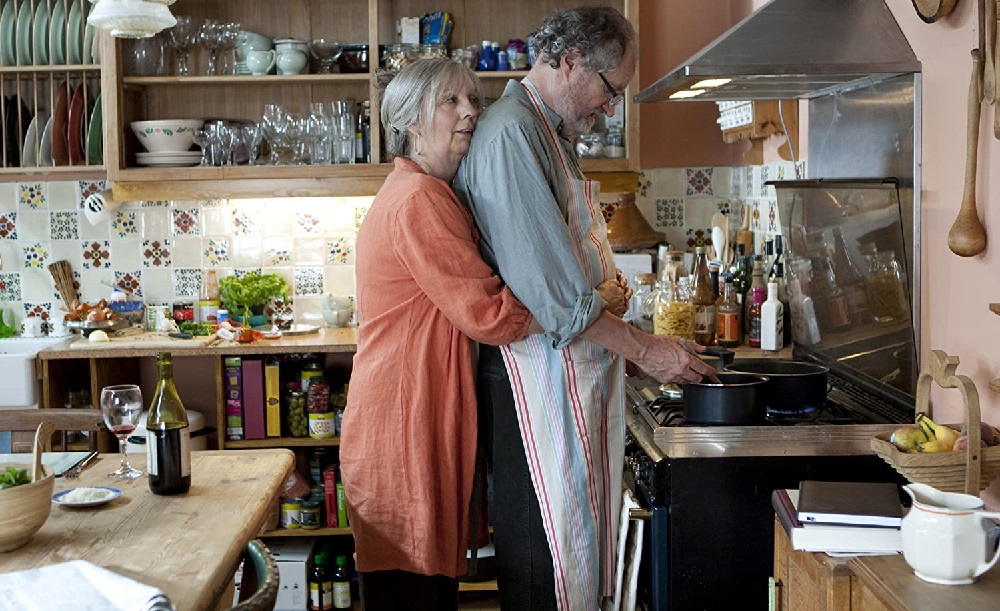 Leigh's Another Year a Quietly Profound Marvel
Mike Leigh's Another Year is a movie about very little that manages to still say a whole heck of a lot. It follows a year in the life of longtime married couple Tom (Jim Broadbent) and Gerri (Ruth Sheen). He's a geologist working for the government on subterranean drilling projects in London. She's a patient and caring therapist at a local hospital. The two spend time together managing their allotment, a community garden where they grow vegetables, flowers and plants.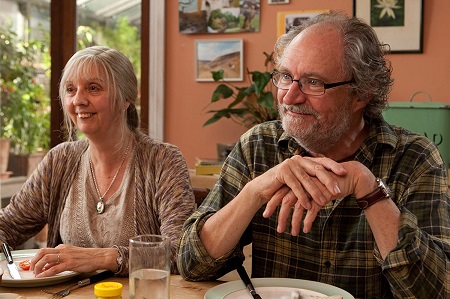 Throughout the year they watch their son Joe (Oliver Maltman) go from being happily single to being completely entranced with the bubbly Katie (Karina Fernandez), try their best to be a caring friend to Gerri's emotionally frazzled coworker Mary (Lesley Manville) and enjoy a visit from Tom's childhood friend Ken (Peter Wight). They, along with Joe, present a loving front when Tom's brother Ronnie (David Bradley) faces unforeseen tragedy, opening their hearts and their front door to him in his time of need.
Split into four seasons, the movie is a delicately beguiling charmer that frequently broke my heart in two. It connects in ways that caught me a bit unawares, keeping me continually entranced even as some of the characters weren't always in an entirely happy place in their respective lives. This is a story about how people live, how people love and how people do all they can to get through the next hour (let alone the entire day), all of it speaking with a delicate eloquence that touched my soul.
Leigh and his extraordinary cast do wonders. They make it all look so easy, so effortless, allowing things to obtain a documentary-like persuasiveness that's spellbinding. Dick Pope's (Me and Orson Welles) camera floats through the proceedings almost as if it wasn't even there. I began to feel as if I were somehow transported inside the frame, becoming a part of this celluloid dreamscape along with the actors.
I don't want to make this all sound like some sort of bucolic fantasyland where everything is filled with wine and roses. Just the opposite. Leigh never shies away from the darker corners that life can oftentimes take us. Mary is a mess, entering her 40s unsure if she'll ever find that certain someone to spend her days and nights with. Ken is overweight, hating his dead-end government job and feeling as if his chance for greatness has passed him by. Ronnie is wounded and clueless as to where he should go next, the loss he's just experienced only amplified due to the fact his estranged son Carl (Martin Savage) blames him for all that's gone wrong in his own life.
Yet there is ample light residing alongside this darkness, most of it supplied by Tom and Gerri and how they do their best to accept everyone with loving arms. They know who they are and they are comfortable with that, certain in their affection for one another and sure that they've done all they possibly could to raise their son the best as they knew how. This pair is right at the center of the story, and without them anchoring things there is the distinct possibility none of this would have resonated as it ultimately does.
Broadbent and Sheen sparkle in a way that I cannot easily put into words, often speaking precious little while in the same instant expressing vast multitudes. Wight dominates his few scenes, sharing a moment of quiet desolation after getting verbally spanked by Manville that ripped me in two. Maltman, Fernandez and Bradley are also all quite memorable, while the great Imelda Staunton opens the film with a pair of unforgettable and shattering scenes that magnificently set the stage for what comes next.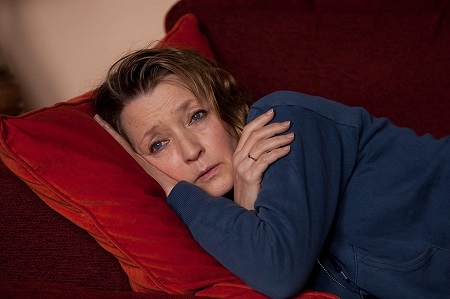 But back to Manville. Ever since this movie debuted at Cannes last May I've heard how amazing she was as Mary. This is one time when the hype wasn't an exaggeration. The actress is extraordinary, mining emotional crevices that left me breathless. Near the end, as Pope's camera lingered upon her the changes shifting across her face tore me to pieces, leaving me in such a stupefied state I almost didn't know what to do. Manville is brilliant, a word I do not user lightly, her Mary a character I'm not soon to forget.
Another Year is an experience unlike almost any other. The world it showcases might be in London, might be filled with British customs and mannerisms, but what it is talking about in regards to friendship, family and life is stunningly universal. It speaks to innately human truths that cross genders, races and nationalities, Leigh once again looking at the good, the bad, the great and the in-betweens that life has to offer and doing so with his trademark observational profundity.
Film Rating: 4 (out of 4)