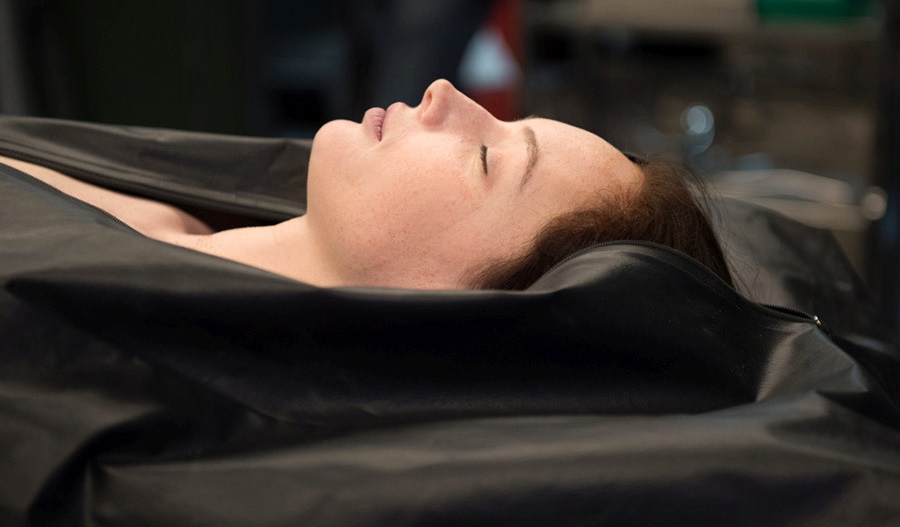 Macabre Jane Doe a Shockingly Good Ghost Story
Sheriff Sheldon (Michael McElhatton) has a problem. After he and his team are called to a catastrophic crime scene that brutally took the lives of an entire family, bits and pieces of them strewn all about the house, the small town peace officer is dumbstruck when they find a mysterious body in the basement. This Jane Doe (Olwen Kelly) is perfect, nary a mark on her, and considering the condition of every other deceased individual they've so far found this is a perplexing set of circumstances indeed.
Sheriff Sheldon takes the body to the local mortician, Tommy Tilden (Brian Cox), and even though night is upon them he begs him to perform an immediate autopsy. The mortician agrees, his son and partner Austin (Emile Hirsch) deciding to stay and help, forgoing an early evening out with his lovely girlfriend Emma (Ophelia Lovibond) in order to make sure his dad finishes before morning. But as they begin the process of figuring out what killed this young lady, a mysterious malevolence begins to grow inside the mortuary, father and son suddenly not altogether certain that the body they are cutting into and dissecting is as dead as it looks.
Director André Øvredal exploded onto the scene in 2010 with the fantastic found footage fantasy-adventure-thriller Trollhunter, an astonishing Norwegian import that consistently surprised as it built its way to its fiery conclusion. It's taken awhile, but his follow-up effort, the English language supernatural horror-thriller The Autopsy of Jane Doe, was well worth the wait. Working from a smart, wittily unsettling script by Ian B. Goldberg and Richard Naing, featuring a pair of strong, increasingly frazzled performances from Cox and Hirsch, Øvredal manages to create a palpable sense of dread that's deeply disturbing. This is a good movie, at times even a great one, and if not for a few minor missteps right at the end I'd not hesitate for a second to call this terrifying little gem one of the year's most spectacularly discomforting winners.
It's all very nonchalant at first. Tommy and Austin are going about their respective days. The father loves that he's been able to work so closely with his son, especially with his wife's somewhat recent death still affecting them both. But the kid is ready to move on, he's in love with Emma and knows he can't stay forever working at the mortuary. Austin is ready to set on his own and make his way in the world, and after he and his dad finish figuring out what it was that happened to this particular Jane Doe he intends on letting him know just that.
It's that normalcy, that everyday banality that helps make all that comes next even more insidiously disconcerting. While Tommy and Austin's chosen profession is inherently creepy just by its nature, the fact they, and the filmmakers, look at it as just another job needing to be done allows for a sense of familiarity and warmth to resonate even when the pair start cutting up a dead body to see what it had for dinner. Øvredal orchestrates these moments as if they were nothing more than everyday occurrence, and as such the growing nightmarish terror that begins to develop wormed its way under my skin to the point I almost couldn't take it.
Safe to say, Jane Doe isn't what she appears to be. Each shred of skin, snip of hair and bit of DNA revealing disturbing truths that make her equally pitiable and scary, the monster lurking within the blood and bone looking to avenge itself against all comers, no matter how innocently they might have wandered into its territory. The script discloses the secrets behind who Jane was and why she is still a threat with lithe, delicate grace, making sure the intelligence of the two Tildens is apparent no matter how extreme or crazy things ultimately became.
Once the carnage begins, Øvredal refuses to cut any corners or allow the viewer to catch their breath. The winds of change whip through the underground nooks and crannies of the mortuary with unrelenting fury, forcing Tommy and Austin to look at the world in profoundly different ways than they ever had before. It's tense, the director staging things with a breathless relish that's staggering, Cox and Hirsch anchoring things with a determined authenticity that's appealingly relatable.
Everything is ghoulishly perfect, up until the moment it is sadly not, the climactic scenes not nearly as well thought out or as nicely devised as everything else in the picture proves to be. Not that what transpires is dumb; it's more that it happens with such speed and is so perfunctory it is nowhere near as interesting or as much fun to watch as all that preceded it had been. It's a rather benign, and not exactly inspired, coda to what had been an exemplary thriller, taking things in a somewhat forgettable direction that's understandably disappointing.
Up until then, though, The Autopsy of Jane Doe is a stunner. Øvredal cements his status as a filmmaker on the rise, giving the found footage genre a notable jolt of inspired electricity with Trollhunter six years ago and now managing to do the exact same thing with supernatural ghost stories and tales of witchcraft and sorcery with this. A strong film, filled to the brim with shocks and scares, even with an ending that doesn't quite work I still kind of loved this chilling horror opus, and as such I'm eager to dive into its macabre layers again relatively soon.
Film Rating: 3 (out of 4)