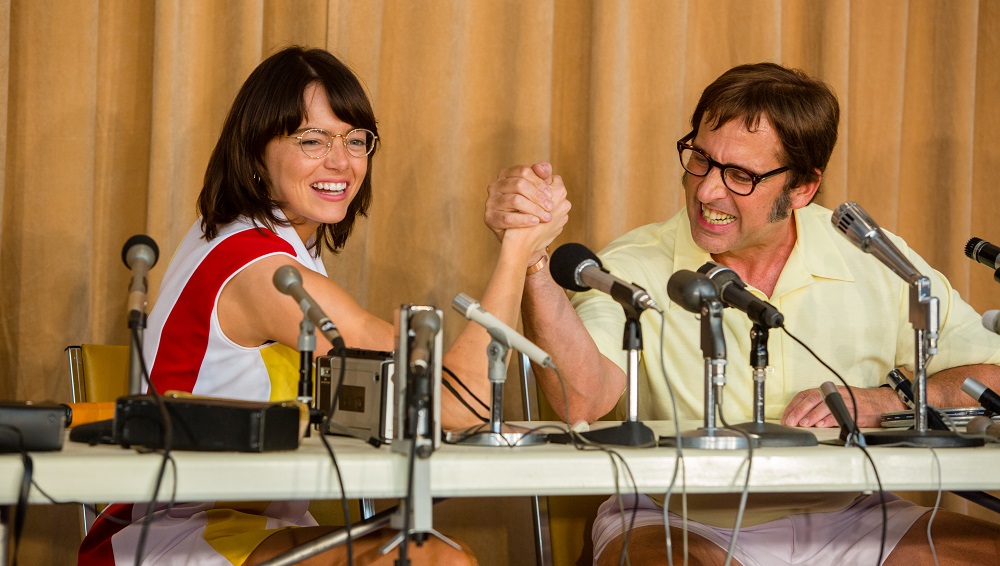 Crowd-Pleasing Battle of the Sexes Wins in Straight Sets
It's hard not to watch Battle of the Sexes and not view it outside of the dingy, muck-covered veil of current events. The story of a smart, successful and talented woman who battles against misogyny, sexism and current social mores in order to prove she has every right to expect and to warrant equal acclaim and payment as any man would demand, if any movie was made for the here and the now it is this one. But this isn't the tale of a presidential election or the saga of a man using every dirty trick at his disposal, including stooping to race baiting and social intolerance, to belittle and divide an unthinking base of supporters to follow his every whim no matter how absurd or idiotic they might turn out to be. No, this is a dramatic reenactment of a male-female tennis match that captured the attention of the world back in 1973, sadly proving once again that the more things change age-old biases and the inability of those stuck in beliefs and ideas from another day frustratingly remain the same.
Working from a sensational, intimately layered script written by Simon Beaufoy (Slumdog Millionaire, The Full Monty) and directed with dexterous skill by Little Miss Sunshine impresarios Jonathan Dayton and Valerie Faris, this empowering, exuberantly enthusiastic motion picture creates such a palpable sense of joy in the viewer it gives one hope things really will turn for the better sooner rather than later. The story of the iconic contest of determination and skill between tennis players Billie Jean King and Bobby Riggs that culminated in a match watched by an estimated 90-million people, the beauty of the film is its aggressive, unforced simplicity. Dayton and Faris don't pull their punches while at the same time still striking a cheery balance between ferocity and compassion, in the process crafting a gloriously unfinished symphony of melancholic euphoria I unquestionably adored.
The "Tennis Battle of the Sexes" was the tagline given to the tennis match between 29-year-old women's superstar King (Emma Stone) and 55-year-old former men's champion Riggs (Steve Carell), but their contest wasn't actually the first of its kind. Even though she was his second choice, Riggs managed to convince Australian champion and new women's number one Margaret Court (Jessica McNamee) to play him first. His thorough domination of her forced King to rethink her reticence to take part in an event she considered nothing more than an uncouth three ring circus. The athletic star and growing feminist icon understood that, while for Riggs this was nothing more than a rowdy bit of performance art engineered to put him back in the public eye, for women and their fight for equality the event was a pivotal turning point that could prove disastrous if she were to be trounced in the same way Court was.
But Beaufoy's clever script doesn't paint such a black and white picture. Just as King was helping engineer a place for women in professional tennis outside of the male-dominated edicts of the day, she was also coming to terms with her own sexuality, an unanticipated relationship with hairdresser Marilyn Barnett (Andrea Riseborough) happening at the very moment she knew she needed to be spending as much time as possible focusing on her game. As for Riggs, he was a man who longed to return to the spotlight, a one-time household name that now felt like a forgotten tennis footnote who wanted to make a new mark before any realistic chance to do so was lost to him forever.
It are these differences, these competing agendas, that make up the crux of the story, not the climactic tennis match. Unsurprisingly, Beaufoy's screenplay spends a bit more time on King and her relationship with Barnett than it does on analyzing all that was taking place in Riggs's world. Still, it's easy to get a feel for his insecurities, the shame he feels when he can't live up to being the man his wife Priscilla (Elisabeth Shue) believes he could be, all of that filtered through a lens of a changing world rushing to pass men like him by whether they want it to or not. There are some beautiful, heartfelt moments that transpire during this portion of the story, the emotional components always working on multiple character-driven levels throughout the story.
Yet it is still Stone and her depiction of King that is the film's undeniably flawless element. As amazing as the actress was last in year in La La Land, winning a much-deserved Academy Award for her efforts, she is even more incredible here, delivering to what my mind is, up to now, at least, the best performance of her career. The level of interior nuance, how she is able to convey so much just by the way she moves her body, trembles a lip or reaches longingly for a caress she's terrified she'll never be able to publicly experience, all of it is sensational. I was fascinated by Stone, her performance building in ways that are continually surprising, all of which helps make her resilience and fortitude during the climactic tennis match all the more emotionally affecting.
There's a subplot involving Riggs's eldest son Larry (Lewis Pullman) that never quite comes alive, while King's relationship with her devoted husband Larry (Austin Stowell) is almost too tender and reserved to a fault. Neither of these subplots connected with me as much as I wanted them to, and even though both have a number of strong moments overall each is depicted with such timid restraint I found it difficult to care about anything either man was currently going through. I also wasn't entirely taken with composer Nicholas Britell's (Moonlight) omnipresent score,  the filmmakers utilizing it in a manner I sometimes felt was unnecessary, allowing music to intrude upon scenes where to my mind silence might have been best.
Still, Battle of the Sexes is extraordinary. Carell and especially Stone are marvelous, while Dayton and Faris's direction is consistently stellar, reminding me why it is I adore Little Miss Sunshine as much as I do while also wishing the pair would step behind the camera more often than once every five or six years. As for Beaufoy's script, it is one of 2017's best, his story achieving a vivacious immediacy that's downright spectacular. Together, they've all journeyed back to 1973 to tell a story no one should forget about and, in light of recent events, sure as heck should take the time to learn something from. Ignorant bullies weaponizing sexism, homophobia and racism deserve to be silenced, and whether they're on the tennis court, inside corporate boardroom or even heaven forbid in the gosh darn White House, it's about time we all follow Billie Jean King's example and do whatever we can to shut them up, hopefully this time for good.
– Review reprinted courtesy of the SGN in Seattle
Film Rating: 4 (out of 4)