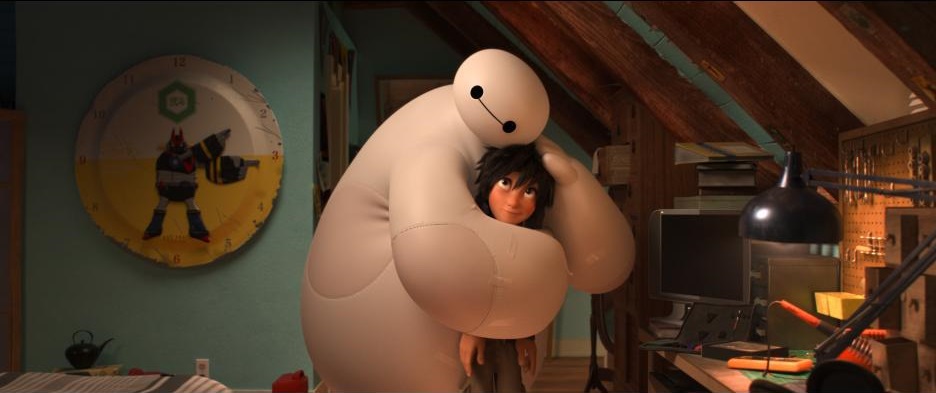 Big Hero 6 Familiar, if Heartfelt, Superhero Origin Tale
In the city of San Fransokyo, teenage genius Hiro Hamada (voiced by Ryan Potter) doesn't know what to do. His parents lost to tragedy, his loving, highly intelligent brother Tadashi (Daniel Henney) gone trying to save the life of San Fransokyo Tech professor Robert Callaghan (Robert Cromwell) from a mysterious fire, the robotics prodigy is lost in a sea of depression that threatens to overwhelm him.
Luckily there's Baymax (Scott Adsit), a rotund, lovably squishy cutting-edge health care robot invented by his older brother that the 14-year-old whiz kid had actually forgotten about. The two begin to bond, kid teaching robot about what it means to be human while the latter gives the former a reason to reconnect with the world around him almost as if he's given him permission to start living life with passion and intensity once again.
Part of me wishes that Disney's latest animated extravaganza Big Hero 6 had stopped right there. There is a Hayao Miyazaki-like simplicity to that aforementioned scenario that's lovely, the relationship between Hiro and Baymax having an enchanting naturalness that reminded me a lot of the Studio Ghibli auteur's My Neighbor Totoro. I was swept up inside their tale, this evolving friendship delicate, marvelously sublime in its complex minutia. Whenever the movie stopped, slowed down and spent time focusing entirely on these two, only on how they learned from and related to one another, I was unbelievably charmed by what I was seeing.
But the movie isn't content to rest on these sorts of laurels, doesn't want to be an Ernest & Celestine style character piece confident enough in its simplicity to realize it doesn't need a ton of bells, whistles and random pieces of nonsense in order to keep an all-ages audience entertained. Based on a Marvel comic by Duncan Rouleau and Steven T. Seagle, this is a superhero origin tale, a saga of average everyday nerds becoming city saviors, battling evil and righting wrongs even if they're not entirely certain why they're doing it.
It isn't that this story is bad – it isn't – so much that, thanks to all of the live action superhero theatrics of the past handful of years another origin story, no matter how inventively animated or staged, just had trouble maintaining my interest. Watching Hiro meld Baymax into his Kung Fu sidekick, seeing him convince Tadashi's San Fransokyo Tech pals Go Go (Jamie Chung), Fred (T.J. Miller), Wasabi (Damon Wayans Jr.) and Honey Lemon (Genesis Rodriguez) to join up with him, going along with them as they attempt to stop a masked supervillain from ravaging the city with miniature high tech toys that can combine together into a monstrous, virtually unstoppable force, all of that just isn't new or original enough to captivate. It's just more of the same, more of what I've seen too many times before, the film's cadre of writers, along with directors Chris Williams (Bolt) and Don Hall (Winnie the Pooh), not doing enough to shake things up content to travel in super-powered clichés and stereotypes that have grown a little stale.
Not that I was bored. Quite the opposite. The film's visuals are wonderful, the filmmakers pulling influences from Japanese Anime, Studio Ghibli, old Max Fleischer cartoons and Disney's own colorful canon (especially recent efforts, most notably Wreck-It Ralph), achieving an eye-popping ebullience that's winning. The vocal work is universally superb, veteran character actor and comedian Adsit doing a particularly fine job bringing the child-like yet surprisingly wise Baymax to life. As for the film's central action set pieces, they're sensational, achieving a rhapsodic grace that's marvelous.
Yet the simple truth is that I didn't care all that much. Even the film's climactic sacrifices didn't move me as I felt they should have, much of what transpires so expected, so by the numbers, I didn't doubt for a second things would work themselves out in a cathartically satisfying manner. We've been down this road so many times of late the cookie cutter mechanics wasn't satisfying, leading me to wonder why the studio felt so compelled this was the Marvel property they wanted to put the official Disney imprint on as far as their animated offerings were concerned.
I can't work up much energy to argue for anyone to skip Big Hero 6 and see something else. For what it is, the film is hardly a bore, and more than a few of the more grandiose moments are suitably spectacular. And when the movie zeros in on Baymax and Hiro, when it chooses to focus on them and them alone leaving the rest alone? It more or less soars, achieving a level of sincere quiet tenderness that oftentimes makes up for the routine humdrum rigmarole the majority of this superhero hotchpotch chooses to revel in.
Film Rating: 2½ (out of 4)