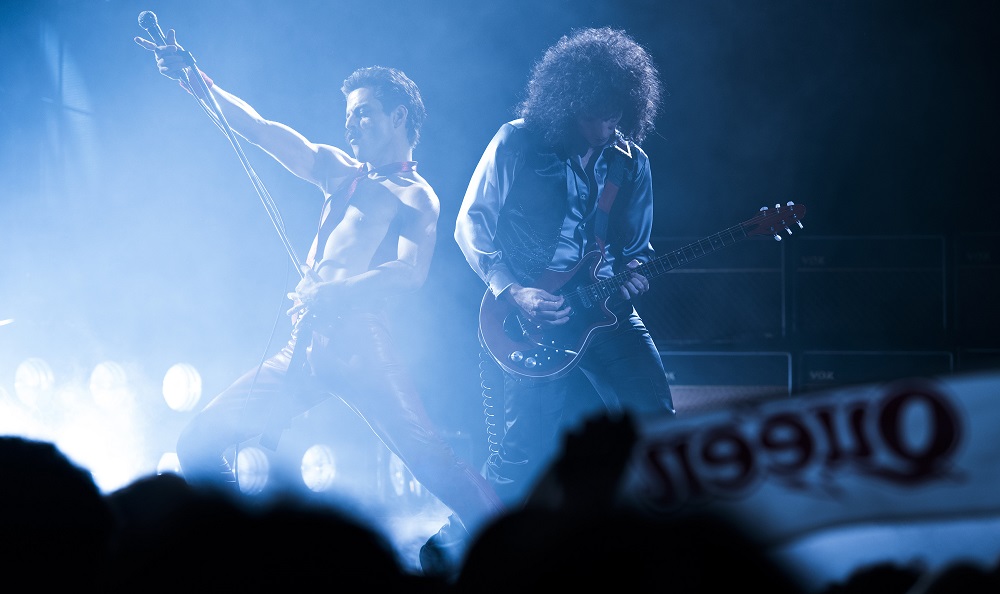 Malek's Magnificence Notwithstanding, Bohemian Rhapsody a Musical Disaster
I'm not going to say that Bohemian Rhapsody is the worst film of 2018. I will say it is the year's most disappointing release to come out of major Hollywood studio this year, this biography of legendary singer Freddie Mercury chronicling Rock 'n' Roll supergroup Queen in the 1970s and '80s an inept melodramatic slog that never met a troubled musician cliché it didn't want to enthusiastically embrace with open arms. Even more frustrating, it wastes a titanic, suitably larger-than-life turn from Rami Malek as Mercury that is gutsy, daring and overflowing in carnal, sexually ambiguous charisma. It's the type of once-in-a-lifetime performance every actor dreams of giving, and for Malek it's unfortunate that he gives one in a motion picture as instantly forgettable as this sadly proves to be.
Forget about the film's behind-the-scenes travails which resulted in the firing of director Bryan Singer (The Usual Suspects, X-Men) just weeks before production wrapped and the handing of the project over to Dexter Fletcher for completion. The real problem is the script approved by Queen band members Brian May, Roger Taylor and John Deacon. Working from a story he conceived with Peter Morgan (The Queen, Frost/Nixon), Anthony McCarten's (The Theory of Everything, Darkest Hour) screenplay is an outright disaster. It falls all over itself reveling in any number of biopic tropes that one wonders if he watched Walk Hard: The Dewey Cox Story back in 2007 and thought Jake Kasdan, Judd Apatow and John C. Reilly meant for audiences to take their low budget satirical comedy seriously. It's like he didn't get that it was a parody and instead used it as the template for his script here, and as such taking any of what happens regarding Mercury and his Queen bandmates seriously is virtually impossible.
I'm not the first one to make the Walk Hard comparison, and I really hate trotting out an idea a number of others have already hit on before I had the chance to write about the film myself. But these similarities are just so blatantly obvious it just seems apt to call them out. Every tired piece of formulaic pabulum Kasdan and company made fun of in their cult comedy is unfathomably trotted out here as if audiences are supposed to be taking them seriously. It's disastrous on any number of levels, but especially as they pertain to the relationship between Mercury and his immigrant family, most notably as things concern his conservative father. But there's so much else that doesn't work it's just stunning that Singer and McCarten thought any of this was a good idea. Even the relationship between the singer and the other members of the band wallow in histrionic pabulum, and as such the familial bond that we're supposed to believe that they've formed never feels genuine or emotionally sincere.
The crazy thing is that Malek still goes all-out as far as his performance is concerned. This is a audacious turn, one that always feels on the cusp of going completely off the rails which fits Mercury's rock star persona magnificently. This isn't just a great actor taking on his subject's body movements and emotive tendencies, this is more than just impersonating a historical figure's mannerisms, instead it is a portrayal that slinks across the stage with tenacity, purpose and sexually adventurous bravado. Even when the film lets him down Malek still disappears so completely that it becomes difficult to know where his portrait of the Queen lead singer begins and the real Freddie Mercury ends. He's sensational, and I'm hard-pressed to recall outside of Meryl Streep's Oscar-winning turn in The Iron Lady the last time I watched an actor be this superb in an otherwise risibly mediocre motion picture.
Maybe I shouldn't be so harsh. Gwilym Lee (as Brian May), Ben Hardy (as Roger Taylor) and Joe Mazzello (as John Deacon) are all just fine as the rest of Queen, and Lucy Boynton gives it her all as Mercury's one-time girlfriend and lifelong best friend Mary Austin. There's also a masterful turn by an unrecognizable Mike Myers as a record label executive who doesn't quite get what the band is attempting to do, especially when they hand him over the demo of the six-plus minute "Bohemian Rhapsody" wanting to release it as the lead single from the latest album. This isn't a cameo, it's a bona fide scene-stealing tour de force, the couple of moments featuring him having a magnetic urgency the rest of the movie frequently lacks.
I'm not going to get into why all of the stuff regarding Mercury's sexuality is so offensive, just know that it is. As presented here, all of the bits dealing with his various romances is ghastly, almost as if Singer watched William Friedkin's ugly, borderline vile 1980 Al Pacino thriller Cruising and thought to himself that it presented the ideal outline as to how gay relationships in the late '70s, early '80s should be depicted. It's just despicable, and it goes without saying Mercury deserved a better illustration of this important facet of his life than what is showcased here.
I don't want to keep attacking the movie more than I have. Sitting here trying to figure out what to say, thinking more about what Singer and McCarten have splashed across the screen, it's just making me angry. Honestly, considering how much I love Queen's music I'd likely have forgiven many of the blatant historical inaccuracies had Bohemian Rhapsody been willing to take one bold, dangerously virile risk with how it depicted this decade-and-a-half or so of Mercury's life. Even with the climax revolving around the band's triumph at the 1985 Live Aid concert, even though I think Malek is close to flawless as Queen's mercurial lead singer, it's possible I hated this overblown mess of a musical biopic, and I'd rather not say another word about it.
Film Rating: 1½ (out of 4)