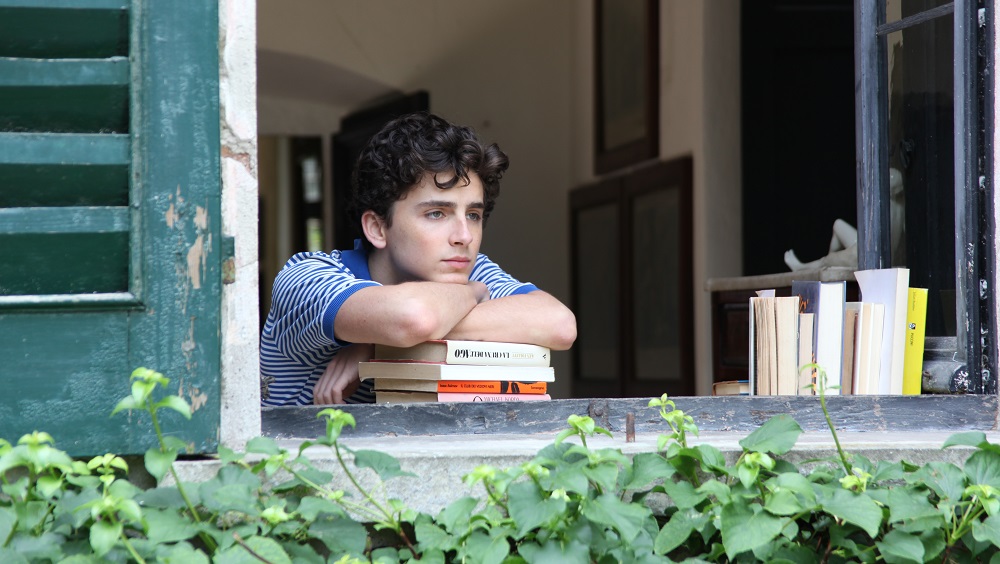 Heartfelt Call Me a Truthfully Nuanced Journey of Youthful Discovery
As the summer days merge into one, 17-year-old Elio Perlman (Timothée Chalamet) spends his time studying classical music and coyly flirting with childhood friend Marzia (Esther Garrel). He's also not sure what to make of his father Professor Perlman's (Michael Stuhlbarg) latest graduate student, a tall, handsome American named Oliver (Armie Hammer) studying Greco-Roman history. Elio is captivated by the slightly older man, especially the way he so easily makes friends with his translator mother Annella (Amira Casar) as well as how he beguiles every woman he meets with such apparent effortlessness. More, the teen sees something in Oliver that he's drawn to in a way unlike anything he's felt before, secret longings burning inside of him suddenly forced out into the open whenever the two find themselves alone in one another's company.
Based on the novel by André Aciman, with a script written by the great James Ivory (A Soldier's Daughter Never Cries), director Luca Guadagnino's (I Am Love, A Bigger Splash) ravishing, gorgeously cinematic Call Me by Your Name is a feast for the senses. A hypnotic coming of age story set in the Italian countryside circa 1983, this is a tale of self-discovery and acceptance that, while hardly original, feels as authentically realized as anything a fan of either the book, Ivory's or Guadagnino's ever could have hoped for. Featuring an astonishing, star-making turn from young Chalamet and strong, shrewdly complex assistance from the remainder of the stellar supporting cast, the movie casts an alluring spell that's difficult to resist, and for my part I was happily captivated for every second of the admittedly lengthy 132-minute running time.
Not that I am completely in the bag for the film. Unlike similar efforts like Todd Haynes's Carol or even Ivory's own 1987 classic Maurice (which helped propel newcomer Hugh Grant to stardom), not all of the varying subplots lingering at the edges of the story are dealt with or resolved as satisfactorily as I hoped they would be. Marzia is given particularly short shrift, the cruel dismissal the character is forced to endure not sitting at all well with me, even though the moment is clearly foreshadowed early on. It should also be said that, even though I am unfamiliar with the source material, I never had any doubt where things was headed, Elio and Oliver's relationship walking down a familiar path that a number of LGBTQ coming out tales have sauntered upon for well over three decades.
This is still one magnificent piece of filmmaking. The way in which the story allows Elio to open up and pursue Oliver, the latter's hesitant if still welcoming reactions when learning of the teenager's feelings, these elements work together in such harmony the symphony they compose is hauntingly rapturous. While not so much a love story as an analysis of longing, acceptance, understanding and even lust, the pair evocatively join to form a union that is immediate, concrete and undeniably sincere. Elio's internal battles as he grapples with who he is and what he wants as it pertains to this sexual awakening are adolescently pure, his mistakes coupled together with his triumphs revealed in a way that is authentically profound; hurt, joy, loss and love all colliding together with mesmeric ease.
Chalamet is a revelation. Having small, noteworthy moments in features as diverse as Greta Gerwig's Lady Bird, Julia Hart's Miss Stevens and Scott Cooper's upcoming Christian Bale/Wes Studi Western Hostiles, as much as I've liked the young actor's performances in the past that still did not prepare me for just how superb he would be here. Chalamet channels all of Elio's idiosyncratic tendencies and mannerisms as if he's been playing the character since birth, the way in which he interacts with Stuhlbarg, Casar, Garrel and every other member of the cast as easygoing as it is unforced. His chemistry with Hammer is off the charts, the emotions flowing between the two actors having an informal power that is as comforting as it is undeniably sexy. But it is the pain he nakedly showcases when Elio is hurt or is forced to deal with the ramifications of his actions where Chalamet soars, the final sequences of the movie haunting in their simplistic naturalism in large part thanks to the actor's spellbinding performance.
Guadagnino remains as visually confident a director as there is working today. Working with esteemed cinematographer Sayombhu Mukdeeprom (Uncle Boonmee Who Can Recall His Past Lives), the sights the filmmaker chooses to showcase at the periphery of the screen are almost always just as important as the ones sitting in the center of the frame. This gives the film a look that, while calmingly recognizable, is just as equally its own living, breathing entity as well. The image comes alive in much the same way Elio does, growing in depth, complexity and introspective candor as events slowly make their way towards their emotionally affecting conclusion. Call Me by Your Name might not go anywhere unexpected, yet that doesn't make getting to the destination any less of a joy, Guadagnino's latest a marvel of truthful nuance worthy of a standing ovation.
– Review reprinted courtesy of the SGN in Seattle
Film Rating: 3½ (out of 4)