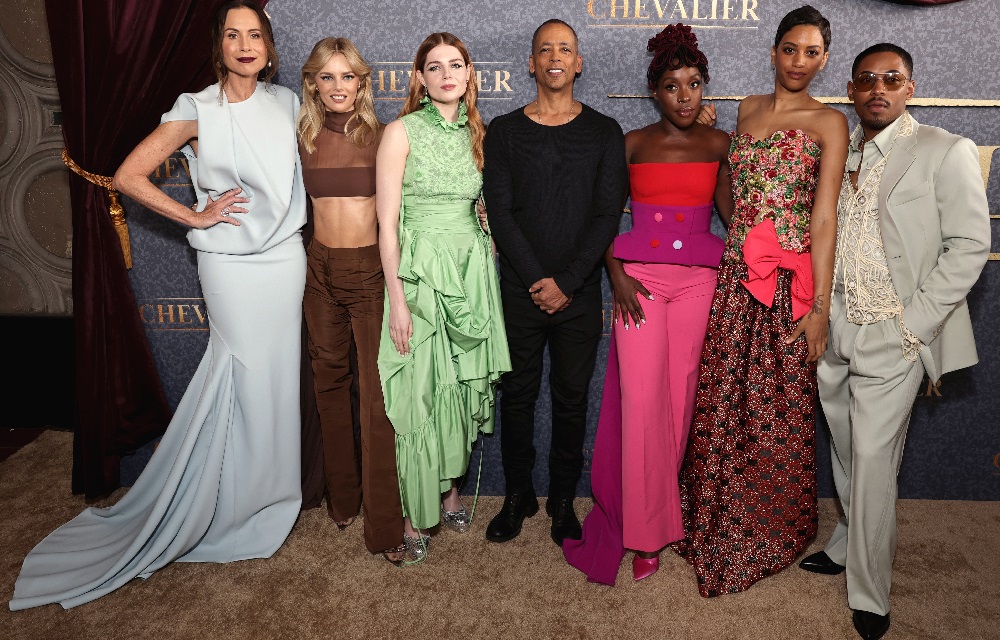 Historical Emancipation
Chevalier director Stephen Williams and screenwriter Stefani Robinson resurrect revolutionary French composer Joseph Bologne's story for the big screen
Before sitting down to watch Chevalier, I admit I had never heard of 18th-century French virtuoso violinist, champion fencer, and celebrated composer Joseph Bologne, aka the Chevalier de Saint-Georges. If I had heard any of his celebrated compositions, I never would have known he authored them. It was as if this extraordinary man of African descent had been lost to history — and as travesties go, this is an egregious one.
Vaunted television producer and screenwriter Stefani Robinson felt the same. A six-time Emmy nominee for her work on What We Do in the Shadows and Atlanta, Robinson first encountered Bologne's story while still in high school, and it immediately took root. "I don't even know what book it was," she said with a wistful chuckle, "but I do know that my mom had given it to me. It was some kind of reading material, and it mentioned him, maybe a paragraph or two. It wasn't an exhaustive account of [Bologne's] life, more a highlight reel. But once you read or learn more about this guy, it's a pretty impressive highlight reel."
From that moment, Robinson was hooked. "Everything about his life was fascinating to me," she continued. "I think the thing that drew me in was the feeling that no one knew anything about him. I was asking people at school, teachers, my mom, whoever, 'Can you believe this guy?' No one could.
"Throughout my life, that seemed to be the case. No matter what bubble or what group that I was in, no one knew who [Bologne] was. When I had the opportunity to pitch the movie, obviously he had never left my mind. I was extremely enthusiastic, and Searchlight bought the pitch! Somewhat surprising, because no one there had heard about [him], either."
From the moment Stephen Williams, an Emmy winner for HBO's Watchmen, read Robinson's script, he knew he'd make the leap to features with Chevalier. "I had never heard of Chevalier before," admitted Williams candidly. "It was unbelievable to me that [I had never heard of] this person, such an amazingly accomplished person, a virtuosic violinist, a composer of concertos [and] opera, a champion equestrian, a champion fencer, a champion marksman, someone the American president, John Adams, referred to as the greatest, the most accomplished European of his day…
"I knew I needed to learn more. I started doing a deep dive into what little information exists about him. I was just floored by how innately operatic, innately cinematic his life story was."
But it didn't stop there for the filmmaker. "On a smaller, more personal level, there started to emerge similarities that I could recognize and identify with," said Willaims. "He's from the Caribbean island of Guadeloupe. I'm from Jamaica. Both of us made our way to Europe under completely different circumstances, but still at an early age. There were aspects of his life trajectory and the challenges that he encountered that I recognized from my own experience.
"All of those things together — coupled with the fact that …minus the wigs and minus the costumes, so much of [the social ferment that] was happening in prerevolutionary France at the time …was reminiscent of things that are happening in our contemporary world. His times and his life felt culturally relevant to where we are now. It made kind of an irresistible cocktail for a movie, and I felt like I had to tell the story."
The finished film streamlines much of Bologne's story. It follows him (spectacularly portrayed by Kelvin Harrison Jr.) as he catches the eye of Queen Marie Antoinette (Lucy Boynton) — who gives him his title of chevalier — and enters into a competition to lead the Paris Opera. Along the way, his mother Nanon (Ronke Adekoluejo), a former slave given her freedom only after Bologne's father's untimely death, journeys from the Caribbean to join her son in Paris, while the composer also has a steamy affair with Marie-Josephine de Comarieu (Samara Weaving), the wife of feared professional soldier the Marquise de Montalembert (Marton Csokas).
The cherry on top? All of this takes place in the growing shadow of the forthcoming French Revolution.
This story did need some additional fleshing out, and it fell to Robinson to put many of the pieces together. "There is a lot of information on Joseph out there," explains the screenwriter, "and every day, I think more comes to light. I had a great foundation to build on …through these historical documents — albeit mostly from other people's perspectives of him. It was either someone writing a letter about him, or someone writing a journal and they mentioned him, or it was reviews [of] one of his operas. It took work piecing together [Bologne's] legacy. There was nothing there that felt like it came from him. There were no letters, no diary entries. And a third of his music has been lost to history.
"It was a lot of work to fill in those blanks. To really get inside his brain and how he must have been feeling, how he must have been reacting to the things that were happening to him. It took a lot of [inferring]. Just trying to fill in the psychic blanks."
"Joseph's life is so rich," added Williams. "It could fuel six movies. I think that we all come into the world in one posture. Life happens to us, we have experiences in life, and we grow and we change, and hopefully we become more authentic and truer versions of ourselves, having gone through the gristmill of all that life can throw at us. This felt like an empowering story despite all the obstacles. It's a story that I recognize. More, it is one I want to share with people."
This sharing did not come without complications. But the only pressure Robinson and Williams felt was that which they put on themselves to do Bologne's story justice. "Stefani and I were completely united in the idea that we weren't going to tell a cradle-to-grave biopic," the director emphatically stated.
"We don't even think of this movie as a biopic. We think of it as a not-quite-biopic. It's a movie. It's not a documentary. Stefani said this very early on in our working together, and it became our mantra: 'I'm not writing a Wikipedia page.' We embraced that straight off the top.
"There's also this amazing Tom Stoppard quote: 'Facts are facts, and truth is something else entirely and is a product of the imagination.' That was our North Star, too. We felt like we set out to honor Joseph's life as a real person. I mean, in the fog of awareness, it's easy to only think of him being a historical figure, but he was also a real person that lived and breathed on the same earth that we do. We were constantly mindful of trying to [drill] down to the essence of what was truthful about him, even when it wasn't necessarily in that instance factual. Hopefully, even when taking these dramatic licenses, we still honored him and his legacy."
Part of honoring that legacy was also ensuring that the women who played a vital role in shaping Bologne's narrative were as three-dimensional as he was. Marie Antoinette, Marie-Josephine, Nanon, and the grande dame of the Paris Opera, La Guimard (Minnie Driver), all have a vital part to play in the composer's aria.
"At the end of the day, this is Joseph's story," explained Robinson. "It had to be, and we didn't have the time or the luxury to explore every peripheral character the way that I maybe would've wanted.
"But I do think that these historical figures are incredibly complicated, complex, and fascinating and tragic, and each woman should be celebrated for their own reasons. It was hard to balance, but I think within limitations, you're forced to be creative about how you tell a story like this, and it was important to give each woman agency and life.
"As a woman, and [with] my own experience in this world, I wanted to push up against [that] they were just there to support Joseph. Thinking specifically of Marie-Josephine and Marie Antoinette, both can equally be seen as disappointing or repulsive at times. At the same time, I have a lot of compassion for those women. Marie-Josephine is someone who recognizes that she doesn't have any autonomy. She's stuck in this marriage she can't escape from, and recognizes Joseph's plight as well, but ultimately makes the choice to hide within the confines of her marriage, at least for the time being, and that to me is its own little mini-tragedy."
Williams made a point to single out the performances by Weaving, Boynton, Adekoluejo, and Driver when discussing these four characters. "Each of those women had immensely rich lives in and of themselves," remarked the director. "Like La Guimard, who Minnie Driver plays so beautifully, if you read up about her, she has an amazingly rich life. Marie-Josephine and obviously Marie Antoinette, these are immensely rich characters. The hard part for us was trying to distill them down to the roles that they played and the impact that they had on the trajectory of Joseph's life through the course of the movie. But Lucy Boynton and Samara Weaving and Minnie Driver and Ronke Adekoluejo, I mean, we're just so blessed to have this level of talent as part of our movie.
"And don't forget Sian Clifford's character, Caroline-Stéphanie-Félicité, Madame de Genlis, the celebrated French writer and essayist. She's fantastic as well."
The filmmakers can't wait to see how audiences will react, many of whom will be coming to Bologne's story for the first time. "I want people to endeavor to be curious and open," proclaimed Robinson. "That's the thing for me. This story doesn't end with Joseph. There are so many people who have been marginalized or erased because of race, sexuality, gender, religion, nationality, and what have you, and he's one of many human beings who have contributed incredible things to this world that we just didn't know about yet. I can't wait for all of those other people to be excavated and celebrated. I hope that people become investigators of their own history, and do not take everything at face value."
Williams mulled things over before adding his thoughts. "Very awkward movies like this, we can make them end up sounding and feeling medicinal," he admitted with a shrug, "and I definitely didn't want to make a movie that was medicine. This movie, it's entertaining, but you are also going to learn something about someone you probably didn't know about, and it is nestled into a time period that has something to say about our current moment."
He paused for a moment before concluding, a proudly confident smile taking over his face: "To bring things full circle, there is a musical revolutionary that is the flag bearer of the country I come from, Jamaica, and his name is Bob Marley. I was informed by the legacy of Bob Marley, by the spirit of Bob Marley, while making this movie, about another musical revolutionary, Joseph Bologne, the Chevalier de Saint-Georges. Hopefully, the thematic takeaways, as Bob said in "Redemption Song," 'Emancipate yourselves from mental slavery. None but ourselves can free our minds.'
"If anyone watching Chevalier feels even a touch of that, then our time making it would have been well served."
– Interview reprinted courtesy of the SGN in Seattle