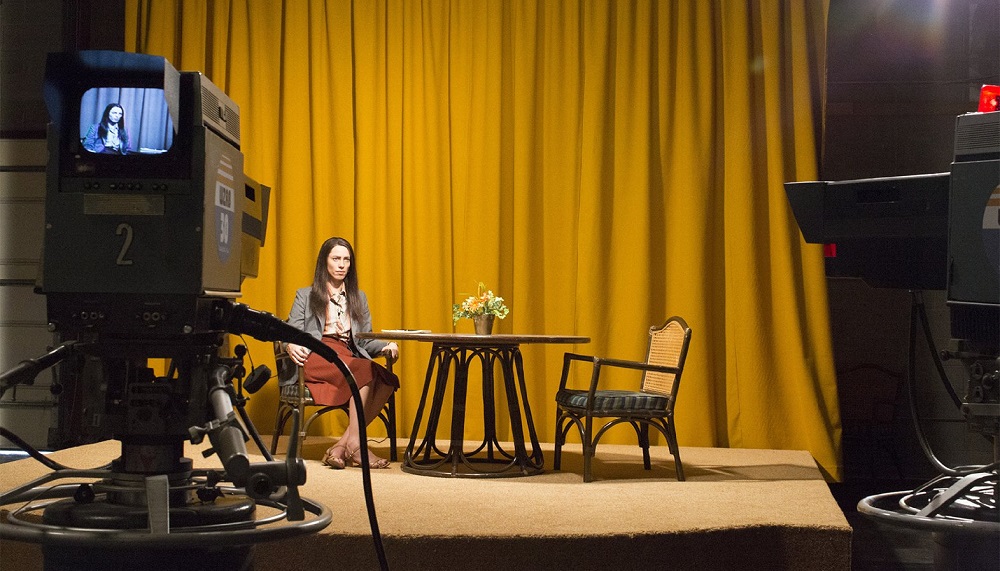 Mesmerizing Christine a Riveting Must-See Docudrama
I admit, I didn't know much about television news reporter Christine Chubbuck before watching director Antonio Campos and writer Craig Shilowich's intimate, elegantly composed and emotionally visceral Christine. Her story, what transpired that led the 29-year-old to commit suicide on-air in 1974, I didn't know any of this going into the movie, and my fear that this would feel more like a dreary death march than it would an informative, thought-provoking drama was sadly palpable before I sat down to give this one a look.
Not that I should have worried. Considering I thoroughly enjoyed Campos' previous two features Simon Killer and Afterschool, the fact the direction here is so confidently self-assured and bracingly subtle shouldn't have struck me as anything close to a surprise. Mix in newcomer Shilowich's strong, straight-forward and emotionally minimalistic screenplay, this is a strong docudrama, a movie filled with strong observations and unnervingly perceptive insights, one that couldn't be coming out at a better moment in time, Chubbuck's tragic story an immersive reminder of how far gender relations in the workplace have come as well as just how far they sadly still need to go.
At a television station in Sarasota, Florida, reporter Christine Chubbuck's (Rebecca Hall) is floundering. Insecure, passed over for promotion, her boss (Tracy Letts) dismissive of the potential features she keeps bringing to his attention, the journalist isn't handling things as well as those around her might believe she is. Single, living at home with her inadvertently smothering mother Peg (J. Smith-Cameron), secretly infatuated with co-worker George Ryan (Michael C. Hall) but unable to allow herself to respond to any of his advances, Christine is losing sight of why she became a television reporter in the first place, and in the process is hurtling towards a tragic destiny no one, not even her, ever could have anticipated.
This movie could have been unbearable. There's a reason Paddy Chayefsky was inspired by Chubbuck's story to come up with Network, and even bigger one why he composed it as a satire and not a straightforward drama. What's amazing is how Campos and Shilowich manage to transform Christine into a powerful chronicle of sexism, misogyny and workplace norms that isn't just a didactic lecture. They cut to the heart, revealing the person within Christine Chubbuck, manufacturing a universal aria of emotional deconstruction that left me with so much to think about and ponder I was practically shaking in tearful awe as the film came to an end.
The real genius here is the way the filmmakers refuse to give short shrift to the supporting players in this tragedy. Letts, Smith-Cameron and Michael C. Hall give remarkable performances, none of them smoothing their rougher edges yet also more than willing to explore the complex corners of their respective personalities with cunning insight and mesmeric fortitude. They are the unwitting players who, more often than not, believe they are doing right by Christine yet never see the pain swirling behind her eyes, each actor finding a way to connect with their own character's emotional dissonances and oblivious insecurities in ways that are collectively naturalistic.
The film's sound design is also phenomenal. Campos does a magnificent job of creating an assaultive sonic landscape that makes Christine's emotional disintegration feel viscerally pure and uncomfortably immersive. He has a way of constructing an atmosphere of self-destructive invention that effectively palpable. Yet, the film never feels oppressive, even with the forgone nature of the outcome, the director keeping things focused in a way that is magnetically compelling no matter how gruesome and uncomfortable things might unavoidably turn out to be.
All of which would be well and good, and also disappointingly moot, if the actress at the center of the things wasn't up to the task of making Christine Chubbuck a woman worthy of getting to know and spend time with, even knowing beforehand what is going to happen to her. Rebecca Hall doesn't just rise to the challenge, to my mind she ends up giving, not just the greatest performance I've seen in 2016, but one of the best ones I've had the pleasure to witness these past few years. Extraordinarily detailed, uneasily funny, free of artifice and willing to mine emotional territories that are as raw as they are genuine, she's magnificent, crafting a compelling portrait of ambition and insecurity waging war one against the other, all of it played out against a workroom backdrop that unwittingly amplifies both facet's of Christine's personality.
Christine isn't an easy movie to sit through, a statement on my part I'm sure will shock or surprise just about no one. But Campos proves himself to be a directorial titan whose stock is without question on the rise, navigating the complex terrain of Shilowich's multilayered, incisively acidic script with confident restraint. As for Rebecca Hall, she's flat-out astonishing, her performance alone making this riveting drama an absolute essential moviegoers of all backgrounds owe it to themselves to seek out and see.
– Review reprinted courtesy of the SGN in Seattle
Film Rating: 3½ (out of 4)