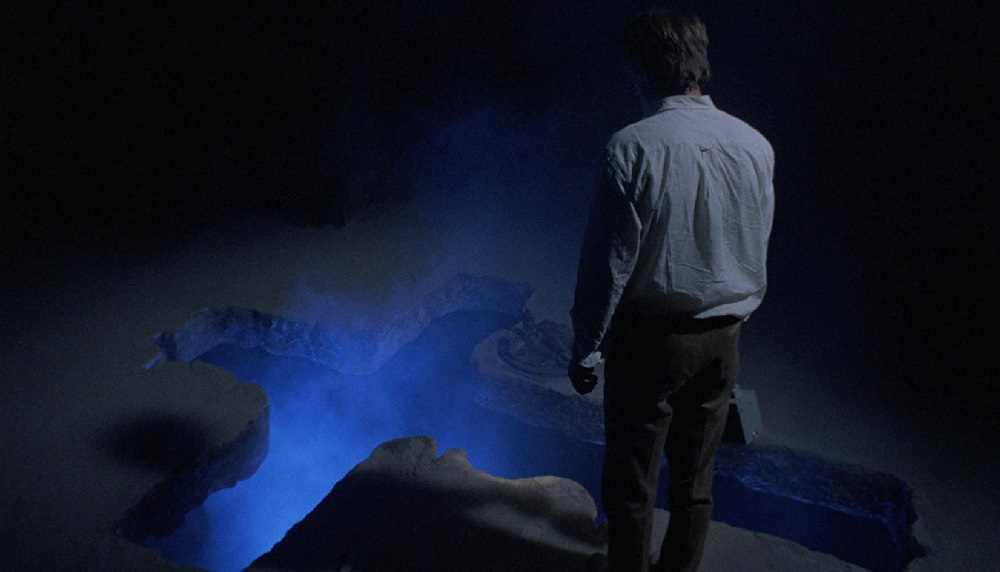 How does the Blu-ray/DVD Disc stack up? (all ratings out of 10.)
Movie
Video
Audio
Extras
Overall
SYNOPSIS
After restoration expert Lisa (Barbara Cupisti) discovers an ancient parchment in the catacomb walls located underneath a massive gothic cathedral, new librarian Evan (Tomas Arana) learns that this is a clue to an ancient secret buried by Templar Knights during the 12th century. As he digs deeper into this church's sordid past Evan inadvertently unleashes a marauding demonic force with the potential to obliterate all human life on the planet. With The Bishop (Feodor Chaliapin Jr.) knowing more than he is letting on, it is up to the righteous Father Gus (Hugh Quarshie) to stop this Hell-spawned plague from spreading, and if that means he needs to bring the entire structure to the ground before even he, let alone anyone else, can escape so be it. 
CRITIQUE
Make no mistake, as far as 1980s Italian supernatural horror is concerned, director Michele Soalvi's 1989 entry The Church is one of the more fascinatingly insane entries in the genre that ever had the good fortune to achieve an international release. With a script featuring input from Soalvi, producer Dario Argento and a whole host of others both credited and un-credited, the movie is a smorgasbord of religious supernatural possession horror clichés all of which are presented in a manner unlike anything imaginable. It is a crazed, beautifully abhorrent piece of blood-soaked cinema overflowing in imagination, and in the end becomes something of an avant-garde gothic pop art masterpiece of sex, violence, demonic possession and unrepentant gore.
Trying to explain what's happening and why is almost impossible. From a 12th century prologue featuring a gaggle of Templar Knights wearing costumes that look stolen from the set of Monty Python and the Holy Grail and wreaking all kinds of sadistic havoc against helpless village of peasants for reasons that are purposefully unclear, to a climactic final revolving around a wide cross-section of humanity – including a small group of elementary school children taking an educational tour, a model taking part in a lavish wedding dress photo shoot and a biker couple doing who knows what – trapped in the church and one-by-one either getting transformed into demons or being killed in a variety of complex ways Rube Goldberg would stand up and cheer, Soalvi's film is a hodgepodge of genre elements reminding the viewer of everything from Curse of the Demon to The Haunting to Rosemary's Baby to The Exorcist to The Shining to Suspiria to The Thing to Poltergeist to Hellraiser. No stone is left unturned here, and even elements hinting at reincarnation (a young Asia Argento shows up in a pair of roles, appearing in both the main portion of the story as well as in the prologue) pop up repeatedly, although what one is expected to make of these insinuations is anyone's guess.
Arana, who also plays an important role in Soalvi's 1991 follow-up The Sect (also recently released on Blu-ray), is at his most unnerving here, his descent into transformative madness suitably disquieting. This film is also magnificently scored by the unbelievably eclectic quartet of Keith Emerson, Philip Glass, Goblin and Fabio Pignatelli, while cinematographer Renato Tafuri (StageFright) composes frighteningly hypnotic visuals practically guaranteed to stay inside the viewer's head for the remainder of their natural life. The sequence where Evan discovers a ghostly pit into the unknown is insidiously picturesque, Soalvi confidently allowing the scene to play itself out in a nightmarish manner that's downright spectacular.
Do not misunderstand. The Church doesn't make a lick of sense, and it isn't exactly like the story being told is a model of subtle, character-driven complexity. But the movie is still pretty extraordinary, and while I'm not normally one to extol the virtues of a motion picture that revels in its macabre style over anything even moderately substantive, that's exactly what I'm doing here. For me, this is Soalvi's masterpiece, Scorpion Releasing's Blu-ray presentation pretty much all I could have hoped for and then some.
THE VIDEO
The Church is presented on a 50GB Blu-ray MPEG-4 AVC Video with a 1.66:1 1080p transfer.
THE AUDIO
This Blu-ray features an English DTS-HD Master Audio 2.0 soundtrack. It does not include any subtitles.
THE EXTRAS
Extras here include:
Interview with Michele Soalvi (19:48) – A rather nice interview with the director that plays like a pretty terrific companion piece to a similar extra included on The Sect Blu-ray. This time, Soalvi dives even more into his relationship with Dario Argento. Solid stuff.
Interview with Asia Argento (8:36) – Engaging, if brief, interview with the star, and although her memories of the film aren't nearly as sharp as Soalvi's (she was barely still a kid when she shot this, after all), there are a number of charming revelations here fans of the film will undoubtedly enjoy learning about.
A collection of Theatrical Trailers, including one for The Church (2:05), are also included with this release.
FINAL THOUGHTS
Michele Soalvi's The Church is absolutely bonkers. Not so much scary as it is gruesomely unhinged, this paranormal possession story of damnation and selfless sacrifice is impossible to forget and even more difficult for genre fanatics to resist. Scorpion's Blu-ray release is superb from a technical standpoint, while the film itself has gorily stood the test of time with stoically grisly resolve. Highly recommended.