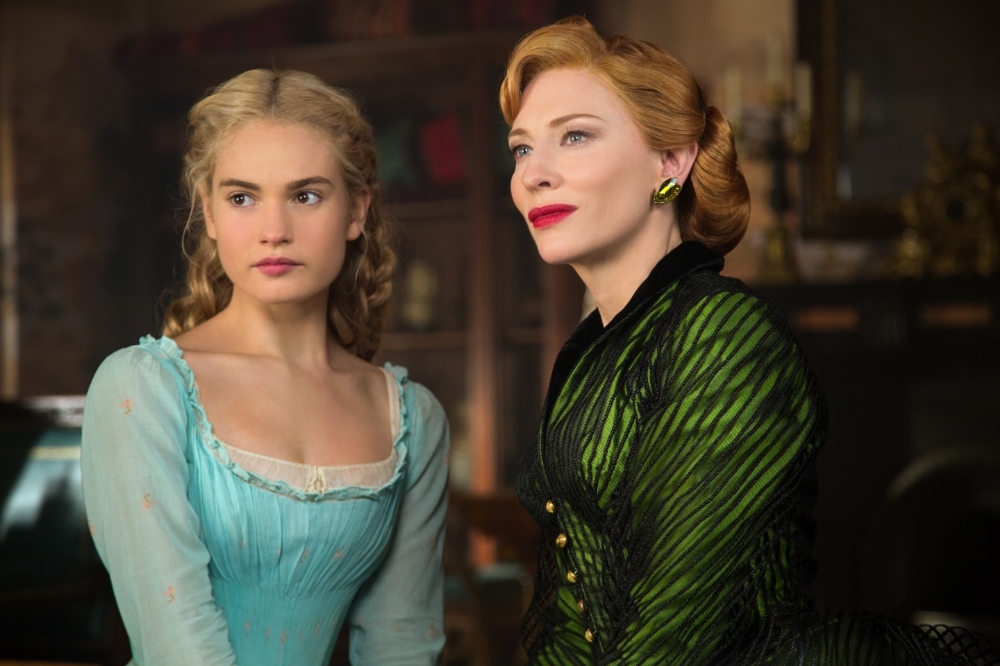 Disney's New Cinderella a Bibbity Bobbity Beauty
If a dream is a wish your heart makes when you're half asleep, then Disney's live action take on their animated classic Cinderella (and, much like that 1950 favorite, it only utilizes the most basic of elements found in Charles Perrault's adaptation of the timeless fairy tale) is the blissful fruition of that hopeful fantasizing. Directed with the same verve, elegance and simplicity auteur Kenneth Branagh once upon a time brought to his Shakespeare epics like Much Ado About Nothing, scripted with somewhat surprising warmth and intelligence by Chris Weitz (About a Boy), this sparkling, effervescent family epic is a melodious revelation. Bottom line, the film is magical, and as early 2015 shockers are concerned, this might just be the biggest – and most delectably joyous – one of them all.
The story itself has not changed. Her mother (blink and you'll not realize it's Hayley Atwell) gone at far too early an age, her father (a poignantly subdued Ben Chaplin) struck down by illness just when he's remarried, young Ella (Lily James) refuses to let life's tragedies destroy her. Not an easy trick, though, when one's conniving, duplicitous Stepmother (Cate Blanchett) spoils her own two selfishly ugly daughters Drisella (Sophie McShera) and Anastasia (Holliday Grainger) while transforming her stepchild into nothing more than a put-upon servant. Yet through it all, Ella refuses to break, refuses to give in, finding courage in kindness, letting her love for life and its myriad of mysteries to speak for itself no matter what calamities might befall her.
We all know what happens next. The Prince (Richard Madden) – here sporting the nickname "Kit" – by the command of his father the King (Derek Jacobi) is having a ball, a dance where every eligible maiden in the land is ordered to attend whether they be royal or commoner. Ella is banned from going by her Stepmother, but thanks to the magical machinations of her kindly Fairy Godmother (Helena Bonham Carter), as well as a giant pumpkin, a goose, a pair of lizards and quartet of helpful mice, she'll not only go but she'll go in style.
The chimes of midnight will echo throughout the land. A Prince will be left perplexed, holding a shimmering glass slipper as the woman who has stolen his heart disappears into the night. A wicked Stepmother will attempt to put the pieces of a perplexing puzzle together. As for Ella, for her this dream has appeared to come to an end, leaving her with tender, beautifully intoxicating memories that will make this and all future hardships far easier to overcome and prevail over had the evening's events gone in any other direction.
Branagh and Weitz do not reinvent the wheel. There are no huge twists or crazy surprises thrown into this mélange, director and writer more than content to let the story speak for itself and nothing more. At the same time, they do manage to make Ella her own woman all the same, allowing her to embrace her new name of "Cinderella," given to her in an attempt at mockery and jest by her step family, in ways that feel powerful and poignant. More, she isn't a woman looking only to be swept off her feet into the arms of a loving man. She is her own person and she's proud of that fact, attempting to live up to the highest of ideals instilled in her by her late mother and father, refusing to be with anyone if they are unable to accept and cherish that fact.
James, best known for her turn as Lady Rose MacClare on "Downton Abby," is a revelation, elegant and refined yet also playful and ebullient. She crafts a strikingly three-dimensional portrait that is both decidedly feminine yet is also distinctly her own person, embracing her mother's edicts revolving around courage, kindness and love that feel natural and organic. She is fiercely intelligent, yet also still a youngster, evolving into the woman she wants to be, her interior contradictions constantly in flux as she learns to make her way in a world that offers hardship and opportunity alike yet not always both in equal measure.
As for Blanchett, Branagh gives her the full movie star treatments, and from her first appearance to her last she dominates as only a talent of her caliber can. She glides through the film like a serpent waiting to strike, the way she weaves her Machiavellian plots – a scene between her and the Grand Duke, played with suitably oleaginous conviction by the great Stellan Skarsgård, particularly glorious – fascinating start to finish. While she didn't go beyond anything I anticipated, Blanchett cagily underplays her hand, allowing her more feral and ferocious outbursts to draw far more in the way of blood than they otherwise would have.
As for the director himself, without question this is Branagh's finest work in decades, probably since he presented Hamlet in all its 242-minute glory way back in 1996. The film is lithe, bouncing to and fro in ways reminiscent of the great Vincente Minnelli musicals of the 1950s, recalling the cheery sophistication of classics like The Pirate, The Band Wagon and Gigi. Haris Zambarloukos' (Locke) camera feasts upon Dante Ferretti's (Gangs of New York) sumptuous production design and Sandy Powell's (Into the Woods) stunning costumes, all of the technical aspects working in harmonious symmetry one with the other in ways that are continually inspiring.
Paying homage to both the Disney animated classic as well the Rodgers and Hammerstein musical, this new take on Cinderella isn't going to make anyone look at the fairy tale anew with fresh eyes. But Branagh's film is still glorious, the end product a bewitching love story of strength, perseverance and imagination that I found virtually impossible to resist. As dreams go, here's hoping my fondness for this one never dissipates, keeping my heart young and my spirit soaring for a longtime to come. Bibbity Bobbity Boo indeed.
Review reprinted courtesy of the SGN in Seattle
Film Rating: 3 ½ (out of 4)