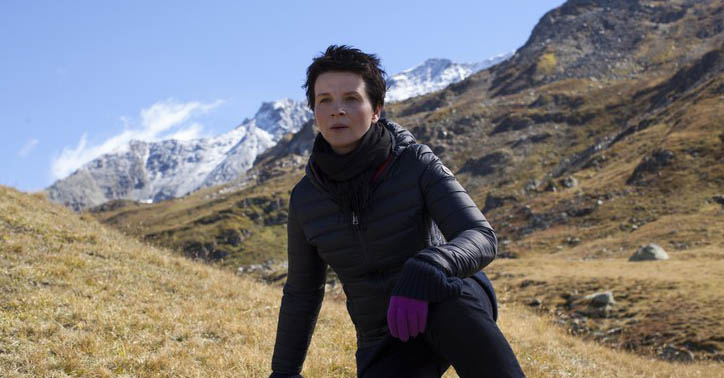 Deceptively Complex Maria an Absolute Stunner
French writer/director Olivier Assayas rarely, if ever, makes films as simple as they appear. Something in the Air, Summer Hours, Clean, Irma Vep, Boarding Gate, these and his other pictures have the appearance to being easy to summarize yet there's far more going on underneath the surface than you'd initially infer. Even his massive three-part exposé on Venezuelan revolutionary Ilich Ramírez Sánchez Carlos was more than met the eye, having a full-bodied complexity and depth that caught most viewers by surprise.
It's the same for the filmmaker's latest Clouds of Sils Maria. Ostensibly this is the story of a middle-aged actress, Maria Enders (Juliette Binoche), coming to grips with her fading youth and that she's on the way to being replaced by younger talent, in this case up and coming starlet Jo-Ann Ellis (Chloë Grace Moretz). Retreating to a mountain hideaway with her assistant Valentine (Kristen Stewart), she attempts to come to grips with where her career is now and how she is perceived by the industry at large, overcoming a variety of emotional hurdles as she does so.
Yet the film is much more involved than that brief synopsis hints at, Assayas mining territories and going to places that are profound, introspective and uncomfortably universal. Yet he's also not afraid of humor, finding the funniest truths in the most tragic of observations, understanding pain and comedy go hand-in-hand more often than not. On top of that, he crafts complex, incredibly fascinating stories for more than just Maria, Valentine's evolution and struggle every bit as important to the narrative's progression as anything else might be. The perceptive elasticity is incredible, everything building to a climactic coda that's as stunning as it is eloquent.
Binoche, working with the director for a third time, is superb, delivering a performance that's up with any she has given before, including her Oscar-winning turn in The English Patient. She bares herself with passionate fearlessness, revealing sides and shades to Maria that consistently amaze. Moretz, changing things up a little, showcasing an egotistical narcissism that's adroitly unexpected, is also excellent, enlivening her moments with an energetic elasticity that's stupendous.
Then there is Stewart. In a perfect world, she'd be the immediate frontrunner for next year's Best Supporting Actress Academy Award. Having already become the first American to win a French César for acting, having given performances in Camp X-Ray and Still Alice just last year that should have silenced all her Twilight critics, none of that prepared me for her brilliance here. Assayas' most nimbly clever trick might be the fact that he's slyly made his picture just as much about Valentine as it is about Maria. What the young assistant is dealing with, how she is reacting to her employer's struggles, the way she navigates this terrain, all of it is incredible. Stewart makes this woman's journey tactile, concrete, each step one I could believe and relate to no matter how extreme or outside of my own personal comfort zone it might have in fact been. It's a revelatory showcase, and if this doesn't change the overall perception of the actor's talents then, sadly, it's likely nothing ever will.
There are countless literary, theatrical and cultural allusions made throughout by Assayas, and admittedly the majority of them flew over my head. The genius of the motion picture is that, even for those unfamiliar with many of the connections, the core emotional truths resonate with unquestioned potency all the same. The universality of Maria and Valentine's interpersonal expeditions is undeniable, young and old, male and female alike easily connecting to all they are going through and what it was that's brought them to this particular place in time.
There isn't any question there will be few motion pictures released to domestic theaters in 2015 that are better than Clouds of Sils Maria. Featuring three performances from its central trio – especially Stewart – bordering on magnificent, filled with dramatic moments that travel the full gamut of the emotional spectrum, darkness and light collide one against the other revealing levels of pain and depths of understanding that frequently astonish. Assayas continues to show himself to be one of the finest, most aggressively multifaceted auteurs working today, delivering another deceptively complex portrait of the human condition ranking right alongside his absolute best.
Review reprinted courtesy of the SGN in Seattle
Film Rating: 4 out of 4