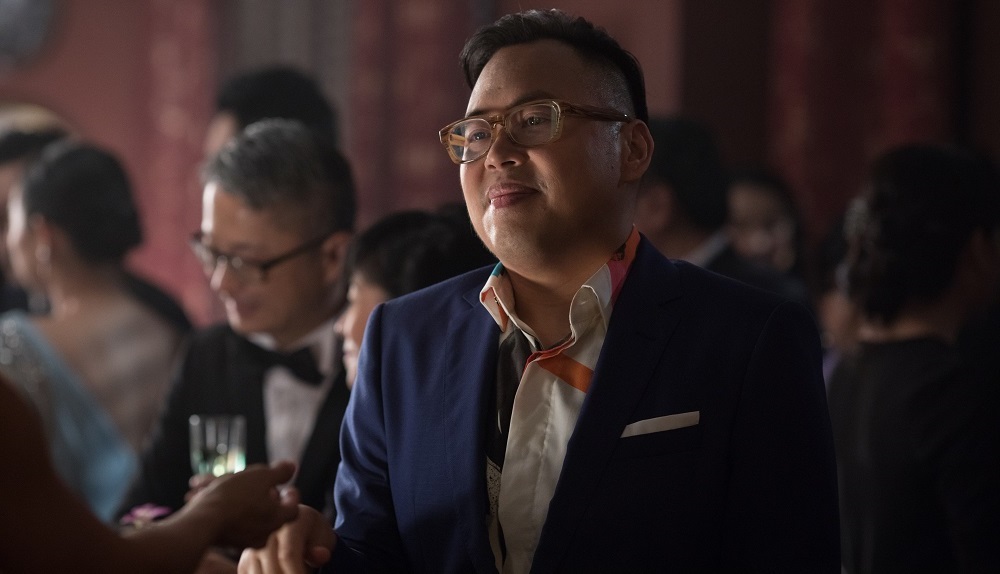 Representation Matters
Superstore Actor Nico Santos on Getting to Celebrate His Sexuality and His Culture in Hit Rom-Com Crazy Rich Asians
Nico Santos is having a moment. He's about to start filming the fourth season of the hit NBC sitcom Superstore, his role as openly gay Asian-American employee Mateo Liwanag one of the more groundbreaking, and unheralded, characterizations currently to be found on network television.
Now Santos has a primary supporting role in Crazy Rich Asians, director Jon M. Chu's (Step Up 2: The Streets) hit adaptation of Kevin Kwan's best-selling novel. The charming romantic comedy follows Asian-American economics professor Rachel Chu (Constance Wu) as she journeys to Singapore with her charismatic boyfriend Nick Young (Henry Golding) only to discover he's the child of an exceedingly wealthy family lorded over by his ferociously domineering mother Eleanor (Michelle Yeoh). Soon Rachel finds herself at the center of a gigantic media circus as all of Singapore rushes to discover who it is who has stolen Nick's heart, all the while his mother keeps her knowing eye planted squarely upon the young woman as she tries to ascertain whether she'll be a suitable bride for her beloved son.
Santos plays Oliver T'sien, one of Nick's many cousins as well as someone Eleanor trusts to help ensure the Young family is seen in the best possible light. Openly gay, unapologetically flamboyant, in limited screen time the actor is able to craft a three-dimensional character with far more depth and nuance than is initially expected. I had the pleasure of sitting down with Santos less than 24-hours before Crazy Rich Asians went into its record-breaking theatrical release and just a few days after the review embargo was lifted and critics started pumping out one ecstatically positive review after another. To say the actor was still excited and surprised by these reactions was a decided understatement.
"It is absolutely fantastic," he happily proclaims. "This past 10, 12 days have been completely emotional and overwhelming. I wanted to be a part of this movie in any way that I could; even if I was just an extra I would have totally done this movie. But the fact that I get to be featured in this movie in such a wonderful character, and Oliver is just such a fun character, and I get to play another sort of great queer Asian character, I'm speechless. I never thought I would have a career like this where I get to play complex, three-dimensional queer Asian characters. I always thought that when I got into this business that I would have to either butch it up, which listen, I cannot do, or like play silly sidekick roles, and the fact that I'm now portraying two really great queer Asian characters is mind-blowing to me.
"And this movie! It is so surreal to be part of any movie and being at the whole premiere thing was so crazy because I watched these events growing up, right? Movie premiers. Watching people walk the red carpet. And the fact that here I was walking that red carpet, not only for any movie but for a movie that means so much for the culture, with all these other great Asian stars, all of this was very, very emotional. I've had several pinch-me moments all week. It's just been crazy."
It's interesting that Santos brings up the fact that Oliver could have been relegated to being a background cartoon character, nothing more than a gay Asian stereotype utilized for cheap laughs and nothing more. But much like Mateo in "Superstore," thanks to solid direction, some sharp writing and his authentic, emotionally astute performance this simply does not happen. Oliver might be a supporting character, but he's still a vital part of Rachel's journey, the significance of that not something the actor takes for granted.
"I was a little bit surprised," Santos admits candidly. "I guess that's also my knee-jerk reaction or my automatic thinking. You know, when you're a person of color or when you're queer in this industry, it's sort of automatic. You've been brainwashed to think, any role I get, or any role that I get to play or audition for are going to be these sorts of one-dimensional sidekick throwaway roles. Because we've all been lead to believe that that's our lot in life or our place in the industry.
"And so to be part of this project where that isn't the case? That's the great thing about doing this film. Everybody is Asian. That it kind of leveled out the playing field. We get to play these characters as three-dimensional, as complex and as complete human beings. It's so rare that we get that chance as people of color and as queer people. I was just really happy that the film turned out the way it did because it's just a certain privilege that my two queer Asian characters that are kind of like, I don't know, real. They're real.. I don't take that fact lightly. I feel very lucky in my place in life right now."
Making Oliver authentic started with the freedom director Chu gave the actor to make the character his own. "Jon really allowed me a lot of freedom with the portrayal of the character," he explains. "He wanted all of us [the cast] to be as comfortable in our character's skin as we could, so for me he didn't even really request that Oliver have a British accent. But to me, it was really important that I stayed close to the source material. I did want to portray Oliver with an accent because people of his status did – do – go to British boarding schools. Also, just the fact that Oliver is sort of like an outsider in his own family, I wanted him to sort of sound a little snobbier and posher than the rest of them because he's always putting on airs. He's a little pretentious.
"But we were all given a lot of freedom and that was the joy of working with Jon. He really places his trust in us and we did a lot of improvisation. Like Awkwafina and I. Those makeover scenes. He just let us go. He just let us do whatever we wanted. I'm just really happy about the process and that he placed his trust in us."
The makeover montage in Crazy Rich Asians could have been a disaster. It could have been a cliché, overly edited mess of schmaltzy excess and dubious stereotypes. Instead, it's a sweet, tenderly silly marvel of a sequence, Wu, Awkwafina and Santos having an obviously blast as they each work together in tandem to give this moment its energetic life.
"It's really about how well we all gelled off-screen," says Santos nonchalantly. "Everybody in this movie, who's involved in this movie, from the minute we met, we all really just bonded. I mean, not only did I bond with everybody, like all of us became one big happy family. So doing these scenes like the makeover, they came very naturally. The flow and the energy of it, everything just clicked. I honestly liked doing the makeover scene. I don't remember most of it because I was so jet-lagged, but it didn't matter because we were all just having so much fun. It makes a real difference when you are in a work environment or working on a set where you trust everybody, where you feel comfortable in front of everybody, and we were just able to breathe and sort of let go. I think that was the best part of being on the team."
Part of that team was Yeoh, one of the iconic giants of Asian cinema. After all, this is a woman who stole an entire film from Jackie Chan in Supercop, at one point jumping a motorcycle onto the roof of a railcar while the train itself was speeding down the track. Couple that with memorable turns in films as diverse as The Heroic Trio, Tomorrow Never Dies, Wing Chun and the Oscar-winning classic Crouching Tiger, Hidden Dragon, it's impossible not to think the actor was at least initially intimidated when he first stepped onto the set with the legendary movie star.
"It was definitely intimidating at first," he admits, "but she is the nicest, most gracious, most elegant woman I've ever met in my entire life. I've said this on several interviews, I want to be Michelle Yeoh when I grow up. She's just amazing. The way she carries herself. It's stunning!
"Did you see her on the red carpet for the premiere? I was like so blown away by the way she looked. She hadn't aged a day. That Armani gown she was wearing, her hair, she's like, not a real person. She's a real movie star. She's so crazy amazing.
"But she's also such a great person. She's so caring. I remember when we were filming the dumpling making scene in the movie, she could tell I was a little bit nervous because I was acting alongside of her. She kind of just sort of whispered into my ear at one point and was like, just relax, just relax, you're going to be fine. You're doing great. I was like, oh my God! She didn't have to do that. But that's who she is. She's so caring and so gracious. Just an amazing human being.
"And she's so flawless in this movie! I love her in this movie so much. It's so refreshing to see her in this different light, seeing her so vulnerable in this movie. It broke my heart. She's such an amazing actress."
As for himself, it isn't lost on Santos just how great a moment he is having right now. Starring in NBC's successful sitcom Superstore. Playing such a vital and memorable supporting role in Crazy Rich Asians. Getting to celebrate his Asian heritage and his queer identity with such confident exuberance in both roles. The actor almost can't help but get emotional when he takes a step back and allows himself to look at the bigger picture.
"It feels incredible," he states bluntly, choking back tears in the process. "It feels unreal at the moment because. I know we've been doing Superstore for, let's see, we just started filming our fourth season, can you believe that? There's not a day that goes by where I really take a moment to sort of look around and catch myself asking, 'how did I end up here?' It's insane. Making it in this business is hard enough, but being able to represent the Asian and the queer community by portraying two roles that are complex queer Asian characters; people don't get to have that! People don't get that chance.
"After playing Mateo and after playing Oliver, I really feel like I don't have an interest in playing straight roles now. I feel like it's my duty to really seek out interesting queer Asian characters to be able to represent the community because you just don't see them. You just don't see them. I never saw myself growing up on screen. If I did, it was very stereotypical. Like I said earlier, sort of the one-dimensional throwaway roles, and it's been such a privilege just to play these two characters because I'm able to show the rest of the world that there's this wide spectrum to the queer community, that we're not all the same cookie-cutter type of gay person or Asian person or gay Asian person.
"I mean, this movie has everything. It's just a really great Rom-Com. You could really take this movie and be like 'Crazy Rich Latinos' or 'Crazy Rich Black People.' It's just a great Rom-Com in and of itself and it just happens to be about Asians. I'm so glad that we're getting this chance to make this movie. It's been 25 years since The Joy Luck Club which just seems so wild to me.
"I know that there has been a little bit of criticism for our film, that this is a movie just about Singapore or sort of like it's perpetuating that wealthy superior minority myth. But the whole thing for me is I feel like rising tides lift all ships. This movie is going to be great for everybody. This movie is going to open up the floodgates for more stories to be told about LGBTQ people and about other Asian groups. With this movie I hope that we're finally able to tell the Taiwanese stories and the Korean stories and the Japanese stories because there's so much within the Asian community and within the queer community begging to be told. There are so many more stories that we could tell. This is just the beginning."
– Interview reprinted courtesy of the SGN in Seattle