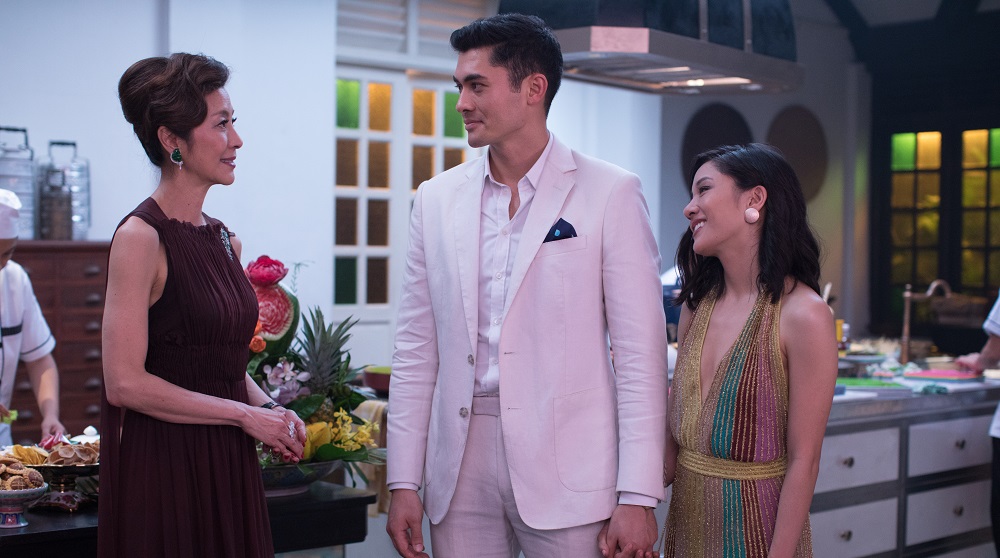 Colorfully Energetic Crazy Rich Asians a Charming Romantic Comedy
New Yorker Rachel Chu (Constance Wu), a respected economics professor, has been dating the dashing Nick Young (Henry Golding) for a little over a year. With his best friend Colin (Chris Pang) about to get married to his longtime sweetheart Araminta (Sonoya Mizuno) in Singapore, Nick asks Rachel to join him, thinking this will be a perfect time to introduce her to his family, especially his overprotective mother Eleanor (Michelle Yeoh). It will also be a great opportunity for her to reconnect with her former college roommate and friend Peik Lin Goh (Awkwafina) who currently lives in Singapore, the two of them having not seen one another in ages.
As this adventure begins, turns out Nick has been keeping a giant secret from Rachel. His family is one of the richest in the world and is treated like royalty in Singapore, making him one of the most eligible bachelors on the face of the planet. Rachel is being dropped right into the center of a cultural and familial maelstrom unlike any she's ever known before, and she's immediately taken aback when practically every person she encounters is either judging her for being too American, showing her fake kindness because they think doing so will appease Nick or outright attempting to bust up their relationship thinking that is what Eleanor wants them to do. Through it all, the young woman goes out of her way to remain true to the values her own mother instilled in her growing up, knowing that in the end remaining her own independent woman is more important than anything else.
Based on the best-selling novel by Kevin Kwan, Crazy Rich Asians is a throwback romantic comedy featuring an eclectic mix of veteran superstars, rising young talents and recognizable character actors, all of whom are at the top of their respective games as they work in melodious tandem to bring this story to life. Directed by Step Up 2: The Streets, G.I. Joe: Retaliation and Now You See Me 2 veteran Jon M. Chu and featuring a script written by Peter Chiarelli (The Proposal) and Adele Lim ("Life Unexpected"), the movie is a breezy good time overflowing in genuine heart and emotional vivacity. It's a heck of a lot of fun to watch, sending me out of the theatre with a spring to my step and a grin on my face neither of which vanished until a couple of days after the screening.
This is kind of surprising considering just how predictable everything honestly is. Having never read any of Kwan's books I can't say how closely Chiarelli and Lim's script sticks to the source material. What I can say is that this is as tried and true a romantic plot as any in the history of cinema. Rich man conceals his identity in order to win the love of an honest woman who loves him for who is and not because of his money, as scenarios go this isn't a fresh one. Recalling the likes of Pretty Woman, Coming to America and, forgive me for saying this, Fifty Shades of Grey, it's not like anything that happens will be startling to a single viewer sitting in the audience. This is a movie that does exactly what it sets out to do and does so in ways that are easy to anticipate, none of the plot's twists and turns coming close to resembling anything remotely resembling a surprise.
Thankfully Chu and the screenwriters put the emphasis on the characters, most specifically Rachel Chu and Eleanor Young. They are opposite ends of the same spectrum, each a confident, intelligent woman driven to do what they think is best for their respective families as well as the people that they love yet doing so in ways that couldn't be more different. Wu and Yeoh play these two characters magnificently, each adding layers of complexity and introspective analysis that's superb. Golding is also wonderful, dashingly masculine in a Cary Grant meets Chow Yun-Fat sort of way that had me swooning in my theatre seat. There's also a wonderful supporting turn by Gemma Chan as Nick's favorite cousin Astrid Young Teo, the multifaceted specificity of her performance achieving a heartbreaking eloquence that rises far above the maudlin inanity of the melodrama her character is unfortunately forced to deal with.
An international icon whose memorable films include the likes of Supercop with Jackie Chan, The Heroic Trio with Anita Mui and Maggie Cheung, the James Bond thriller Tomorrow Never Dies, the martial arts classic Wing Chun and the Oscar-winning sensation Crouching Tiger, Hidden Dragon, Yeoh is mesmerizing, taking what could have been a cliché and stereotypical role and transforming it into something movingly authentic and emotionally pure. Eleanor easily could have been the villain. Instead, she's something far more important, this eagle-eyed mother making a number of decisions, both horrible and heartfelt, in regards to her son that somehow never end up feeling callous and cruel even if their impact upon Rachel is consistently debilitating. Yeoh navigates her way through things with a determined concentration that is thrilling, the actress refusing to apologize for her character's actions while at the same time making clear every move she makes come from a place of deep, unapologetic love for a son she only wants the best for.
The subplot involving Chan would be an aggressively insulting waste of time if not for her effectively passionate performance, and it's the best of the various side pieces of the narrative that have precious little to do with Rachel and Nick's romance or Eleanor's efforts to stop it in its tracks. Most of these extraneous plot strands sadly don't go anywhere of interest, rarely fleshing out their characters in ways that are noteworthy. All they really do is pad out the running time and take the focus away from Rachel and Nick, and I do wish the film would have just cut most of them out entirely instead of just letting them sit there aimlessly taking up precious narrative space.
Even so, the film's requisite makeover montage, anchored by Awkwafina and "Superstore" star Nico Santos, portraying another of Nick's many cousins, vigorously mugging shamelessly for the camera while Wu gets to try on a series of fabulously creative ensembles, is a total hoot, while the wedding everyone is in Singapore to attend is itself an eye-popping marvel of visually imaginative excess that's downright spectacular. Cinematographer Vanja Cernjul (Violet & Daisy) shoots things with a colorful eye for detail, things achieving an almost Technicolor-like splendor that reminded me of Douglas Sirk classics like Written on the Wind and Magnificent Obsession.
A lot will be made about this being one of the few major Hollywood studio-produced films to ever receive a wide theatrical release and feature an exclusive all-Asian cast, the last motion picture to fit that description being Wayne Wang's adaptation of Amy Tan's The Joy Luck Club released a quarter century ago in 1993. This is a discussion that needs to be had, and much like Wonder Woman, Coco, Black Panther and A Fantastic Woman have already shown, representation both in front of and behind the camera matters. Having a movie out in the multiplex that illustrates even a small piece of the abundant diversity of the human condition is worthy of applause, and no matter what its quality the fact Crazy Rich Asians even exists in the first place is still a step in the right direction. Thankfully, Chu's romantic comedy is a good one, and even with little nitpicks sprinkled here and there this remains one entertaining night out at the multiplex viewers of all stripes owe it to themselves to go out and see.
– Review reprinted courtesy of the SGN in Seattle
Film Rating: 3 (out of 4)
Additional Link:
Interview with actor Nico Santos