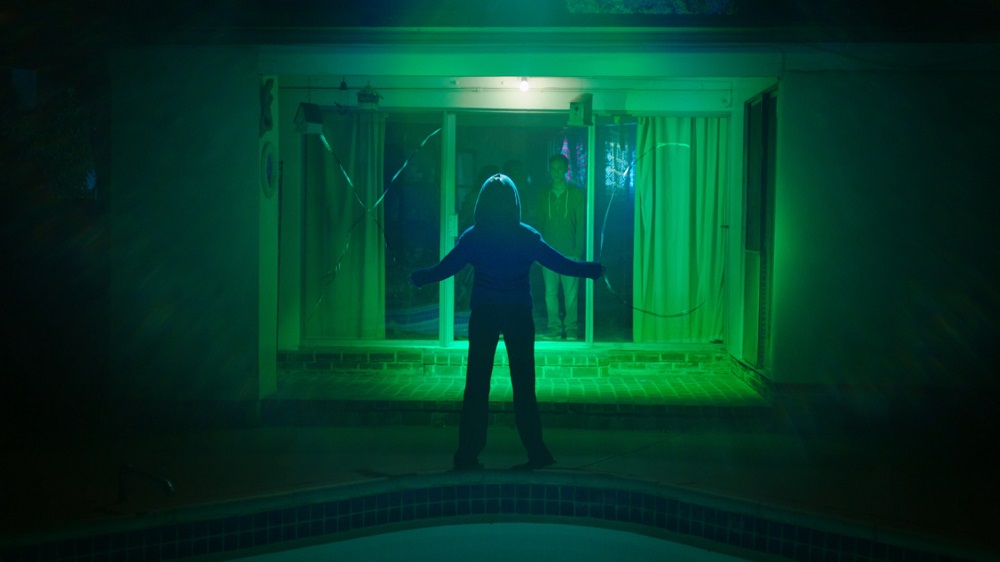 How does the Blu-ray/DVD Disc stack up? (all ratings out of 10.)
Movie
Video
Audio
Extras
Overall
SYNOPSIS
A kid under house arrest for the summer, home alone while his mother is away on business, finds himself under siege from mysterious forces bordering on the supernatural that apparently want to do him and his closest friends all kinds of harm.
CRITIQUE
Here's what I wrote about this one in my original theatrical review:
"Daniel Austin (Keir Gilchrist) is spending the summer home alone. While his mom is away on business, he's under house arrest for the cyber stalking of one of his classmates, Mona Wilson (Grace Phipps), Detective Stokes (Peter Stormare) none too pleased about having to look after the 17-year-old for the next three months.
With the help of his best friends Abby (Stella Maeve) and Kevin (Maestro Harrell), Daniel is handed a new computer he personally encrypts so that the police can't monitor his online interactions. But getting back into the cybernetic world leads him right back to Mona, an unspeakable tragedy shaking him right to his core. Now things have taken a disturbing, almost supernatural turn, Daniel, Abby and Kevin suddenly fighting for survival against an ethereal enemy they barely believe exists let alone can understand.
Dark Summer is like an episode of 'Supernatural' crossed with last year's awesome cybernetic chatroom thriller The Den infused with a healthy dose of the tween 2007 hit Disturbia (of which the film actually makes a fairly decent joke about). It's a teen horror show about the perils of infatuation and hormonally-driven angst, the ominous signs of disaster consistently ignored until the point it is no longer possible to do so.
Director Paul Solet (Grace) and writer Mike Le waste no time getting right to the point, setting the stage for the carnage to come in the briefest brushstrokes. Problem is, they don't make much of an attempt to flesh out their characters, the closest they come to doing so a couple of sideways glances of longing passing from Abby to Daniel, glances she heartbreakingly knows will be unrequited. Yet in many ways it's difficult to understand what she sees in the fellow teen because he's not exactly a beacon of personality or charm, the kid a brooding, teary-eyed mess long before he witnesses a blood-curdling meltdown on his computer screen.
It doesn't help that, visually, the film is much too cluttered, bordering on claustrophobic,  Solet and his cinematographer Zoran Popovic (War, Inc.) framing things in a series of rigid close-ups that grow more and more tiresome as things progress. Odd, really, because one of the great things about this pair's last collaboration, Grace, was just how eerily elegant, uncomfortably intimate their visual compositions were. Here, with the color timing being what it is; blues, blacks and greys crash one off the other in order to achieve the requisite, cyberpunk look that's almost de rigueur for this kind of feature; and the almost flippantly haphazard way some scenes are edited together, visually Dark Summer gave me a minor headache, dulling my senses just as they should have been riled up into uncontrolled hysteria.
The biggest issue, frankly, is that I just didn't care what happened to Daniel, hadn't an ounce of empathy for either him or his friends. More, I had a pretty good idea where things were going, and while I appreciated the grisly bit of verbal foreshadowing that takes place early on can't say I was all that shocked by the bone-crunching gruesomeness that ultimately came to pass. In many ways this is a movie that I can't help but feel thinks it is more clever, more original than it actually is, and that coupled with how insufferably nondescript the protagonist ends up being all helped make Dark Summer one ghostly foray into terror I shouldn't have logged in for."
Mainly because of my affinity for Grace I was eager to give Dark Summer a second chance thinking there was the possibility I might have been too hard on the film the first time around. Sadly, I do not think I was. While not terrible by any stretch of the imagination, this horror/suspense opus just isn't as interesting or as effective as I kept thinking it should have been, making it something a minor genre disappointment I highly doubt I'll be revisiting again at any point in the foreseeable future.
THE VIDEO
Dark Summer is presented on a dual-layer 50GB Blu-ray with a MPEG-4 AVC encode and a 1.78:1 1080p transfer.
THE AUDIO
This Blu-ray feature an English DTS-HD Master Audio 5.1 soundtrack along with an English DTS-HD Master Audio 2.0 track and comes with optional English and English SDH subtitles.
THE EXTRAS
Extras here include:
Audio Commentary with director Paul Solet – Solid commentary track full of useful bits of information, and while I still don't care for the visual look of the film after listening I do have a better understanding and feel for what the director and his DP were going for.
Director Paul Solet (2:15) – Interview snippets discussing Solet's approach to the story and to the film.
A Conversation with Peter Stormare (15:52) – Superb interview with the veteran character actor. Just excellent.
The Kids: Cast Interviews (2:04) – Way too brief interviews with the cast (as well as director Paul Solet and writer Mike Le) as they talk about the characters and their approach to the material.
Atmosphere and Style (1:57)– More on the film's visual look (I'm still not sold).
The Art of Dark Summer (13:38) – Even more on the look of the film, but this one is really, really terrific, and while I'm not going to say my opinion on the cinematography and visual look of the film has changed whatsoever that doesn't make this featurette any less outstanding.
The Music of Dark Summer (8:37) – Another terrific featurette, this one focusing on the music composed by Austin Wintory.
Original Theatrical Trailer (1:58)
FINAL THOUGHTS
I'm glad I gave Dark Summer a second chance, I truly am. Even so, that doesn't make it any less of a misfire. Some good moments aside, this film just doesn't do it for me. That said, Scream! Factory has gone above and beyond in regards to this release, technical specification and special features for the Blu-ray strong all across the board.