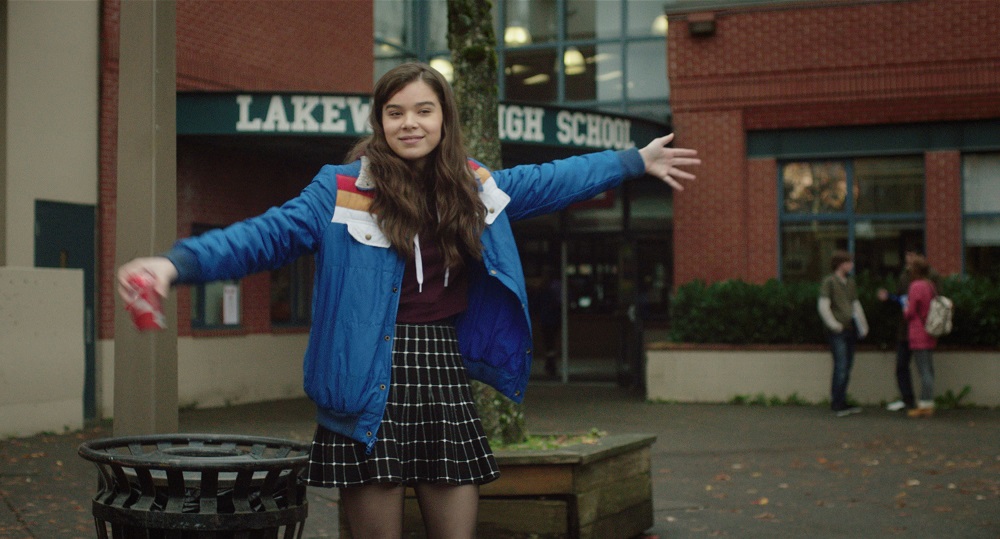 Perceptively Insightful Seventeen has an Amusingly Emotional Edge
Nadine (Hailee Steinfeld) doesn't fit in. Not that the idiosyncratic 17-year-old cares, especially with best friend since they were in elementary school together Krista (Haley Lu Richardson) around to help keep her sane. But with her Adonis of an older brother Darian (Blake Jenner) practically the king of their high school and with their lonely widowed mother Mona (Kyra Sedgwick) holding it together by the thinnest of margins, it wouldn't take much of a push for Nadine to spiral into an emotional depression she'd never recover from.
So it's hardly surprising the idea of Krista and Darian dating wouldn't go over well, not even slightly. Throw in a growing infatuation with resident bad boy Nick (Alexander Calvert) and a blossoming friendship with the shy, introverted Erwin (Hayden Szeto), it's unlikely things could be any more complicated for Nadine than they are. But in two weeks it will also be the five year anniversary of the untimely death of her father, Tom (Eric Keenleyside), and that might be one bridge too far for even this resourceful teenager to be able to cross.
The basic mechanics of writer/director Kelly Fremon Craig's coming of age high school drama The Edge of Seventeen aren't particularly groundbreaking, echoes of everything from Rebel Without a Cause, to Sixteen Candles, to Pretty in Pink, to Juno, to countless other genre entries echoing throughout. But the filmmaker has come a long way since penning the script for 2009's anemically forgettable Post Grad, the level of growth and maturity that's happened between the making of that film and this one remarkable. Smart, perceptive, funny and moving, this is an invigorating little piece of cinema, full of rapturous insights that continue to grow in majesty and power long after the story itself has come to an end.
It's the relationships, the dynamics between the characters, how the all relate one to the other, that allows Craig's directorial debut to work as well as it does. As quip-filled as it all might be, as bizarre as some of the interactions might on the surface to appear, the reality is so much richer and deeper than anything I could have imagined they would be before the movie had started. The underlying truths lying inside all the venomous put-downs and snappy bits of banter are shockingly precise, the visceral intimacy of it all in direct juxtaposition to the snooty joviality some of the more cuttingly bitter scenes are cleverly paired with.
Some of the best moments are the ones that appear to be the most traditionally familiar as far as the genre is concerned, the byplay between Steinfeld and Woody Harrelson (portraying her laidback American History teacher Mr. Bruner) especially poetic in its blasé vulgar cadences. What's best about it is that Mr. Bruner initially comes off as a disgruntled educator who's given up on his profession only to in reality be anything but. Instead, this teacher trusts his students, gives them space to shout and scream, vent their frustrations, say things to him they probably should not, not so much easing their various pains as he chooses to be a sounding board allowing them to find a way to discover answers the problems they're currently facing.
The entire cast is excellent, and as far as the supporting players are concerned Sedgwick, Harrelson and Szeto particularly so. Even with that being the case, this is Steinfeld showcase and she knocks it clean out of the park. Nadine isn't always likable, and even if her problems are easy to relate to and understand the way she acts out, how she lashes at those around her when she's unable to deal with her pain, that stuff can be hard to watch. But the True Grit Oscar nominee doesn't care, throwing herself into things with absolute abandon. In that way, Nadine's depression and pain is depicted in a way that's universally affecting, the razor-sharp verbal punches that the actress levies against all comers laugh-out-loud hysterical as well as unpredictably upsetting, usually both at the same time.
It's all still pretty familiar stuff, and where Craig is going to end up taking things is never in any sort of doubt. But getting there is so perceptively charming, so much fun, it didn't matter for a single second that much of what transpires isn't exactly original. The level of authenticity is so strong, so on-point, I just didn't care that I knew where things were going to go. More than that, some of the characters did surprise me, the choices they make and they way they interact with others around them not always the genre norm. The Edge of Seventeen cuts deep, humor and tears bursting forth in equal measure making the movie a singular joy audience of all ages are almost certain to delight in.
– Review reprinted courtesy of the SGN in Seattle
Film Rating: 3½ (out of 4)