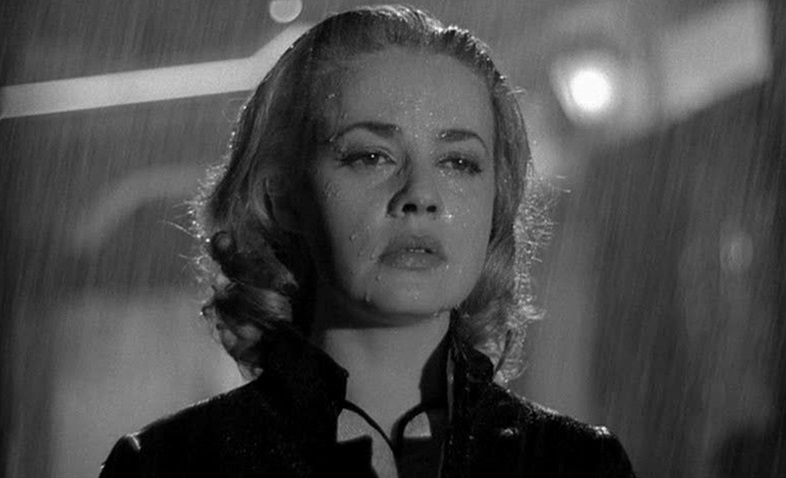 How does the Blu-ray/DVD Disc stack up? (all ratings out of 10.)
Movie
Video
Audio
Extras
Overall
SYNOPSIS
Julien Tavernier (Maurice Ronet) and Florence Carala (Jeanne Moreau) have conceived the perfect crime. They are going to kill the former's boss and the latter's husband, Simon (Jean Wall), and they are going to do it in such a manner that investigators will have no choice but to rule the death a suicide. Things do not go as planned. 
CRITIQUE
Legendary writer and director Louis Malle's 1958 feature-length debut Elevator to the Gallows is burning, gorgeously shot by the great Henri Decaë (Le Samouraï) and featuring a spellbinding, breakout performance from a luminous Jeanne Moreau, Elevator to the Gallows is a remarkable, jazz-influenced suspense effort that has understandably stood the test of time. Featuring a twisted and twisty plot where up is down, down is up and going sideways is tantamount to signing one's death sentence, this is a movie the burns up the screen with a primal, lust-filled ferocity that grows in sweaty passion as events move towards their inevitably self-destructive conclusion Make no mistake, this is a movie that the word "masterpiece" was invented for.
THE VIDEO
Elevator to the Gallows is presented on a 50GB Blu-ray MPEG-4 AVC Video with a 1.66:1 1080p transfer. As stated in the included booklet: "This new 2K digital restoration was undertaken by Gaumont from the 35 mm original camera negative at Éclair Laboratories in Vanves, France. Additional restoration was performed by the Criterion Collection."
THE AUDIO
This Blu-ray features a French LPCM Mono track and includes English subtitles. Again, from the included booklet: "The original monaural soundtrack was mastered from the optical track of a 35 mm fine-grain positive. Clicks, thumps, hiss, hum and crackle were manually removed using Pro Tools HD and iZotope RX."
THE EXTRAS
Extras here include:
Archival Interview with actor Jeanne Moreau (18:00)
Archival Interview with Louis Malle (17:07)
Archival Interview with Maurice Ronet (4:39)
Original soundtrack session pianist René Urtreger (14:43)
Louis Malle and Jeanne Moreau at Cannes (10:41)
Footage of Miles Davis and Louis Malle from the soundtrack recording session (5:52)
Miles Goes Modal: The Breakthrough Score for Elevator to the Gallows (25:00)
Crazeologie (1954) (6:21)
Also included is a Collectible Illustrated Booklet featuring an essay by critic critic Terrence Rafferty, reprinted archival interview with Louis Malle and a tribute by film producer Vincent Malle. 
FINAL THOUGHTS
Elevator to the Gallows has never looked or sounded better. Criterion's Blu-ray release of this seminal classic from director Louis Malle is a thing of absolute beauty. Pick it up at your earliest opportunity.