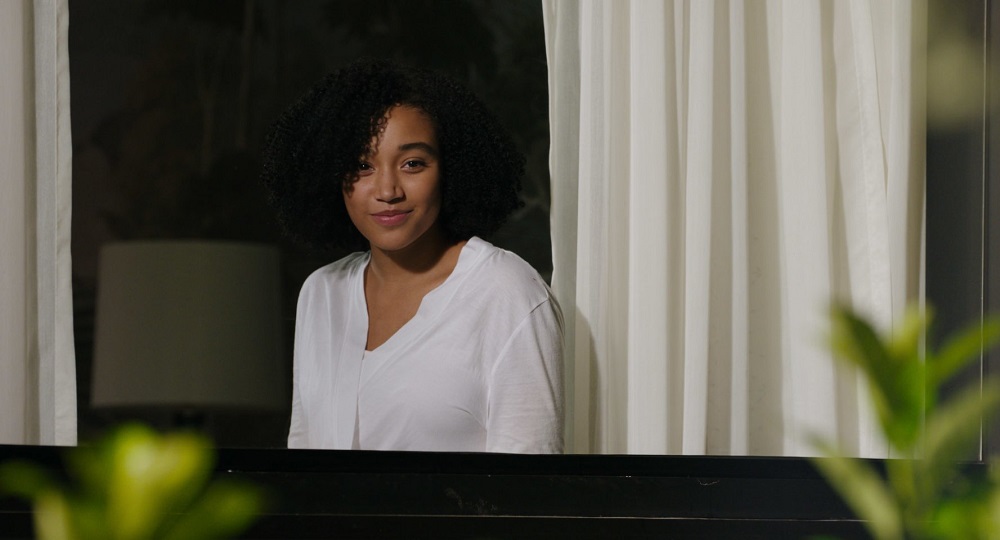 Teen Melodrama Everything, Everything Not Immune to a Cancerous Climax
For as long as she can remember, 18-year-old Maddy Whittier (Amandla Stenberg) has dreamt of going outside. She longs to frolic on the beach and to swim in the ocean, to feel the wind rush through her hair and know what it is to stand in the great outdoors during a rainstorm. The bright, intelligent teenager with aspirations of becoming an architect, has never left her house, and because she suffers from an extreme case of Severe Combined Immune Deficiency, otherwise known as SCID, the reasons for this are rather obvious. Maddy's immune system doesn't work, meaning that the outdoors and all they have to offer could literally kill her.
But that doesn't mean she can dream, especially when the attractive Olly Bright (Nick Robinson) moves into the neighborhood. He's immediately captivated by the beautiful young girl standing in the window of the block's nicest home, and through a variety of creative means he finally figures out a way to communicate with her. Via text messaging and Internet chat programs, the two slowly learn all they can about one another, Maddy and Olly connecting on a much deeper level that goes beyond their respective good looks.
Based on the best-selling novel by Nicola Yoon, Everything, Everything is that rare teen romantic melodrama that rises above its disease-of-the-week melodramatic shortcomings to become something pleasantly diverting for the majority of its brief 96-minute running time. Confidently directed by newcomer Stella Meghie, assuredly scripted by J. Mills Goodloe (The Age of Adaline), the movie's ace in the hole are the performances of its two stars, Stenberg and Robinson shimmering like golden rays of sunshine throughout. There is also a strong supporting turn by veteran character actress Anika Noni Rose as Maddie's protective physician mother Pauline, while the always luminous Ana de la Reguera is close to perfect as the teen's longtime friend and nurse Carla.
All the same, this still ends up being a motion picture I cannot recommend in good conscience. Having not read the book, I can only assume a third act twist worked a lot better in the pages of Yoon's source material than it does inside the confines of Goodlow's screenplay. It's a ghastly reveal, one so heinous it soured me on the film as a whole the instant it happened. What's even more interesting, it's beyond obvious, the kind of little trick a show like "One Tree Hill" used to make its bread and butter during the entirety of its nine-season run. It's so bad that, even if one guesses the twist before it happens, you still don't believe the filmmakers would deign to go there, the idea that their drama would stoop to such a risible low in order to pull a few extra tears from the viewer beyond the pale.
This sucks, because, up until that point, I liked Everything, Everything. A lot. The relationship between Maddy and Pauline is depicted with refreshing candor and honesty, the give and take between mother and daughter having a sparkling melancholic yet still loving vitality that's heartbreaking. As for the slowly developing relationship between the young woman and her new neighbor, that's flat-out divine, both Stenberg and Robinson having moments of magic that held me spellbound. Their first in-person meeting is glorious, the feelings of angst, of attraction, of intrigue, anticipation, fear and of hope, all of it cascades off the screen like a springtime waterfall bursting free of the ice and snow that have held it in check for untold winter months.
Meghie's direction is suitably sparse, the filmmaker allowing scenes to develop naturalistically and at their own unhurried pace. While her reliance upon a bevy of catchy pop songs, not to mention Ludwig Göransson's (Central Intelligence) strong if over-utilized score, can sometimes inadvertently stifle the story's inherent dramatic rhythms, overall the director does a nice job, a mid-movie act of rebellion on Maddie's part introduced with a pleasantly relaxed gentility that's wonderful.
All of which makes the film's climactic collapse even more dispiriting. It's a disastrous turn of events that comes close to erasing a star-making performance from Stenberg and makes Meghie's directorial debut not matter nearly as much as it otherwise would have had things held together more concretely. Everything, Everything isn't the maudlin melodramatic dirge I feared it could have been, and for that I'm thankful. Even so, the fact it's so very good before it becomes so very bad might just make the film more dissatisfying, so much wasted potential turning my own cinematic immune system into a lethally cancerous nightmare of bitter frustration and dejected disappointment.
– Review reprinted courtesy of the SGN in Seattle
Film Rating: 2 (out of 4)