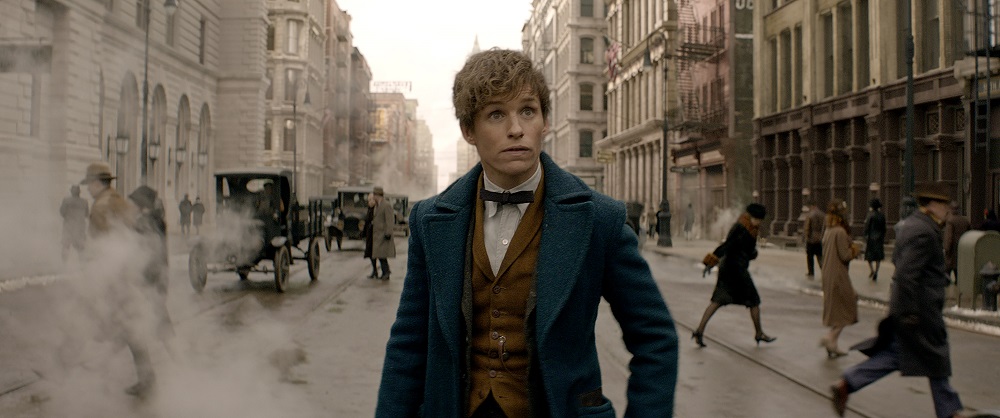 Delightful Fantastic Beasts a Magically Entertaining Spin-Off
Before Harry's parents James and Lily Potter where even the faintest glimmer in either of their respective parents' eyes, wizard Newt Scamander (Eddie Redmayne) journeyed to New York carrying a suitcase filled to the brim with magical creatures and an undying zest to see the goodness lurking inside all living things. It is 1926 and the line between the wizarding world and the human one is as tenuous as it has ever been. As such, bringing unlicensed creatures into the United States is a big no-no, so it's no wonder investigator Porpentina Goldstein (Katherine Waterston) feels it's her duty to bring the visiting Brit into headquarters for some serious questioning.
But there's something more dangerous going on in the city that threatens to destroy any chance for peace between those with magical powers and the remainder of the world going through their daily travails without it, a growing terror that makes Newt and his suitcase of wonders practically insignificant. With the head of her office Percival Graves (Colin Farrell) tracking their every step, Porpentina is forced to go on the run with the man she once tried to arrest. With assistance from her bubbly psychic sister Queenie (Alison Sudol) and astonished muggle Jacob Kowalski (Dan Fogler), it's suddenly up to both her and Newt to stop this massive, explosively evil force from destroying New York, and with a gentle assist from the creatures living inside that suitcase the pair's chances of doing just that are moderately promising.
Working from a screenplay and story by J.K. Rowling, Fantastic Beasts and Where to Find Them isn't so much a Harry Potter and the Sorcerer's Stone prequel as it is a new look at a different side of the wizarding world, one taking place nine decades removed from today. With franchise handler David Yates back calling the shots (he's been in the director's chair since 2007's Harry Potter and the Order of the Phoenix), the film is a surprisingly enjoyable, bubbly imaginative piece of fiction that's far more magically inventive than I'd admittedly assumed it would be. Overflowing with new characters, locations and, it goes without saying, creatures of all sizes and abilities, the movie is a heck of a lot of fun, standing on its own as a singularly satisfying piece of a standalone entertainment that doesn't require knowledge of The Boy Who Lived or He Who Shall Not Be Named in order to be enjoyed.
Not that Rowling and Yates aren't going out of their way to lay the foundation for a new epic world, Warner Bros already announcing plans to make four additional sequels to this motion picture, each scheduled to be released between now and 2026. There's a side story involving a mysterious anti-magic crusader portrayed by the great Samantha Morton, the two-time Academy Award nominee wasted in a throwaway red herring of a role that only exists to plant seeds for events one can only imagine will blossom and grow in subsequent stories. There's also a major subplot involving the mysterious Gellert Grindelwald, a supremely powerful wizard intent on starting a war between magical beings and the human race. He's set up to be this story's potential precursor to the Harry Potter series' Voldemort. But the murkiness of his intentions coupled with the casual way those tasked with discovering his identity treat the situation make him radically less threatening than he needs to be, and by the time he's unmasked I'd almost forgotten we were supposed to be worrying about the wizard in the first place.
What the filmmakers do get right is the establishment of new characters and locations that feel unique and original, Rowling taking her world in amusingly intriguing directions that are almost entirely unexpected. Newt Scamander is a terrific character, a good-hearted flibbertigibbet who sees the best is everyone and everything and feels personally wounded when others are in pain. Redmayne is a wondrous choice to inhabit the role, shuffling his way with a crooked grin, taking personal joy in learning something new while the pain he suffers when things go wrong palpably affecting. Fogler is also wonderful, bringing a befuddled warmth to the wannabe baker Kowalski that consistently brought a smile to my face, his chemistry with the exuberantly electric Sudol sublime.
It is Waterston, however, who makes the most indelible impact, her complex, fiercely multidimensional performance filled with haunting depths that help make Porpentina a mesmerizing figure I can't wait to see change and evolve in future adventures. The Inherent Vice, Steve Jobs and Queen of Earth scene-stealer is magnificent, and I just loved how far she was willing to go to make her character real, not caring if her rougher, more aggressive layers might potentially have viewers questioning her intentions and wondering if she's worth caring about. Waterston delights in the smallest detail, her delicately lithe frame hiding a courageous spirit ready to burst forth and make its mark upon the world. She's wonderful, anchoring the entire movie in a way not a single one of her fellow costars is able to equal.
The first half of the picture is noticeably more invigorating than the second half, the climactic third devolving into somewhat standard superhero-style heroics that feel more akin to a Marvel knockoff than it does a part of Rowling's mystical world. There's a lot of running around, building getting destroyed and shadowy figures pointing sticks at one another with flashes of blue sparks meeting in thin air as if in a magical tug-of-war. It's pretty obvious and more than a little perfunctory, and there is no question whatsoever who is going to end up coming out on top. Still, Rowling and Yates do play a couple of things close to the vest, and there are some situations where good intentions do not always lead to a desirable conclusion.
It does look astonishing, especially as things pertain to Philippe Rousselot's (A River Runs Through It) cinematography, Stuart Craig (The Legend of Tarzan) and James Hambidge's production design, and Colleen Atwood's (The Huntsman: Winter's War) spectacular costumes. But, more than that, it's these four primary characters who I find myself thinking about so fondly, and I'm eager to know what is going to happen to each and every one of them next. Fantastic Beasts and Where to Find Them may not offer up the depth and the complexity of Rowling's other wizarding tales, but that doesn't make it any less of a good time, and I for one am ready to study these particular magical creatures in greater detail with the release of future adventures.
– Review reprinted courtesy of the SGN in Seattle
Film Rating: 3 (out of 4)