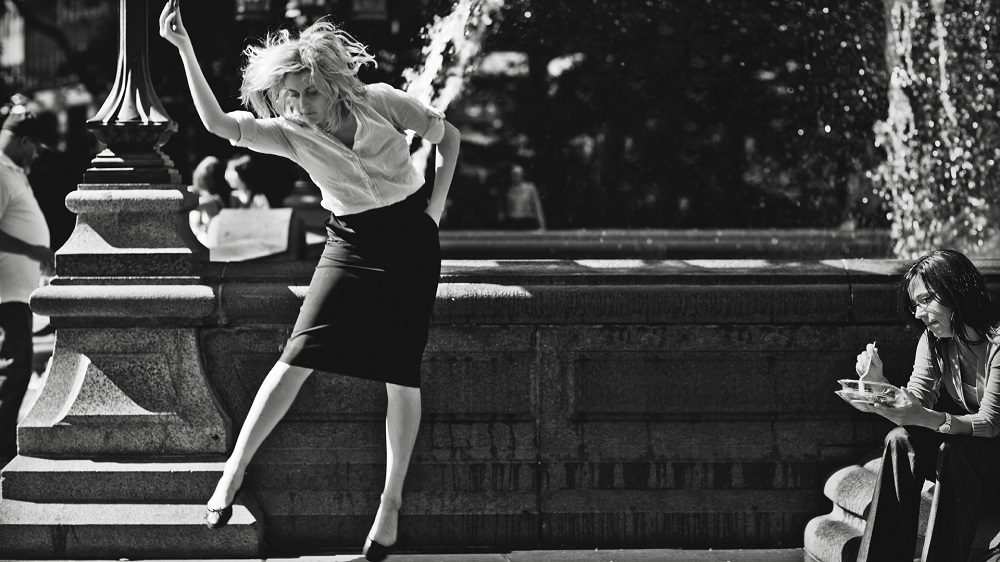 a SIFF 2013 review
Joyous Frances Ha a Glorious Cinematic Experience
Few movies make one feel as glorious as Frances Ha. Directed by Noah Baumbach (The Squid and the Whale), co-written with his star Greta Gerwig (the pair reuniting after their success with Greenberg), the movie is a French New Wave-style character study of a 27-year-old New Yorker trying to find her way as an adult coming to grips with the life she has in front of her paired with the dreams of whom she would hopefully become. Both melancholic and euphoric, the drama is a celebration of friendship and desire in all their multifarious forms, everything closing out on a denouement of hopeful promise that brought a smile to my face as gigantic as the Brooklyn Bridge.
Essentially a series of vignettes, we meet Frances (Gerwig) living in her New York apartment with best friend and former college roommate Sophie (Mickey Sumner). The pair bicker and banter and play, each relying upon the other in ways they barely comprehend. But when Sophie makes the decision to move in with boyfriend Patch (Patrick Heusinger) it becomes apparent that life for the two women is irrevocably going to change. Frances seems somewhat adrift, and while she manages to find a new place, moving in with new friends Lev (Adam Driver) and Benji (Michael Zegen), putting her life in order appears to be outside her reach.
The glory of the movie is just how intimately it understands our innate desires. Few, if any, of us ever want to let go of our dreams, want to believe without a shadow of a doubt that at some point they'll come true no matter what. Truth of the matter is, unless one is willing to put in the tedious and difficult work required to get them to come to fruition the chances of this happening are relatively slim, a brisk slap to the face none of us ever wants to embrace.
Thing is, dreams are still attainable, one just has to be willing to let them morph and change as we get older. We have to embrace the fact that life isn't going to be a bed of roses, that it will have twists and turns we seldom see coming, the glory being that the life we ultimate have might be, and hopefully is, better than any we could have fantasized about in our youth.
Baumbach and Gerwig get this, showing how this evolution can happen step by step over the course of a handful of months. On top of that, the pair also show just how important certain friendships can be, the fragile nature of our interpersonal connections coming to glorious life with all their complexities intact. Frances and Sophie are made for one another, and no matter how hard it gets or how bad it might seem the reality is, and always remains, one is there for the other come what may.
Gerwig, so good in so many different motion pictures, is close to perfection. She taps into all of Frances' neurosis and insecurities, as well as her emotionally-fueled strengths, with an effortless grace that held me blissfully captivated. She's like a modern Anna Karina, her eyes speaking volumes while her gestures speak of heartbreaks and heroics untapped. She's fragile yet at the same time as solid as granite, and from one moment to the next I was never sure if she would fracture into tiny pieces are find an inner strength that would allow her to face every obstacle with energetic perseverance.
It's readily apparent that Baumbach is channeling his inner Francois Truffaut, Eric Rohmer or Jean-Luc Goddard, that sort of goes without saying. From Sam Levy's (Wendy and Lucy) incandescent black and white camerawork, to Jennifer Lame's (Price Check) elliptically precise editing, to the use of music from the likes of Georges Delerue (Shoot the Piano Player) and David Bowie, the New Wave imprint is obvious.
But much like Woody Allen did with Manhattan, Baumbach makes this stylistic foray both an homage to past greats yet also uniquely his own. It's ebullient and joyous but still laced without the proper amount of pain and pathos, everything working in incandescent tandem with its various pieces in order to make the movie come alive to its own free-flowing beat. Make no mistake, Frances Ha is a stunning achievement, an exercise in pure cinema that's as rare as it is spectacular.
Film Rating: 4 (out of 4)
ADDITIONAL LINK:
Interview with writer/actress Greta Gerwig by Sara Michelle Fetters conducted during the2013 Seattle International Film Festiva