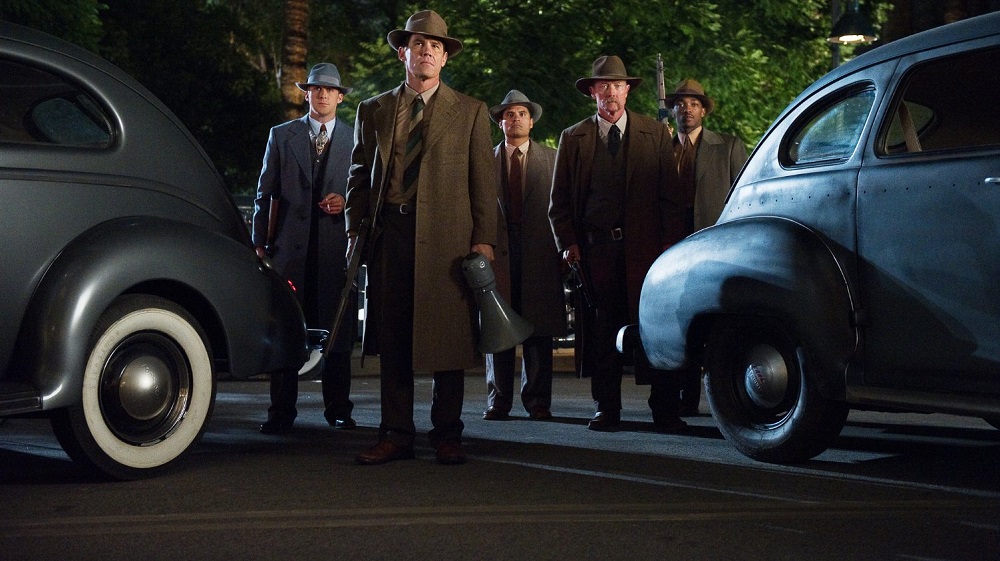 Macho Gangster Squad Sports an Ill-Fitting Fedora
Director Ruben Fleischer's post-WWII Los Angeles-set old school macho actioner Gangster Squad was supposed to come out last September, but after events in Aurora, CO rocked the national consciousness Warner Bros, along with the filmmaker, came to the conclusion releasing their film as-is wouldn't be in good taste. Why? The fiery, machine gun filled finale was partially set inside a crowded movie theatre, and considering what had just taken place the collective unease about how audiences would react post-Aurora was certainly understandable.
Whether one agrees with the decision or not, the last quarter of Gangster Squad was extensively reshot and the release date pushed to this second Friday in 2013. It's now time for the movie to speak for itself and let its star-studded merits speak for themselves, and to say it fails to do so on just about any level whatsoever makes me wonder why all the fuss for such a mangy, disheveled dog was levied in the first place. I get the feeling they could have reshot the entire movie, start to finish, every aspect, and Fleischer's opus would still be nothing more than a glossy, sloppily written and unevenly directed The Untouchables wannabe, and while pleasing aspects do arise there just aren't anywhere enough of them to make sitting through this disaster worthwhile.
The plot, loosely based on fact, follows LAPD Sgt. John O'Mara (Josh Brolin) as he sets out to bring down rising crime lord Mickey Cohen (Sean Penn). Tasked by Chief of Police Parker (Nick Nolte) to use any means necessary to fight this new kind of guerilla war, O'Mara brings together a group of law enforcement outsiders to fill out his squad, using tactics honed during WWII to make Cohen's life a living hell and stop him from making his criminal empire an unstoppable machine ripe to take over the city for good.
There are some nice touches, and allowing Penn so much freedom to do what he wants with Cohen was as great a decision as any Fleischer made while trying to bring Will Beall's (a "Castle" staff writer) script, itself based on the book by Paul Lieberman, to life. But the whole thing is weighted down in faux machismo, the enterprise feeling like an unsubtle fedora-wearing throwback that wants to walk in the same shoes as James Cagney, George Raft or Paul Muni but doesn't have the faintest idea how to do so. It's all uneasy boastfulness and flippant cigarette smoking, the majority of the cast going through the motions as if they were auditioning for some low budget, overly theatrical High School play than they are a major, big budget Hollywood tentpole.
Which is a shame if you consider just how awesome the cast is. Ryan Gosling, Robert Patrick (who steals every scene he's at the center of), Anthony Mackie, Giovanni Ribisi and Michael Peña round out the squad, Emma Stone is the femme fatale who draws Gosling attentions, "The Killing" showstopper Mireille Enos is Brolin's sweetly understanding (and very pregnant) wife, while Troy Garity pops up as Penn's most menacing shoot first-don't ask questions at all mountain of muscle. Plenty of others also make fleeting appearances; keeping track of the familiar faces something of a mildly amusing game in and of itself.
But across the board, every single one of them is wasted in one way or another. Gosling and Stone try to get by on their Crazy, Stupid, Love. chemistry but the magic is mostly gone, only a couple moments ringing with the same kind of intoxicating chemistry. Brolin is all swagger, forgetting to bring the same sort of wounded intensity that allowed for Kevin Costner to come alive and become something memorable in Brian De Palma's The Untouchables, while the rest of the squad (save the aforementioned Patrick), are stranded with cardboard cutouts to portray instead of anything resembling a living, breathing enforcer of law and order.
Comparisons to De Palma's 1987 film are unavoidable, so many of the beats and ideas presented in Beall's script uneasily reminiscent of that Academy Award-winning classic. Fleischer doesn't try to hide this, and I can't be the only wondering if Zombieland was a fluke and that it's more unmemorable throwaways like this and 30 Minutes or Less that we can expect from him in the future. Poorly paced, lazily edited, reviling in cliché and shot to look as shiny as a newfound penny, Gangster Squad is 2013's first disaster, and instead of waiting four months to throw it into multiplexes Warner Bros would have been better served to have left it on the shelf unreleased.
– Review reprinted courtesy of the SGN in Seattle
Film Rating: 1½ (out of 4)