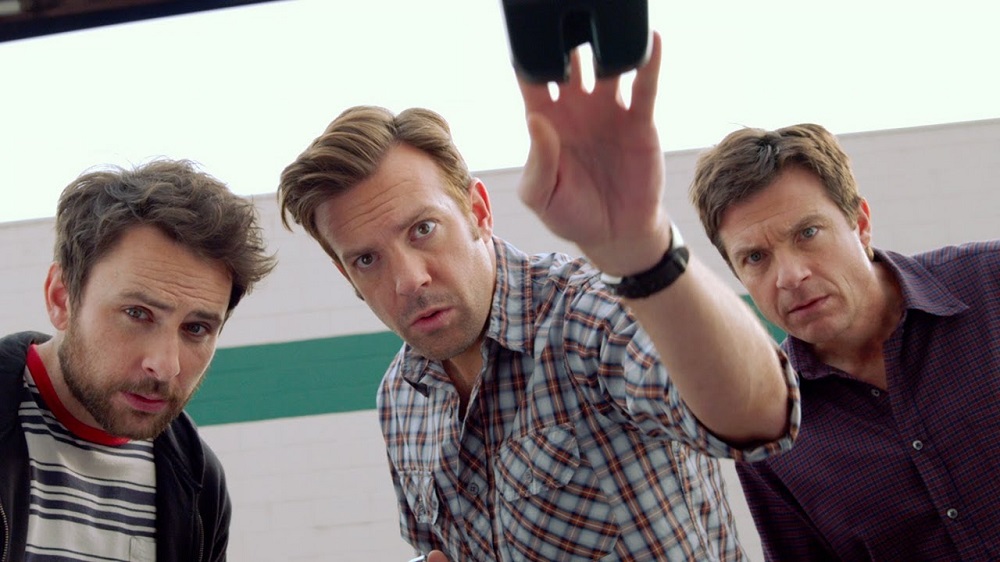 Funny Bosses a Far From Horrible Sequel
Ever since they collectively got the not-so-bright idea to murder their bosses, best friends Nick (Jason Bateman), Dale (Charlie Day) and Kurt (Jason Sudeikis) have done what they can to walk the straight and narrow. As such, they're now prepared to step out on their own, become their own bosses, inventing a new toy for the shower they're positive will sweep the country by storm. Best of all, one of the country's largest magazine and internet distribution companies run by the wildly successful Bert Hanson (Christoph Waltz) is putting in an order for 100.000 units, this news allowing them to get their company going putting them on the path towards financial independence.
Needless to say, things do not work out as planned. Hanson pulls a fast one on the trio, in effect putting them in a half-a-million dollar hole they're unlikely to be able to climb out of before he takes over their business and leaves all three financially ruined. With few options, Kurt and Dale strike upon the bright idea to kidnap Rex (Chris Pine), Bert's petulant, somewhat whiny, easily excitable son and hold him for ransom, Nick going along for the ride even though based on their last criminal enterprise he knows he probably shouldn't.
Horrible Bosses was something a minor surprise hit when it was released summer of 2011. The movie wasn't particularly good but it did have a healthy handful of laughs, and while most of them were courtesy of the supporting cast (most notably Colin Farrell as the worst boss of the bunch, but Jennifer Aniston and Kevin Spacey got in a few choice licks as well) there was just enough amusing stuff to make the film itself worthy of a look.
But a sequel? Not sure that was really warranted, especially one coming more than three years after the fact. Yet, surprise, surprise, Horrible Bosses 2 is actually a little bit better than its predecessor. Not only does it offer up a few more laughs, it also makes the core group of Nick, Dale and Kurt worth spending some time with, their endearing imperfections much more enchanting than they were the first time around. While not great, I'd be tempted to elevate things to a healthy 'good' as far as this sequel is concerned, because while far from perfect I still had a grand old time sitting in the theater watching it all the same.
Bateman and Day are terrific, the latter in particular, while Pine steals scenes left and right as the far too eager and willing kidnapping victim Rex having something close to a blast sending up his typically heroic screen persona. Aniston and Spacey both return each making the most of their screen time with humorous exuberance, while Jamie Foxx is also back getting a bit more in on the action as artfully unhelpful, yet surprisingly there when he's needed, MF Jones, his obsession with opening up a Pinkberry store continually making me chuckle.
Sean Anders, a co-writer on everything from Dumb and Dumber To, to We're the Millers, to She's Out of My League, to Hot Tub Time Machine, does a much better job handling all the action as director here than he did spearheading 2012's Adam Sandler monstrosity That's My Boy, keeping things energetic and quickly paced. While the screenplay is admittedly a little on the messy side (including Anders, there are three other credited writers) the jokes themselves are pretty much solid across the board, the laughs making up for the majority of the film's more than obvious narrative shortcomings.
Of which there are plenty, not the least of which is the fact that Waltz, other than delivering a couple of choice lines with sublime relish, is given precious little to do. On top of that, the whole kidnapping subplot, while overall oddly more agreeable than the murderous machinations of the first film, feels almost as if it's been thrown together on the spot. While the cast is filled with an extraordinary collection of adlibbers, everyone here fitting that description, it would have been nice had they be given something even slightly concrete as a foundation to build all of this criminal silliness upon.
Somehow, someway Horrible Bosses 2 finds a way to meander towards success. There are signature bits sprinkled throughout, including a glorious gag with a car, a gate and surprisingly resilient chain-link fence, while the cast continually enliven things to a point I can't help but smile recollecting on them now. As sequels go, this one improves upon its predecessor in all the ways that matter and, as Thanksgiving surprises are concerned, this is one effort I'm happily thankful to have had the pleasure to see.
Review reprinted courtesy of the SGN in Seattle
Film Rating: 3 (out of 4)