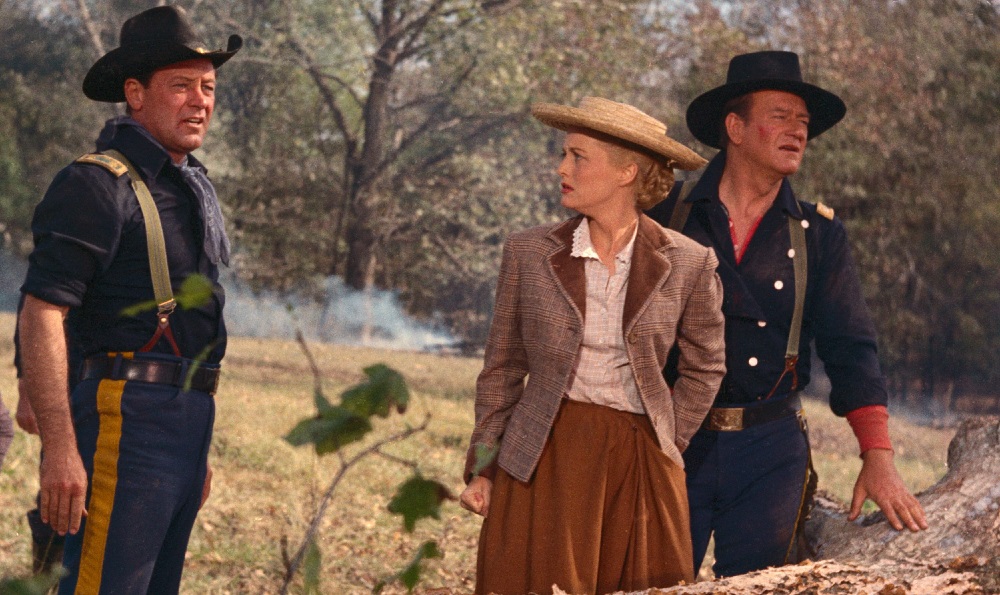 How does the Blu-ray/DVD Disc stack up? (all ratings out of 10.)
Movie
Video
Audio
Extras
Overall
SYNOPSIS
Union Col. John Marlowe (John Wayne) is assigned by Gen. Ulysses S. Grant (Stan Jones) to take a small company behind Confederate lines in Virginia and take out the railyards at Newton Station. He butts heads with his company physician, Maj. Henry Kendall (William Holden), and is forced by circumstance to take Southern beauty Hannah Hunter (Constance Towers) prisoner.
CRITIQUE
John Ford's 1959 Civil War western The Horse Soldiers is far from being in the upper echelon of the vaunted filmmaker's filmography. Stagecoach, The Searchers, or The Man Who Shot Liberty Valance it most certainly is not.
But that does not make it mediocre or subpar. Far from it. This is a solidly entertaining historical drama that only gets better with age. Even at two hours the film moves like lightning, Wayne and Holden verbally sparring with suitably masculine bravado, while Ford punctuates their journey with jolting bits of confidently staged action. The director even mixes in moments of his trademark comedy only here those bits of levity are tinged with an introspective weightiness that's frequently unexpected.
While far from being historically accurate, Ford does utilize this Civil War backdrop to have an intellectual conversation between Marlowe and Kendall. Their differing opinions on what is and what is not worth sending soldiers into battle for is this melodrama's central conflict. The most interesting aspect is that Ford doesn't fully take either man's side. He allows the audience to decide (more or less) for themselves as to which one comes out on top, treating things with an introspective eloquence that would grow in depth, authority, and – sadly – a wee bit of heavy-handed didacticism during the director's latter years.
Ford also stages a pair of magnificent set pieces as well as one comedic interlude that's as amusing as it is heartbreaking. The first action sequence of merit is the assault on Newton Station. The second is a climactic escape over a rickety wooden bridge where Marlowe and Kendall finally reach a mutual understanding of one another's point of view. These two moments are spectacularly realized by the director, his visual choreography of events combined with longtime editor Jack Murray's (The Searchers, The Quiet Man) skillful assemblage of the footage truly extraordinary.
Right before this energetic finale, there is a brief bit involving a small Confederate military school whose students are the only "soldiers" available to confront Col. Marlowe's troops and force them out of their fortified position. On one level it's an exceptionally humorous aside, the sight of a frantic mother pulling her adolescent son out of formation to keep him from marching into battle undeniably funny.
Yet this humor, like almost all of the laughs contained within the film, is tinged with an underlying layer of unrefined sadness. This is the Confederacy nearing its end, and Ford uses this image of these youngsters proudly marching in unison to hammer this point home. This is what the Rebels are left with by this point in the conflict: Children.
The reaction of Marlowe and his men is purposefully over-the-top, the Union troops hightailing it of their encampment as fast as they can. but that doesn't make this moment any less effective. As is the nature of war, "death" remains standing right around the corner for all combatants no matter which side they fight on, not caring an ounce who is in the "right" or who is in the "wrong."
The Horse Soldiers is dated in several ways, not the least of which is its handling of slavery. But Ford knows how to pull heartstrings when he wants to, and there is something to be said about Althea Gibson's strong, refreshingly forthright performance as Hunter's maidservant Lukey. In some ways, Ford presents her as a precursor to Woody Strode's character 1st Sgt. Braxton Rutledge in his very next motion picture, the supremely unsubtle (yet still undeniably poignant) Sergeant Rutledge, the connective tissue linking them to my mind obvious.
None of which makes The Horse Soldiers any less entertaining. Wayne is in fine form. Holden is a perfect counterpoint to his curmudgeonly steadfast demeanor. Towers shows once again she should have been a far bigger star than sadly ended up being the case. Ford confidently directs and delivers the action goods, mixing in a few prescient thematic points worthy of further exploration at the same time. It's a good film, and one I frequently – and happily – return to with zero hesitation.
THE VIDEO
The Horse Soldiers is presented on a 50GB Blu-ray MPEG-4 AVC Video with a 1.85:1 1080p transfer.
THE AUDIO
This Blu-ray features an English DTS-HD Master Audio 2.0 mono soundtrack and includes optional English SDH subtitles.
THE EXTRAS
Extras here include:
Audio Commentary with film historian Joseph McBride, author of Searching for John Ford
Original Theatrical Trailer (2:39)
Also included are trailers for Legend of the Lost, Brannigan, The Devil's Brigade, and The Revengers
FINAL THOUGHTS.
Is 1959's The Horse Soldiers one of John Ford's better westerns? No. Of course not. But that does not make it any less entertaining. This is a fast-paced, frequently thrilling, suitably burly Civil War drama, filled with solid action, decent laughs, and three full-bodied, undeniably charismatic performances from stars John Wayne, William Holden, and Constance Towers. Kino's Blu-ray presentation is sourced from a new 4K master and likely hasn't looked this good since its original release. Definitely worth the upgrade from the previous Blu-ray.