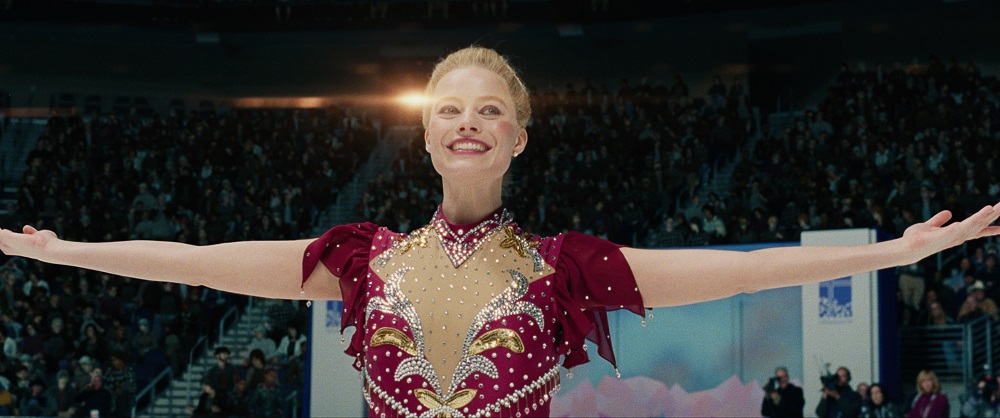 Robbie's Excellence Keeps Tonya Balanced on it Skates
At one point in 1991 Tonya Harding (Margot Robbie) was at the pinnacle of her sport. She has just won the United States Figure Skating Championship and, in doing so, became the first woman in the world to land a triple axel in competition. It was an achievement few thought possible, especially her cantankerous, chain-smoking mother LaVona Golden (Allison Janney), a woman prone to smothering her child in put-downs and harsh criticisms, thinking that by doing so she's toughening the girl up for the hardships figure skating has to offer. If only she had known what was going to happen next.
Fast-forward three years, and at the U.S. Nationals in Detroit Harding is once again competing for a spot on the Olympic team. But after an attack on rival Nancy Kerrigan (Caitlin Carver) is traced back to her ex-husband Jeff Gillooly (Sebastian Stan) and his bumbling best friend Shawn Eckardt (Paul Walter Hauser), a former bodyguard, suddenly the skater's future is up in the air. To the world at large she's nothing more than a criminal who had to mug an opponent in order to get back to the Olympics, Harding now standing in the middle of a different kind of spotlight, one she could never have imagined having to endure the glare of when she started skating as an Oregon youngster back when she was first starting out.
The thing about entertaining, if oddly toothless, satirical comedy-drama I, Tonya is that it barely tries to dig underneath the surface or shows anything approaching complexity. While it does a great job of producing sympathy for its main character, and while there is certainly value in watching the madcap inept zaniness that Gillooly purportedly helped engineer and Eckardt somehow managed to pull off, overall I was left slightly frustrated and annoyed by the film as a whole. I wanted more from Steven Rogers's (Hope Floats, Love the Coopers) script as well as from director Craig Gillespie's (Lars and the Real Girl, The Finest Hours) handling of it, and while I was entertained for all two hours I still walked away thinking there was so much more to this story just aching to be told.
There is a very Coen Brothers meets Martin Scorsese sensibility to all of this, and one imagines that is entirely by design. Rogers layers his script in a way that plays up all of the characters' most maniacal traits yet, at least as far as it pertains to Harding and Gillooly, refuses to make them caricatures. He treats them with respect, allowing for their clueless dimwittedness to just be another facet of their personality, not the focal point of who they are or why they end up making the decisions that they do. The same can also be said of Golden, but this mother born from the fires of Hades disappears for long stretches of the film's second half (something she amusingly comments directly to the screen about), lessening her impact and importance a significant amount as things went on.
But everything feels fairly obvious, and I started to think neither Gillespie nor Rogers wanted to burrow too far underneath the dirt, almost as if they were worried the audience would turn on their film if things got even uglier and more obnoxiously noxious. Sure the pair show elements of the physical and verbal abuse that reportedly made up much of Harding and Gillooly's marriage and relationship, but they don't do so in a way that achieves emotional resonance. Instead, these sequences are just part of the scenery, at times more played for laughs and shock value than to increase character complexity or give any fresh insights into the decisions that are made as they relate to Kerrigan's mugging.
It should be said that this is one instance where the inclusion of actual footage of the primary players during the end credits, especially as it pertains to Eckardt, is well worth staying around for. Watching the movie, I had trouble believing any person involved in such a farcical bit of idiotic lunacy could be that much of a buffoon. Turns out he is, one of his key monologues taken word-for-word from an actual on-camera interview he gave after the truth of his involvement came to light. None of which forgives how cartoonish the character is, but it does mitigate my misgivings towards the depiction somewhat, and while that's a small positive it's still a positive nonetheless.
What I do love about I, Tonya are the performances. Janney is Janney. She's been delivering magnificent turns like this for decades now, and it's about time everyone finally takes notice of just how terrific an actress she's been throughout her career. With that said, it's Robbie and Stan who make things click as they do. The latter has never been this good, and while he's always been appealing in motion pictures as diverse as Captain America: The Winter Soldier, Logan Lucky, The Martian, Ricki and the Flash and Black Swan, I can't say I was expecting the depth and emotional range he managed to convey as the seemingly eternally befuddled Gillooly.
But it is Robbie who is the reason to plunk hard-earned dollars down for a matinee ticket. She's ferocious, digging into Harding as if her very life depended on giving the performance of a lifetime. The actress is the only truly fearless element working inside the production, never caring to soften any of her character's edges knowing that by refusing to do so she'll only make the champion ice skater more sympathetic as things steamroll towards their conclusion. It's a magnificently lithe portrait of athletic ego run amok, Robbie giving every fiber of her being to the production and in the process transcends it in a manner akin to what the athlete herself once did as it pertained to figure skating before things unceremoniously fell apart and the only thing left for Harding to deal with was disgrace.
Yet I, Tonya still left me wanting. Kerrigan isn't a character, her side of the story left dangling in the wind. While Harding's version needed to be told, and while in comparison to what other, primarily male, professional athletes have gotten away with over the decades with nothing more than a polite slap on the wrist (and considering her part in this unhinged lunacy is one born of stupidity and not malice) the punishment that befell the skater doesn't feel to me as if it fit the crime, I still think having her adversary be nothing more than a footnote doesn't work to the film's benefit. But even if Gillespie and Rogers don't go for the jugular, I still enjoyed much of what their truth is stranger than fiction real crime enterprise had to offer, and while the film doesn't land a triple axel, it's safe to say it doesn't go splat face-first into the ice, either.
– Review reprinted courtesy of the SGN in Seattle
Film Rating: 2½ (out of 4)