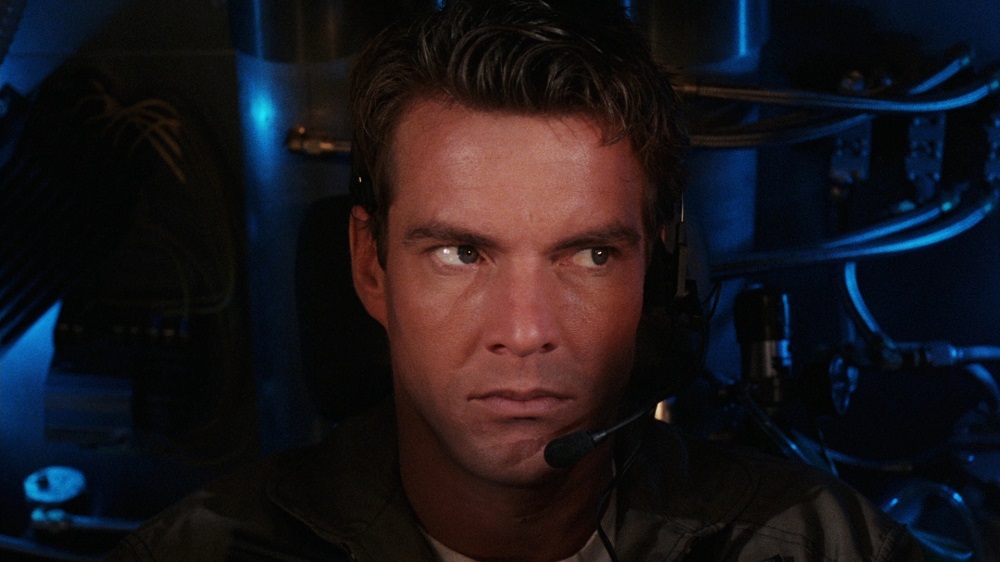 How does the Blu-ray/DVD Disc stack up? (all ratings out of 10.)
Movie
Video
Audio
Extras
Overall
SYNOPSIS 
"When things are at their darkest, pal, it's a brave man that can kick back and party."
–      Lt. Tuck Pendleton 
CRITIQUE
Innerspace, even though it won an Academy Award for its innovative visual effects (beating out Predator), was not highly regarded or made much of a dent at the box office during its initial 1987 theatrical release. Starring Dennis Quaid, featuring comedian Martin Short in one of his first, big primary roles, produced by Steven Spielberg and directed by a Joe Dante still fresh off the success of Gremlins (and with few holding the disappointment of Explorers against him), the movie was expected by most to explode, the fact it failed to connect a somewhat stupefying mystery that, even today, doesn't make a lot of sense.
Decades later, it's easy to see just how fresh, funny and deliciously entertaining this ingenious Fantastic Voyage riff, written by Chris Proser (Iceman)and Jeffrey Boam (Lethal Weapon 2, The Lost Boys), truly is. Dante, clearly at the top of his most inspired, Loony Tunes-esque idiosyncratic game, balances all the varying aspects of this freewheeling farce with astonishing ease. More than that, he allows Quaid and Short, neither of whom appear on-screen together until the last few minutes, to create a spellbinding, beautifully realized partnership, each actor working off of the other in spectacular fashion.
The story is outright silliness. Lt. Tuck Pendleton (Quaid), a down-on-his-luck fighter pilot, volunteers for a top secret scientific experiment involving miniaturization. Supposed to be injected into the bloodstream of a healthy rabbit he instead finds himself stuck within the body of the very human Jack Putter (Short), a nebbish grocery store clerk who is so insecure he can barely make it through the day without going into at least one hysterical fit of some sort. Next thing he knows, he's being pursued by a ragtag team of evildoers and scientists led by the dastardly Victor Eugene Scrimshaw (Kevin McCarthy), Pendleton's on again-off again journalist girlfriend Lydia Maxwell (Meg Ryan) getting herself involved in all the chaos creating some sort of a an odd, hysterically original love triangle in the process.
Visually the film, even all these years later, is stunning. The great Jerry Goldsmith's (Alien, Gremlins) is one of his absolute best – which is saying something, I know – while Andrew Laszlo's (First Blood) crackerjack cinematography is smoothly satisfying but never in ways that call undo attention to any of the camera moves themselves. There's some sublime stunt work, while Scrimshaw's chief henchman Mr. Igoe (The Road Warrior baddie Vernon Wells) is in my opinion one of the all-time greats.
But, in the end, it's the way Dante keeps absolute control of all that's happening that is most wondrous. So many tangents going at once, so many balls in the air, yet Innerspace rarely falters, never take a misstep, everything building to a rollicking, humorously joyous conclusion that's as winning now as it ever was way back in 1987.
So, why wasn't the film a hit? Why were critics so disappointed? And, most importantly, what's changed over the past (almost) 30 years to change just about everyone's opinions and get them to realize just how wonderful Innerspace truly is? Honestly, I can't really say, other than to point on occasion it just takes a little bit of time for all of us to collectively come to our senses and realize what we've been taking for granted is in all actuality a bona fide classic. In this case, that's exactly what it is we're talking about.
THE VIDEO 
Innerspace is presented on a dual-layer 50GB Blu-ray MPEG-4 AVC Video with a 1.78:1/1080p transfer.
THE AUDIO 
Innerspace comes to Blu-ray with an English DTS-HD Master Audio 5.1 soundtrack along with French, Spanish, Portuguese, Thai, Japanese and English Dolby Digital tracks and includes a wide variety of subtitle options.
THE EXTRAS
Extras here are ported over from the previous DVD release and include:
Audio Commentary with director Joe Dante, producer Michael Finnell, effects supervisor Dennis Muren and actors Kevin McCarthy and Robert Picardo (the latter of whom joins in roughly halfway through the film) – Fine commentary track with Dante dominating, the others chiming in every now and again. McCarthy, understandably (he was in his 80s at the time of recording, passing away in September of 2010), doesn't speak a lot, but when he does it's almost always worthwhile in one way or another. Muren's (admittedly brief) comments in regards to the Oscar-winning effects are also outstanding.
Original Theatrical Trailer (1:30) 
FINAL THOUGHTS
I recently interviewed Dante in regards to his latest film, Burying the Ex, and he commented that it's almost always impossible to judge any film – good or bad – in its entirety during its initial release, that only the passage of time will allow viewers to really know a project's overall quality (or lack thereof). In the case of Innerspace, he couldn't have been more spot-on as almost 30 years later it's impossible not to look at this innovative, fun adventure as an idiosyncratic comedic classic that mixes the irreverent and the scientific with anarchic glee.
ADDITIONAL LINK: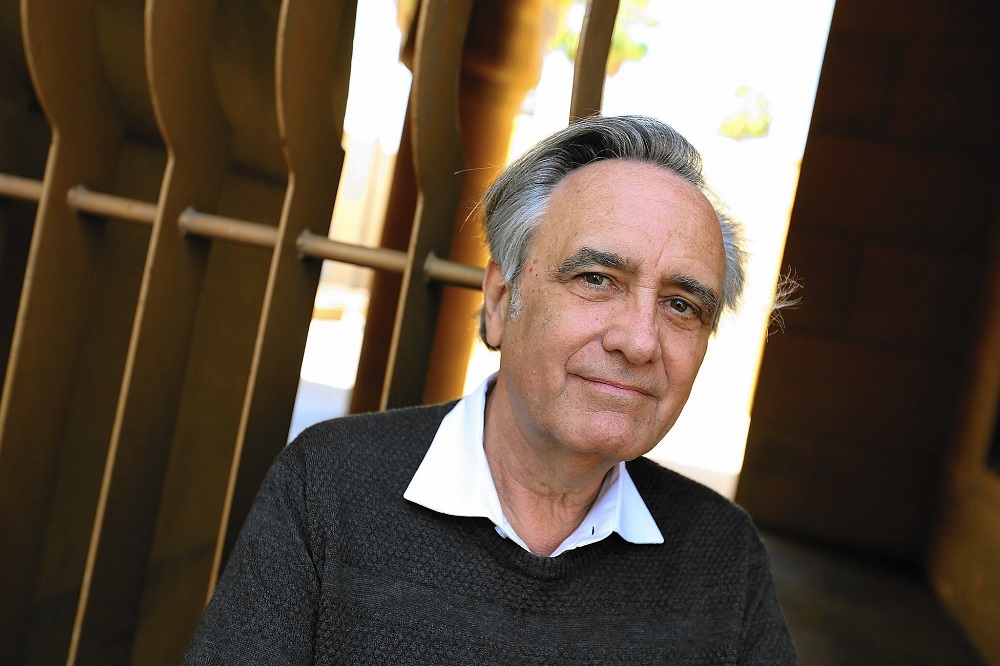 Interview with Joe Dante by Sara Michelle Fetters