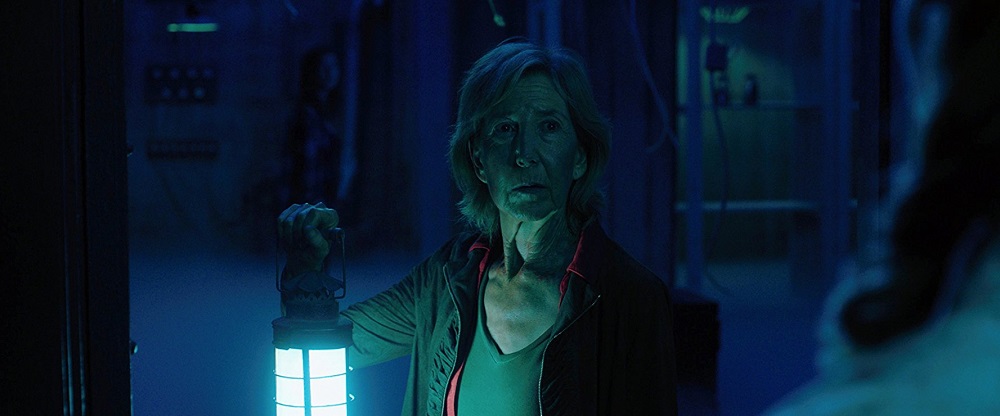 Fourth Insidious Brings The Further Home
After her last exhausting trip into The Further to save Quinn Brenner from demonic possession, Dr. Elise Rainier (Lin Shaye) isn't interested in doing anything that dangerous ever again. But when she receives a call from the terrified Ted Garza (Kirk Acevedo), as much as she would rather do otherwise the frazzled psychic cannot turn down his cry for help. Joined once again by paranormal investigators Specs (Leigh Whannell) and Tucker (Angus Sampson), Elise ends up the last place she ever wanted to be. No, not back inside The Further; heading there comes with the job. This time, in order to stop demons from rising and innocence from being corrupted, Dr. Elise Rainier must go back to her childhood home, finally forced to deal with familial traumas she ran out on as a teenager.
Insidious: The Last Key brings the popular horror series created by writer/actor Whannell and producer (and director of Insidious and Insidious: Chapter 2) James Wan full circle, this fourth installment connecting directly to the events dealt with in 2010's first film. There's never any doubt as to what the outcome is going to be for, if there was, then Elise's battle to save the Lambert family from total destruction never could have taken place. Still, Whannell's script isn't without its merits, new director Adam Robitel (The Taking of Deborah Logan) doing a nice job conjuring up an image or two that sent a few justifiably unsettling shivers up my straightened spine.
Not that I've ever been a huge fan of this series. Heck, if I'm being honest the only one I enjoyed start to finish was 2015's Insidious: Chapter 3, and that was because it focused entirely on Elise and dealt with a case where the outcome could be in doubt as it had nothing to do with the Lambert family. There was genuine suspense to be found inside that story, and even if Whannell's (who made his directorial debut on the prequel) scenario didn't go anywhere surprising, it made far fewer of the comedic tonal missteps that frustratingly marred both of Wan's directorial efforts.
The same could be said about The Last Key. Only problem, by taking Elise back home, by having the focus of the horror be on her and her family alone and no one else, there's no danger that she's gone to be harmed or damaged by the time the film comes to an end. It's the inherent problem the majority of prequels end up having to deal with and, as clever as Whannell connects things together, from a dramatic standpoint the overall effect can be slightly stifling. Especially when one rolls in obvious character additions who are inserted into the story only so the series can continue into the future without its primary character if this latest entry proves to be a success, meaning their chance of meeting a grizzly end is roughly the same as Elise's (i.e. nil).
Still, this is a decent enough haunted house tale, and I've always found the concept of The Further to be decidedly creepy. Robitel manages a handful of truly unnerving moments (one of which is frustratingly ruined by the trailer, so don't watch that), while his primary demon is a disgusting monstrosity with keys for claws that's as abhorrent as it is gruesome. There's also a nice little twist involving the ghosts Elise appears to be seeing inside her home, a revelation involving them easily the film's most startling aspect.
There are too many jump scares, especially early on, and as crafty a director as Robitel has already proven to be (his The Taking of Deborah Logan is seriously underrated; if you're a genre fan make sure and check it out), he ends up canceling out one of his best third act shock moments only because he's forced too many similar red herrings on the audience for this character and narrative-driven one to have the intended effect. He dilutes his own pool which consequently makes things far less frightening for the audience, and for a story where suspense is the key ingredient this is understandably something of a problem.
Shaye continues to own this role, however, and watching her find new territories of Elise's interiors to mine is something of a minor joy. She has one justifiably great scene with an otherwise underutilized Bruce Davison in a small country diner where revelations are made and new characters are introduced. It's a unexpectedly tender moment that breaks my heart in two before putting it back together again with otherworldly suddenness. Shaye makes all of this happen with subtle ease, and for one brief, shimmering moment I kind of started to think this latest Insidious was going to be the best one yet.
That doesn't happen. Turns out, Chapter 3 is still my favorite of the series, while the first two entries just as clearly also remain the most vexing entries as their quality wavers so substantially as they progress to a conclusion. So Insidious: The Last Key isn't the worst but it also clearly isn't the best, either. It just sort of rests tenuously in some sort of bland, easily digestible horror middle ground, and as such there's little reason to hate the film even if I can't exactly sing its praises. For what it is, I certainly didn't mind sitting in the theatre while I watched it. Just as importantly, I don't feel the need to give it a second look anytime soon.
Film Rating: 2½ (out of 4)