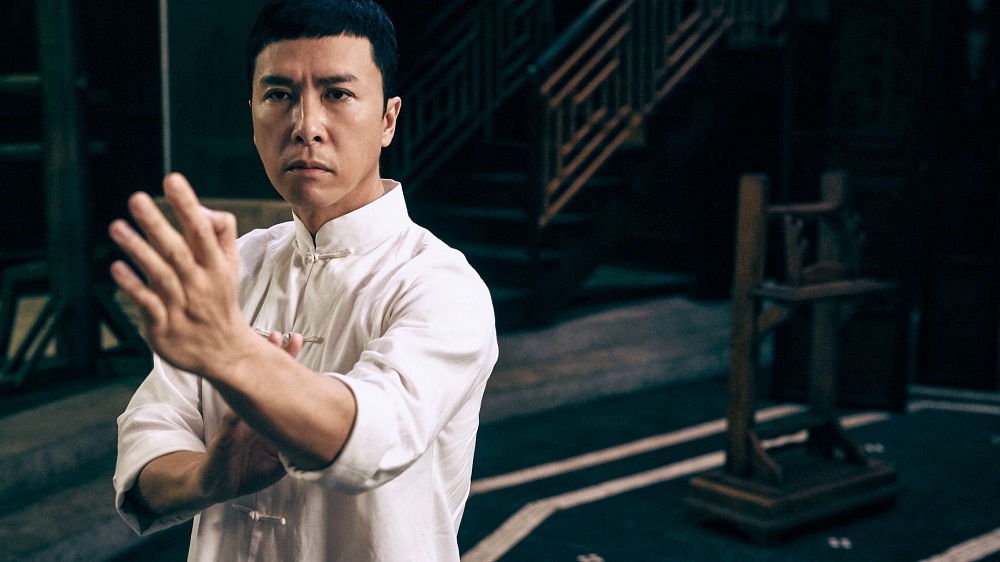 Heartfelt Ip Man 3 a Triumph for Donnie Yen
You could make a case that actor Donnie Yen is one of the more underappreciated and undervalued actors, not just action stars, to ever come out of Hong Kong. He's left an indelible imprint on a number of motion pictures ranging from Yuen Woo-Ping's Iron Monkey, to Zhang Yimou's Hero, to Tony Ching Siu Tung's The Empress and the Warriors, his martial arts prowess and steely presence never in doubt at any point. But it was arguably his being cast as Hong Kong icon Ip Man, the Wing Chun practitioner who taught Bruce Lee, in the 2008 biopic Ip Man that forced many to recognize his skills as a thespian, the emotive depth and expressive complexity of his performance working in beautiful tandem with his cinematic kung fu expertise.
While the 2010 sequel (Ip Man 2) didn't quite capture the same sort of flair or fire of its predecessor, Yen once again was the film's chief asset, adding a dimensionality to the relatively tired second chapter that kept it out of the realm of irrelevance and still made watching it moderately worthwhile. Now, with the long-in-coming release of Ip Man 3, the same holds true. Yet while Yen is again sensational, returning director Wilson Yip (Flash Point) and his trio of screenwriters have also constructed two other dynamic characters for the third entry in the series. They have finally given talented actress Lynn Hung something important to do as Ip's loving wife Cheung Wing-sing. At the same time they grant their star a complex, emotionally conflicted foil in Sum Nung, a fellow Wing Chung expert and erstwhile teacher, superbly portrayed by Jin Zhang. Together, the trio enliven the sequel, make it a January essential, watching it a breathlessly energetic experience that had my spirits soaring and my heart filling with joy.
Of course, all most are going to want to talk about is the third act face-off between the quietly confident Ip and a brutish American thug named Frank, played with expectedly pugilistic brio by former heavyweight champion Mike Tyson. It's silly stuff, watching the diminutive Yen stand toe-to-toe with Iron Mike, bringing a not-so-surprising chuckle the second the sequence begins. But the clash itself is glorious, spectacularly choreographed by fight director Yuen Woo-Ping, and as cartoonish as the visual image might be, not for a single second is the inherent danger both men are up against as they attempt to smash the other into submission ever in doubt.
Granted, it is the primary plot that Frank is involved in that keeps Ip Man 3 from soaring as high as it maybe could have. It's a comic book clash between Ip and the foreign gangster, who is gamely assisted by his oily Hong Kong surrogate (played with smarmy glee by Patrick Tam), the two disagreeing over the fate of a local neighborhood school the latter wants to see shut down and the former is sworn to protect. This battle of wills allows for a number of complex martial arts battles between Ip, Sum Nung and a number of faceless bad guys, things coming to head in a massive shipyard skirmish with kidnapped kids shouting to be freed as a pair of heroes fight to save them.
Far more interesting is the personal battle Ip's wife Cheung Wing-sing is waging, most of the time without her husband's knowledge, one based in historical fact and inherently having an emotional authority and power to it that's undeniably devastating. Yip and his screenwriters treat this foray into 1950s cancer treatment with remarkable subtlety, allowing Yen and Hung a number of delectate, intimately affecting moments that brought delicate tears to my eyes. More, they earned that response on my part, the final image positively haunting in its stark, heartbreakingly alive poignancy, bringing the trilogy full circle in a way I was suitably moved by.
Also excellent is the relationship between Ip and Sum Nung. I liked how each actor played off of the other, how the filmmakers allowed Zhang to craft a multifaceted persona of a good man trying not to succumb to his own internal darkness as he strives to do what he feels is best as a single father of a young son looking up to him for direction. But as terrific as both actors are from a dramatic standpoint, what the film is building to is a climactic battle between titans, both wanting to prove they are Wing Chung at its absolute best, and here Yip and Woo-Ping do not disappoint. This fight sequence is extraordinary, shot like an eye-popping ballet with both actors gymnastically contorting themselves this way and that to deflect the advances of their equally gifted opponent. It's the type of martial arts moment fans of the genre will go wild for, as spectacular a display of hand-to-hand, adrenaline-fueled magnificence as any I could have hoped for.
The constant, however, remains Yen. Soon to be seen in both Netflix's highly anticipated Crouching Tiger, Hidden Dragon: Sword of Destiny and next December's Star Wars spinoff Rogue One: A Star Wars Story, Ip Man 3 is a reminder just how talented this international superstar continues to be. His performance is glorious, the actor embodying this martial arts legend with grace, dignity, passion and charisma to burn. As wonderful as many of the other components might be, he remains the number one reason for interested viewers to watch this sequel and continues to be the primary one by which I wholeheartedly recommend they do just that.
Review reprinted courtesy of the SGN in Seattle
Film Rating: 3 (out of 4)