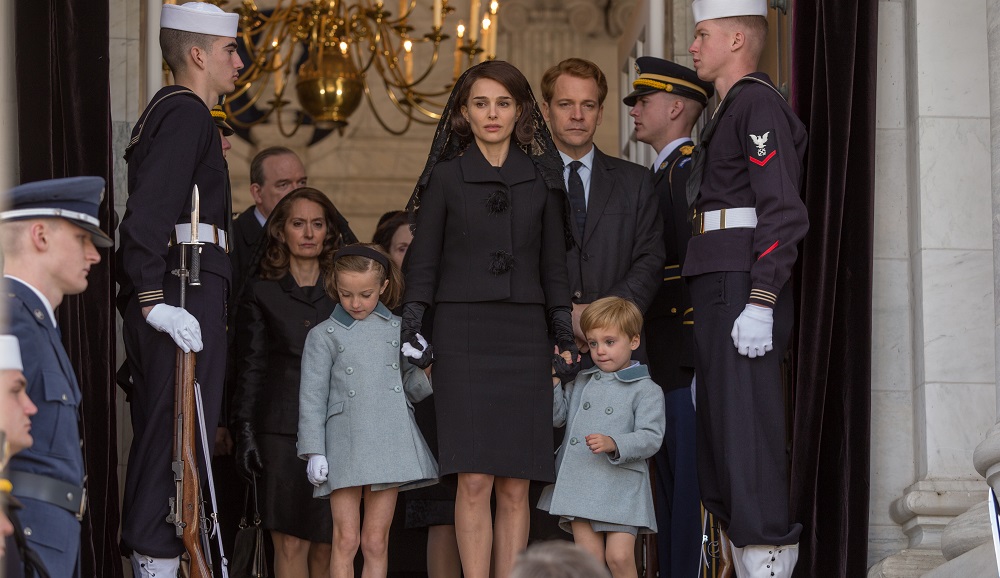 Portman's Brilliance Makes Jackie a Hypnotic Marvel
There is something about director Pablo Larraín (NO) and screenwriter Noah Oppenheim's (The Maze Runner) deeply fascinating character study Jackie that allows it transcended melodramatic conventions and become something far more potent and enduring. The level of searing, unflinching insight is extraordinary, all of it anchored to a performance by star Natalie Portman as Jacqueline Bouvier Kennedy that might be the best work of her entire career, and that includes here Oscar-winning turn in 2010's Black Swan. This movie is a nonlinear marvel, the introspective rage leaving me an astonished mess of emotional chaos as I sat in a darkened multiplex happily dumbfounded by the sheer brilliance of what it was I just had the good fortune to witness.
Essentially, Jackie revolves around conversations between Jackie Kennedy and a hard-nosed reporter (Billy Crudup) she has asked to meet with her to set the record straight in regards to the aftermath of her husband John F. Kennedy's (Caspar Phillipson) assassination. It's a fictional film, but Oppenheim has pulled from a multitude of sources in order to give his script veracity giving the film substantial weight. Seen entirely through the grieving First Lady's eyes, Larraín's treatment never flinches and refuses to compromise, and as such looks at this tragic moment in U.S. history in a way that is fresh, new and consistently surprising.
What's interesting is just how little Larraín and Oppenheim dwell on the assassination of the 35th President. Instead, they want to look directly at Jackie, are eager to try and examine the choices she made as well as how she attempted to process her unimaginable grief while under the most intense of global microscopes. The film moves between moments, not all of them involving that horrific Friday in November of 1963 or the subsequent days afterward that culminated in the funeral precision that wound through the streets of Washington, DC. If anything, the best parts might just be the recreations of Jackie's February 14, 1962 televised tour of the White House, the way this seemingly innocuous bit of political marketing foreshadows coming events unnervingly eerie.
I'm not sure what there is to say about Portman other than she is outstanding. This is a dazzling performance, likely my overall favorite – male or female – I've had the good fortune to witness in 2016. Internalized to the point of shell-shocked rigidity, bits of bitterness, anger, compassion, terror and unfiltered love sprinkle out as if fired by a machine gun. Portman shifts on a dime, and while her veneer of calm determination rarely falters the times it does are shocking in their intense vivacity. From her mannerisms, to the vocal inflections, to how she carries herself from scene to scene and moment to moment, the actress conveys herself in ways that defy belief, this examination of unparalleled grief coupled with iron-willed determination simply remarkable.
The recreation of the assassination, when it happens, is not for the faint of heart. But even more scarring are simple moments of Jackie standing in front of a mirror trying to wipe the blood off of her face or, later on, the look on her face with Lyndon B. Johnson (John Carroll Lynch) on Air Force One as he recites the Presidential Oath of Office. Little asides during the First Lady's interview drip in venomous wit, while her observations in regards to the varying plays for power going around her in the wake of the President's death are agonizingly clear and achingly perceptive. There are also some stunning conversational moments between Jackie and Robert Kennedy (portrayed marvelously by Peter Sarsgaard), while the insertion and creation of the Kennedy Camelot myth by her is detailed splendidly.
Larraín continues to impress as a filmmaker, growing in leaps and bounds from one project to the next. His utilization of composer Mica Levi's (Under the Skin) staggering score is effectively exhilarating, her varying compositions permeating the picture to the pont it is impossible to associate the images without the music. The film is also bracingly shot by Stéphane Fontaine (Rust and Bone) and edited by Sebastián Sepúlveda (Young and Wild) with celestial expressiveness, while costume designer Madeline Fontaine's (Yves Saint Laurent) various recreations of Jackie Kennedy's signature looks – not to mention this era of fashion as a whole – is mind-blowing in its colorful realism.
I'm in love with this film. Even if I wanted to try, which I don't, I have trouble believing I could ever get the ins and outs of Jackie out of my head. The way Larraín orchestrates the action, how he has pieced Oppenheim's masterful script together, it's all terrific, the hypnotizing effect the motion picture had on me reaching Stanley Kubrick levels of absorption at certain points. When Portman's performance is added into the equation there's little else to say. This is a cinematic work of art, and taking the time to see it in a theatre should be priority number one.
Film Rating: 4 (out of 4)