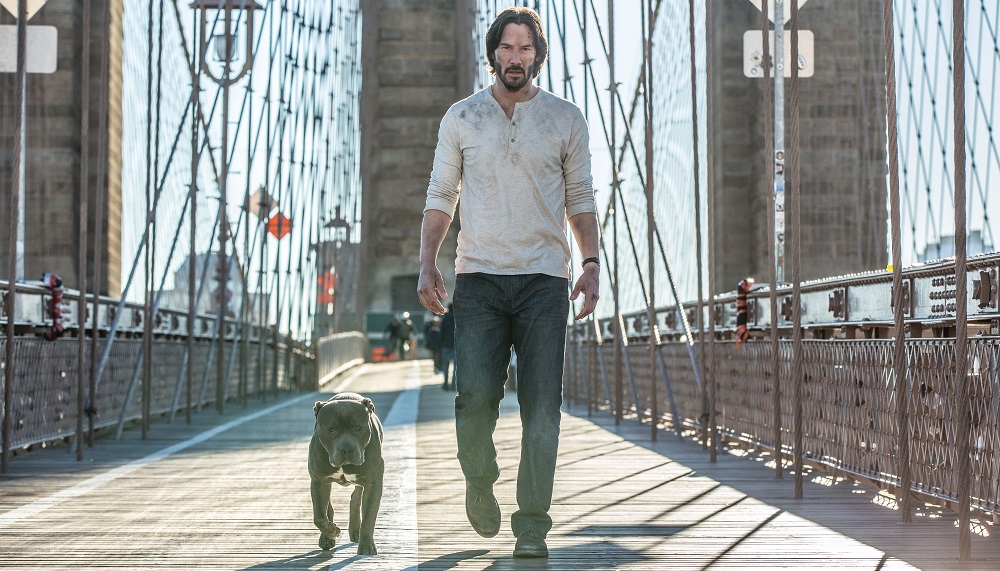 John Wick's Second Chapter a Violent, Pulpy Wonder
After getting vengeance against those who killed his dog and stole his car, both treasured presents from his deceased wife Helen (Bridget Moynahan), legendary assassin John Wick (Keanu Reeves) is content to fade once again back into retirement. But a man from his past, powerful crime lord Santino D'Antonio (Riccardo Scamarcio), won't let this man's myth of destruction and bloodshed disappear. More importantly, he holds this killer's marker, John long ago needing a favor from D'Antonio in order to enter into marriage with Helen. Now he's returned, and he's calling in the marker, and this internationally feared hit man known everywhere as The Bogeyman has to honor it or else his own life will be forfeit.
Picking up where 2014 sensation John Wick left off, John Wick: Chapter 2 proves to be a surprisingly dynamic sequel that explores and expands on the world the previous violent action-thriller introduced in increasingly fascinating fashion. While the main plot dynamics are still relatively simple – John Wick gets angry and is forced to kill an awful lot of people intent on trying to do the same to him – this time director Chad Stahelski and writer Derek Kolstad showcase all of this chaos and carnage on a much grander and more complex scale. This underground world of assassins and cutthroats has its own hierarchy, its own set of rules, all of it rooted in ancient ideals that appear to go back countless generations.
It's absorbing stuff, John getting advice once again from the mysterious Winston (Ian McShane) as he decides the best course of action as it pertains to D'Antonio and his bloodstained marker. There are also some splendid montages where this antihero meets up with a hotel sommelier who doubles as a gunsmith as well as a visit to a helpful tailor who crafts impeccable suits perfect for evening parties as well as clandestine tactical excursions. Through it all John interacts with a variety of fellow killers (portrayed by the likes of Common, Ruby Rose and a playfully grandiose Laurence Fishburne), taking time out from the fisticuffs, gunplay and knife fights for a collegial drink when the opportunity arises.
But it's the action itself that makes this sequel superior to its predecessor. Stahelski, working on his own this time around, David Leitch off making the upcoming Cold War spy thriller The Coldest City with Charlize Theron and James McAvoy, shows even more visual confidence, allowing many of the key set pieces to play out with minimal edits and few needless camera movements in order for the power and ferocity of the violence to speak for itself. It's a magnificently controlled display of ingenuity and old school directorial dexterity, the filmmaker channeling from a variety of influences including John Woo, Howard Hawks, Gareth Evans, Robert Clouse and Lana and Lily Wachowski. Yet he also manages to put his own idiosyncratic stamp on things, the pugilistic rage of all that transpires simply extraordinary.
Reeves was born to play this character, John Wick fitting nicely alongside Neo, Jack Traven and Johnny Utah. Additionally, Stahelski allows for a number of strong supporting turns, noticeably from McShane, Common and Italian actress Claudia Gerini, the latter having a superb scene with Reeves where her character is seemingly the only one (other than his late wife, of course) capable of putting the assassin in his place and eliciting a tender emotional response from him. There's also a wonderful cameo from the original Django, Franco Nero, his gruff yet commanding presence adding a level of gravitas to the Italian sections of the film that's delightful.
Does it all add up to anything substantive? No, not really, and it isn't like Stahelski and Kolstad are trying to make any big statements about the real world or got too far beyond the retro, neon-lit glossy pulp dynamics they established in the first film. There's also a blatant set up for a climactic chapter that leaves things for some of the characters in a noticeably tenuous state of limbo, and while this cliffhanger feels appropriate it also could hit some viewers as self-indulgent and unsatisfying.
Nevertheless, John Wick: Chapter 2 is amazing. A full-blown action extravaganza that engages on multiple levels, gloriously shot by Dan Laustsen (Crimson Peak), ingeniously edited by Evan Schiff (Southside with You) and featuring creatively lush environments courtesy of production designer Kevin Kavanaugh (Nightcrawler), this sequel grabbed me by the throat and then joyfully refused to let go. A cacophony of character and violence, stunt coordinator turned director Stahelski cements his status as an audaciously talented newcomer worth keeping an eye on, and whatever he decides to do next rest assured I'll be first in line to give it a look.
– Review reprinted courtesy of the SGN in Seattle
Film Rating: 3½ (out of 4)