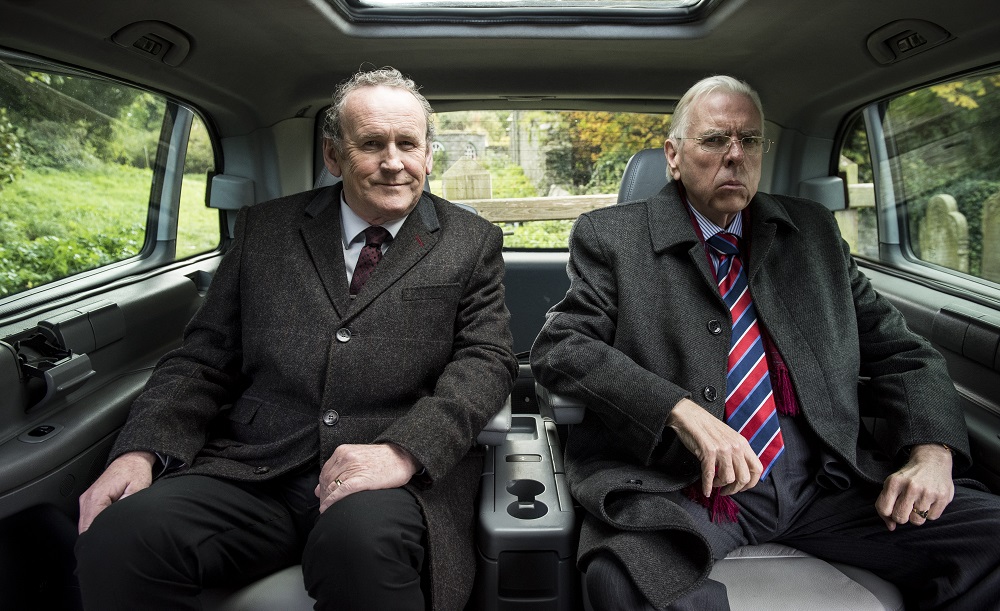 a SIFF 2017 review
Creatively Intelligent Journey a Fascinating Piece of Historical Fantasy
During the 2006 peace talks between the Irish Republican Army and members of the British Government, staunch loyalist and revered Protestant religious leader Ian Paisley and Sinn Féin representative Martin McGuinness ended up on the same plane heading back to Ireland. The pair had never spoken to one another until that flight. While what was said remains an unknown, the assumption is that this brief conversation was the breakthrough that helped set the foundation for an agreement, Paisley and McGuinness going on to be named First Minister and deputy First Minister of Ireland in May of 2007.
Director Nick Hamm (Killing Bono) and writer Colin Bateman (Wild About Harry) play a fanciful game of what-if as it pertains to their drama The Journey, the pair imagining what potentially might have been said by Paisley (Timothy Spall) and McGuinness (Colm Meaney) during that 2006 trip. Moving the action off of the plane and into a car driven by a friendly chauffeur named Jack (Freddie Highmore), the movie plays out in something close to real time, this fictionalized take on their meeting a clever flight of fancy I thoroughly enjoyed.
Unsurprisingly, there's not a lot in the way of plot. With Paisley wanting to return to Northern Ireland for his 50th wedding anniversary, McGuinness sees an opportunity to speak with his adversary alone, asking to hitch a ride under the assumption that if they travel together there will be no chance of an assassination attempt on either man. With British Prime Minister Tony Blair's (Toby Stephens) blessing, veteran political operative and negotiator Harry Patterson (John Hurt) engineers things so that the car transporting the two will take the long way to the airport. He wants to give Paisley and McGuinness as much time alone as he can, hoping they'll find some common ground which will allow the peace talks to move forward and lead to a resolution Protestant and Catholic alike will be satisfied with.
That's pretty much it. McGuinness tries to get Paisley to engage with him. Jack feigns ignorance as to who the two men are. Patterson monitors things as best he can remotely, trying to engineer little speed bumps in order to get the two men talking. And through it all, Paisley attempts to maintain an air of authoritative moral superiority as he measures the mettle of all involved, McGuinness in particular, trying to ascertain if this is a man he can work with no matter how great the differences between them might be.
There's a lot of talking going on, and that's entirely by design. But while most of it has a believable tone and patter, there are instances where things can feel more overtly theatrical than it's likely either Hamm or Bateman intend. Additionally, unlike somewhat similar dramas ranging from Stephen Frears' The Queen to Steven Knight's Locke, there are instances where the script gets a little bludgeoning in regards to the points it is trying to get across and the themes it is attempting to address. As to the plot dynamics concerning Jack, they're both obvious and a little silly, and if not for Highmore's giddy ability to be so gosh darn likable the character would likely have ended up being nothing short of ridiculous.
Thankfully, when the movie hits, it does so magnificently. This is a look at the Irish "Troubles" that frankly I've never seen before, the deft balancing act the majority of the drama manages to maintain consistently enthralling. What's even nicer is that Hamm and Bateman manage to subvert expectation on multiple occasions, most notably during a churchyard conversation where McGuinness bares his soul only to have Paisley not respond in the manner most conventional dramas would have boringly forced him to. This allows the film to resonate on a far more meaningful level than it ever would have achieved otherwise, putting the history these men have witnessed, influenced and survived into a complexly thought-provoking perspective that pulls very few punches.
Spall and Meaney are superb, each veteran character actor reveling in the opportunity Hamm has gifted them. The former is practically unrecognizable as the controversial religious and political leader, his bellicose rigidity concealing a psychological tactician who understands people more intimately than many realize. As for Meaney, he's wonderful as well, and while he can't quite shed his natural mannerisms or familiar cinematic persona, he still gives McGuinness a lived-in gravitas that seems to fit the IRA and Sinn Féin leader nicely.
I don't know a lot of the true-life dynamics that went into this peace accord. I'm slightly sure a case could be made that Hamm and Bateman minimize, if ever so slightly, all the hard work that went on by so many to see this conflict ended and a new Ireland born for all the world to see. But Paisley and McGuinness did meet, and whatever was said between the two of them did help pave the way for the pair to govern in friendly tandem. The Journey does not claim to be historical fact, but that doesn't make the creatively intelligent fiction it muses on any less fascinating.
Film Rating: 3 (out of 4)