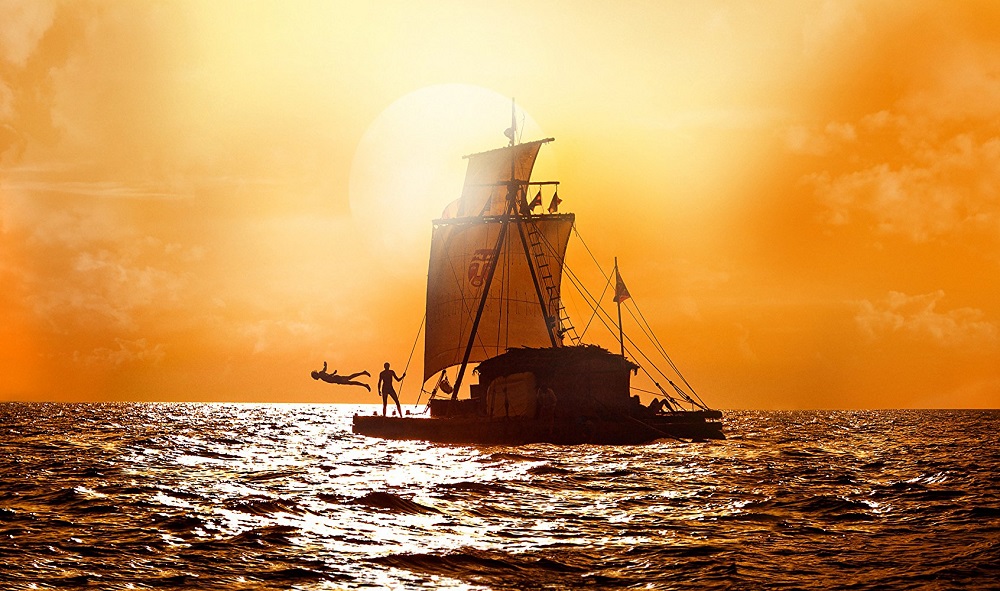 Gorgeous Kon-Tiki an Exhilarating High Seas Adventure
Let's get this out of the way first: In my opinion, the English version of Kon-Tiki seeing a release from The Weinstein Company is not the same version that was up for the Academy Award for Best Foreign Language Film. Directors Joachim Rønning and Espen Sandberg (Bandidas) shot their dramatic recreation of legendary Norwegian explorer Thor Heyerdal's epic 4,300 miles crossing of the Pacific to Polynesia in both Norwegian and in English, and while all of the non-dialogue portions only had to be shot once, everything else required two separate takes. So no matter how you slice it or try to parse your words, one version simply cannot be the exact same as the other. It just doesn't work like that.
Be that as it may, I hesitate to imagine that the Norwegian version of Kon-Tiki is any less a magical experience as this English language take proves to be. Rønning and Sandberg depict Heyerdal's (effortlessly portrayed by Pål Hagen) journey with an intrinsic beauty that stirs the imagination and allows the heart to soar. From the moment he and his team of adventurers set foot on their small balsawood raft, to the second their feet touch the Polynesian shore, I felt as if I were making this dangerous trek across the Pacific Ocean right along with them.
Not that there's any more to it. Heyrdal does his research, presents his case, is shunned for doing so and thus decides to prove Polynesia was settled from adventurous sailors from the East the only way he knows how; by making the same exact trek they must have accomplished centuries ago. Bringing together a team of friends and like-minded enthusiasts eager to make names for themselves, he constructs a raft and sets out to sea, their 101-day journey during the summer of 1947 one of the 20th century's grandest achievements.
But this story didn't need a ton of embellishment, and portions dealing with Thor's wife (Agnes Kittelsen) and children back at home in Norway feel unnecessary. The simple fact is that this is one case were the main events being depicted speak loudly for themselves (which is one reason the 1950 Oscar-winning documentary shot by Heyerdal and his company while on the raft is still so extraordinary), and embellishments on the parts of the directors or by writer Petter Skavlan can almost feel as if they're working in direct opposition to the narrative.
I'm sure comparisons to Life of Pi are somewhat inevitable, but in many ways as poetic and transformational as Ang Lee's Academy Award-winning opus was, this one captured my imagination far more completely. There's something to the knowledge that this actually happened, that Heyrdal and his crew did really make this trek, all of which makes the dramatics of the situation connect on a visceral level I found satisfying. This is a movie that feels as if it were truly shot on the water, that the directors put their cast and crew in minor peril in order to see their vision take shape, and while there is obviously a fair share of CGI employed, it's never as omnipresent or as all-encompassing as it was in that boy and his tiger life raft opus.
Is Kon-Tiki a great movie? Honestly, I can't really say. It doesn't add a lot to the conversation that both Heyrdal's book and the documentary he shot during the expedition didn't already put forth decades ago, and even not knowing a ton about the man, his myth or his achievements I still had solid knowledge about what would be depicted here. At the same time, Rønning and Sandberg's film crackles with breathless excitement the scientific adventurer would have happily embraced, and the fact I left the theatre with a smile on my face as big and broad as the ocean itself arguably speaks volumes.
Film Rating: 3½ (out of 4)