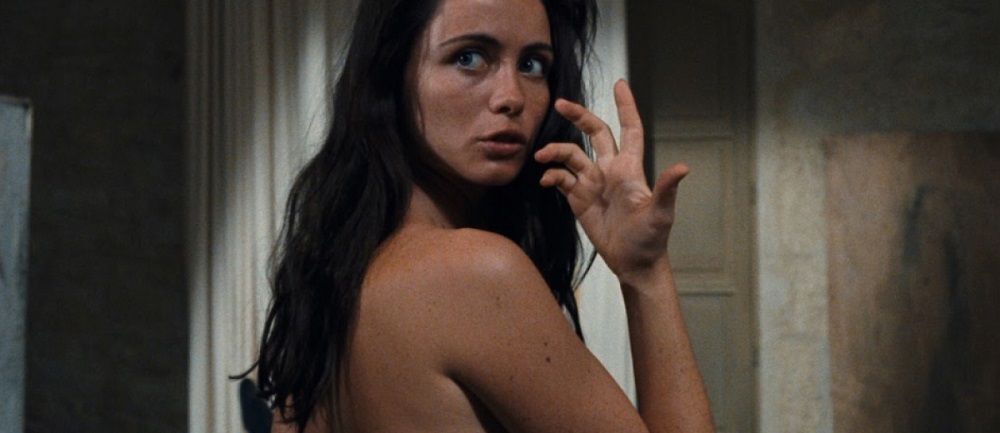 How does the Blu-ray/DVD Disc stack up? (all ratings out of 10.)
Movie
Video
Audio
Extras
Overall
SYNOPSIS
Artist Édouard Frenhofer (Michel Piccoli), struggling to feel inspired as he and his former muse (and now wife) Liz (Jane Birkin) get on in years, the painter finds himself inspired to revisit a formerly discarded work when aspiring fellow artist Nicolas (David Burzstein) visits with his electrifyingly gorgeous girlfriend Marianne (Emmanuelle Béart) joining him. Reinvigorated to return to work as if he were a man half his age, Frenhofer sets about to paint a new masterpiece, young Marianne seemingly the sole reason for this newfound creative urgency. 
CRITIQUE
Winner of the Cannes Film Festival Grand Prix in 1991, famed director Jacques Rivette, father of the French New Wave according to François Truffaut, unleashed an unhurried, meticulously calm masterpiece in the form of the unforgettably minimalistic La Belle Noiseuse (The Beautiful Troublemaker). For those who have thrilled at many of the director's more notable works like The Duchess of Langeais, Paris Belongs to Us, L'amour fou or Va Savoir, the fact this nearly four hour drama takes its time while diving into every emotional nuance imaginable will hardly come as a surprise. Newcomers to the filmmaker, however, might want to start with one of those other motion pictures before diving into this one, for as brilliantly realized as it all might be this is still certainly one drama that takes the cliché of "watching paint dry" as a literal ideal worth cinematically achieving.
Structure and time mean very little here. Events move forward as if they were autumn leaves blowing wherever the whims of the wind take them. Rivette depicts creation in unhurried detail, allowing each of Frenhofer's brushstrokes to speak as loudly or as confidently as any authoritatively delivered monologue ever could. William Lubtchansky's (The Woman Next Door) cinematography is unsurprisingly gorgeous, his use of texture and color simply extraordinary. But the visuals reveal so much more about what is going on inside the painter's head than an initial passing glance might indicate, the level of creative specificity they highlight having an emotional component that's downright shattering.
I can't say I'm as familiar with Rivette's filmography as I'd like to be. Even so, I still consider La Belle Noiseuse to be something of a 1990's masterpiece. While I certainly have to be in the mood to give this motion picture a look, this is still one stunning examination of art and artistry that I find more and more to revel in, mull over and adore each time I do. This new restoration is as pristine as it is magnificent, Cohen Media's Blu-ray presentation by all accounts perfect.
THE VIDEO
La Belle Noiseuse is presented on two 50GB Blu-rays with 1.37:1 1080p transfers.
THE AUDIO
These Blu-rays feature French LPCM 2.0 soundtracks and include English subtitles.
THE EXTRAS
Extras include:
DISC ONE
Audio Commentary with film historian Richard Suchenski
DISC TWO
Audio Commentary with film historian Richard Suchenski
Archival Interview with Director Jacques Rivette (13:28)
Archival Interview with Co-Writers Pascal Bonitzer and Christine Laurent (21:10)
2017 Re-Release Theatrical Trailer (1:51)
Other than the archival interview with Rivette, I honestly haven't taken the time to dive into the extras as of yet. I will at some point, most definitely, especially historian Suchenski's audio commentary, but as this is an almost four hour motion picture finding the time isn't all that easy. Please forgive me.
FINAL THOUGHTS
Jacques Rivette's La Belle Noiseuse certainly isn't for everyone. Methodically paced, obsessed with emotional minutia as it relates to the artistic creative process, this almost four hour motion picture can be more than a little bit trying if one attempts to watch it without really focusing on all that Rivette is analyzing. But once one gets into the mood of the piece, the film transforms into something glorious, and as such is a timeless marvel worthy of dissection and debate. Cohen Media's Blu-ray presentation is sensational, and fans of the film or of the director are urged to pick this disc up for their collection right away.