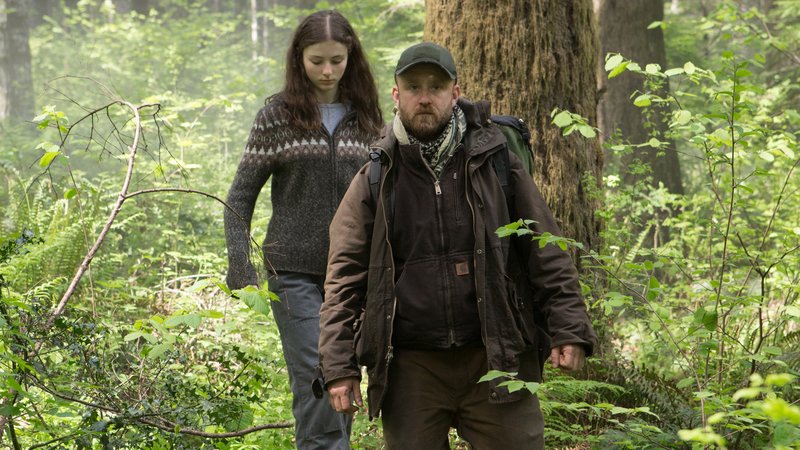 a SIFF 2018 review
Quietly Introspective Trace an Emotionally Inspirational Character Study
Debra Granik rocked my world with Winter's Bone, a searing, transcendent character study about an Ozark teenager who through sheer force of will manages to hold her family together while also unraveling the mystery behind her drug-dealing father's disappearance. The movie made a star out of Jennifer Lawrence, who received her first Best Actress Academy Award nomination, while also managing somewhat surprising Oscar nods for Best Picture, Best Adapted Screenplay and Best Supporting Actor for John Hawks. It was also my pick for the best film of 2010 and as of right now sits comfortably in the upper echelon of my favorite pieces of cinema of the 21st century, so it should come as no surprise I've been waiting with bated breath for awhile now to see what Granik had in store for us next.
That would be the engrossing, masterfully nuanced Pacific Northwest drama Leave No Trace. Based on the novel My Abandonment by Peter Rock, Granik's movie is a quietly empathetic stunner featuring a magnificent performance from veteran actor Ben Foster and an even more impressive one from newcomer Thomasin McKenzie. They play Will and Tom, a father-daughter duo currently living under the radar in the eight-square-mile expanses of Forest Park located in the mountains just outside of Portland, Oregon. They're illegally camping, and as such the pair is constantly on the move, making sure to stay one step ahead of the authorities as best they can.
Co-writing the screenplay with frequent collaborator Anne Rosellini, Granik's latest is never quite what it appears to be. It's a character study of a psychologically wounded everyman who views himself as his daughter's savior, while she in turn slowly comes to realize there's more to the world at large than what her father chooses to show her. During their trips to the local VA hospital she gets the opportunity to see and interact with other psychologically wounded military vets and begins to learn there's more to Will's ailments than she ever realized. Progressively Tom comes to see that her future prospects and overall happiness cannot be chained to her father's current mental status. At the same time, she refuses to leave him alone, instead hoping she can find him some sort of assistance that will allow him to heal and her to stay a vital part of his life.
It's meditative, relatively simple stuff, events progressing with a thoughtful grace and a level of sympathetic understanding that's remarkable. Granik allows her film to go practically silent at key moments, the sounds of nature, the VA hospital or the hustle and bustle of the city the only sounds guiding Will and Tom to their next destination. Through this, the director discovers a level of cathartic communication and psychological rejuvenation that feels organically authentic, the emotional progressions that subsequently transpire achieving a humanist resonance I fully embraced.
There's a great, albeit brief, turn from Dale Dickey in a key supporting role that is as far removed from her ferociously primal Ozark matriarch in Winter's Bone as anything I could have dreamt possible. There is also stunning, reflectively sparse camerawork from Michael McDonough (Sunset Song) that held me spellbound. The way he and Granik utilize their frame is almost otherworldly, little clues leading to a bigger picture waiting for Tom to discover during her introspective investigation into the human psyche, most of them cleverly lurking right there in plain sight.
But it is the acting of the two leads that makes the film special. Foster has been an underrated and undervalued talent for years now. From 3:10 to Yuma to 30 Days of Night, from Ain't Them Bodies Saints to Lone Survivor, from The Messenger to Hell or High Water, the man has given so many memorably varied performances there just isn't time to list them all. With Will he arguably does his finest work yet, inhabiting this wounded warrior and determinedly loving father in ways that even with my high appreciation of his abilities went far beyond anything I was ready for. He's so restrained, so uncomfortable in his own skin, Foster so breathtakingly superb I can't help but hope that Oscar voters remember him when it comes time to cast their nomination ballots.
New Zealand talent McKenzie is maybe even more incredible. Much like she did with Lawrence in Winter's Bone, Granik confidently directs another young actress, helping her find emotional nuances inside her character that go well beyond anything a casual viewer ever could have anticipated. McKenzie is fearless, unafraid to go absolutely still and absorb the quiet majesty of all that is happening around her, while in the very next instant she's just as ready to purposefully stand up for herself and her future needs when the situation finally arises for her to do so. She's mesmerizing, and there was never a moment I wanted to take my eyes off of her, Tom such an intriguing character I could hardly wait to learn what she was going to do next.
Unlike either Down to the Bone or Winter's Bone, I can't say I felt the same sense of urgency watching this motion picture as I felt the first time I watched Granik's previous two endeavors. At the same time, the director's restraint, her use of space and her willingness to allow her talented actors the freedom to craft such magnetically vibrant performances, all if it is extraordinary. Leave No Trace is a human mystery where the clue to answering complex psychological riddles squarely resides in the familial bonds a father shares with his only daughter, Tom's ability to see the bigger picture while also taking charge of her life on her own accord an inspirational stunner to say the least.
Film Rating: 3½ (out of 4)