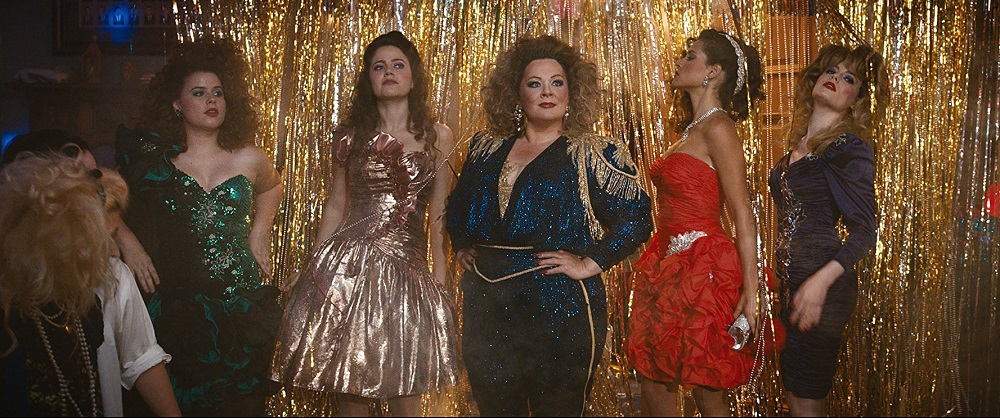 Agreeably Goofy Life an Endearing Collegiate Comedy
After her husband Dan (Matt Walsh) announces he wants a divorce on the day they drop their only daughter Maddie (Molly Gordon) off at college for her senior year of school, longtime housewife Deanna Miles (Melissa McCarthy) is understandably upset. While initially content to commiserate with her longtime best friend Christine (Maya Rudolph), after thinking on things Deanna comes to a realization. While they were in college, she put her dreams of earning her archeology degree on hold so she and Dan could start a family, always thinking she'd go back and finish her final year of college at a later date. But "later" never happened. With nothing to lose Deanna returns to school, re-enrolling as a senior alongside her initially dumbfounded, if eventually elated daughter Maddie, the two Miles women taking college by storm as they both strive to achieve their respective dreams.
Teaming up and co-writing the script with her director husband Ben Falcone for the third time, Life of the Party is a huge step up from the almost unwatchable, if still oddly ambitious, mediocrity of Tammy and The Boss. While less edgy, while not as interested in pushing boundaries or creating an aggressive mixture of comedy and drama as those two features were, this pleasant little piece of overly-familiar fluff is nonetheless moderately entertaining. It's a captivating bit of comedic comfort food, and while a little too reminiscent of the 1986 Rodney Dangerfield favorite Back to School, McCarthy and Falcone still acquit themselves nicely, and as such this is a movie I end up finding it surprisingly difficult to say anything all that bad about.
Don't get me wrong. The supporting characterizations are thin and nondescript, almost as if McCarthy and Falcone watched films like Neighbors, The House Bunny, Legally Blonde and the aforementioned Back to School and decided to see if they could create situations and characters that would purposefully blur the line between homage and plagiarism. If you ask me to tell you anything concrete about the young women portraying Maddie's sorority housemates I could honestly say precious little other than the actress who portrays Helen, a.k.a. "Coma Girl" (the nickname makes sense when you watch the movie), Gillian Jacobs, goes all out and does whatever she can to get a laugh. If you were to ask me why veterans like Rudolph, Stephen Root, Jacki Weaver and Chris Parnell decided to be in this for any other reasons than their friendship with the filmmakers or to pick up a quick paycheck I don't think I could come up with an alternative rationale anyone might find believable.
The thing is, all of them are still fairly funny, each getting just enough time to do something interesting or amusing to make their presence worthwhile. Additionally, I honestly liked just how friendly and strangely polite this movie proved to be. This is especially true of the sorority sisters played by Jacobs, Jessie Ennis and Adria Arjona. Their characters embrace Deanna instantaneously, opening their hearts to her as if she were just another woman residing in their house. As aggressive as some of the putdowns involving Dan and his affair with an aggressively narcissistic realtor (deftly portrayed by a ferociously venal Julie Bowen) might be, overall there is a layer of kindness and respect to this story that's charming. It all just made me smile and feel good about myself, and considering how hard both Tammy and The Boss worked to make me feel the opposite, this ended up being a fairly wonderful turn of events to say the least.
Some gags go on a little longer than necessary, while a climactic sorority house party to help Deanna stay in school doesn't exactly go anyplace unexpected or interesting. Even a surprise cameo ends up feeling a little half-baked, almost as if this musical surprise was an idea McCarthy and Falcone had at the last second and found some way to throw into the proceedings. Some of the more ungainly pieces just refuse to fit together, while others feel as if they were extracted from a completely different, far less engaging comedy I'd rather not have had to sit there and watch.
But even this feels like a minor flaw, and Life of the Party thankfully rebounds rather quickly at the end to go out on a couple of heartwarming scenes of family, sisterhood and the pursuit of educational achievement that's suitably endearing. McCarthy gives a lively performance overflowing with peppy enthusiasm and emotional complexity, her chemistry with Gordon a continual delight. Even if this isn't a film I'm going to be thinking about much longer than the time it takes to write this review, it still makes me feel good enough that I'm happy I gave it a look, the overall positivity with which Deanna chooses to live her life undeniably infectious.
– Review reprinted courtesy of the SGN in Seattle
Film Rating: 2½ (out of 4)