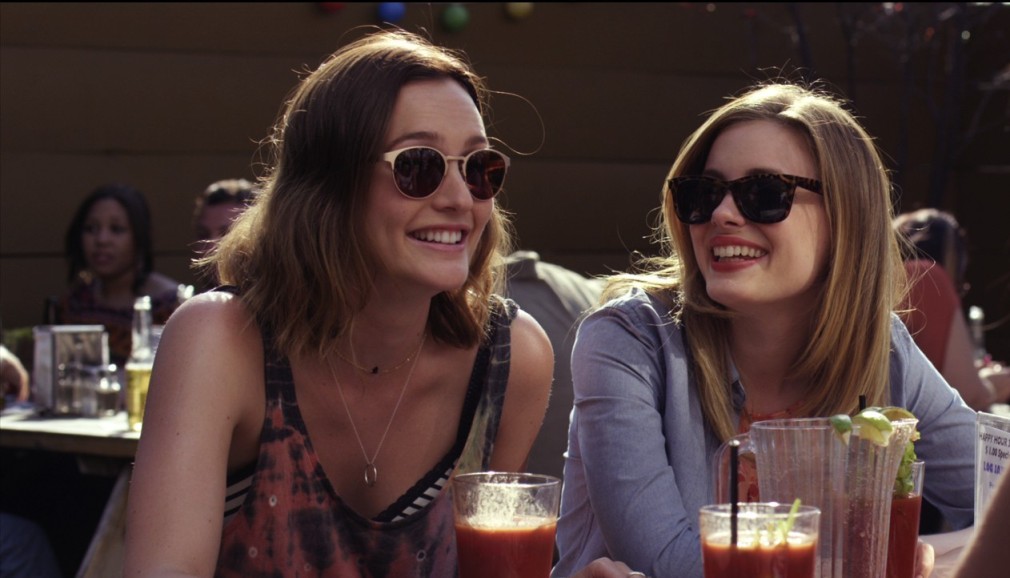 Endearing Life Partners Puts Friendship First
Sasha (Leighton Meester) and Paige (Gillian Jacobs) have been friends for what feels like forever. Neither has had a significant relationship of any import or meaning that looked like it was going to last, and in the end the only person either of them has ever felt they could count on is the other. But when Paige meets Tim (Adam Brody) everything begins to change, the pair's co-dependent friendship put to the ultimate test now that romance really does seem to be a part of the bigger picture.
Whenever director Susanna Fogel and co-writer Joni Lefkowitz's (the pair also collaborated on ABC Family's "Chasing Life") amiable, free-spirited dramatic comedy Life Partners focuses entirely and solely on Sasha and Paige's evolving friendship it is close to magical. As honest and as life-affirming a depiction of female relationships, how they shift, weave and evolve over time, as any to see the recent light of day, the movie is an authentic charmer that put a smile on my face I wasn't prepared for. It's very entertaining, and even if the pair – longtime friends who used facets of their own history as inspiration for their script – don't have a lot new to say they're still saying it with tenderly passionate vivacity all the same.
It's the more blasé romantic comedy stuff where the film comes up short. The majority of the bits revolving around Paige and Tim's blossoming love is a little on the sickly side of the equation, reeking of sitcom platitudes I can't say I cared for. Sasha's stumbling and bumbling looking for her own paramour are equally ham-fisted and hackneyed, at times belittling the character in ways that feel out of step with the rest of the motion picture.
Yet overall Fogel and Lefkowitz's script treats both women with such respect, such openhearted affection, that it's really hard for me not to want to give Life Partners a great big hug. Sasha's Lesbianism just is, nothing more, not some gigantic issue needing to be dissected, debated and made the end all-be all of everything taking place. As for Paige, the fact the movie doesn't care if some of her decisions put her in less than appealing light is a good thing, allowing the character to have gradations making her far more authentic – and thus relatable – in the process.
Then there are Meester and Jacobs themselves. The latter, a comedy firebrand on "Community," gets an opportunity to strut her stuff in ways that a half-hour program doesn't allow for, crafting a complex, borderline cold-hearted figure eager to make her way into the adult world on her own, not realizing what the ultimate cost might actually entail. Yet even at her most unlikable there is still something endearing about Jacobs' performance, something genuine, almost life-affirming, making the emotional hurricanes taking place during the last act even more powerful because of this.
As for Meester, the "Gossip Girl" starlet has never been this good. Granted, she's also never been given a character this gloriously complex, the actress digging and letting go in ways I honestly didn't think she was capable of (and I'm a big fan of her gloriously kitschy television show). She makes Sasha an invigorating marvel of intelligence, physicality, warmth and emotion, and even at her most sarcastically indelicate she exudes a raw vulnerability that's stunning. Meester elevates things to a different level almost on her own, her chemistry with Jacobs so out of this world there's no way the movie would have been nearly as successful if they were not a part of it.
It's a pity the secondary elements aren't as successful as the central friendship is, because if they were we might be talking about something borderline transcendent, maybe even magical. As it is, however, Fogel and Lefkowitz have delivered a wonderfully entertaining debut that's difficult to resist even if it is marginally tough to love, Life Partners ultimately as messy, and as endearing, as the friendship it so exuberantly revolves around.
– Review reprinted courtesy of the SGN in Seattle
Film Rating: 3 (out of 4)