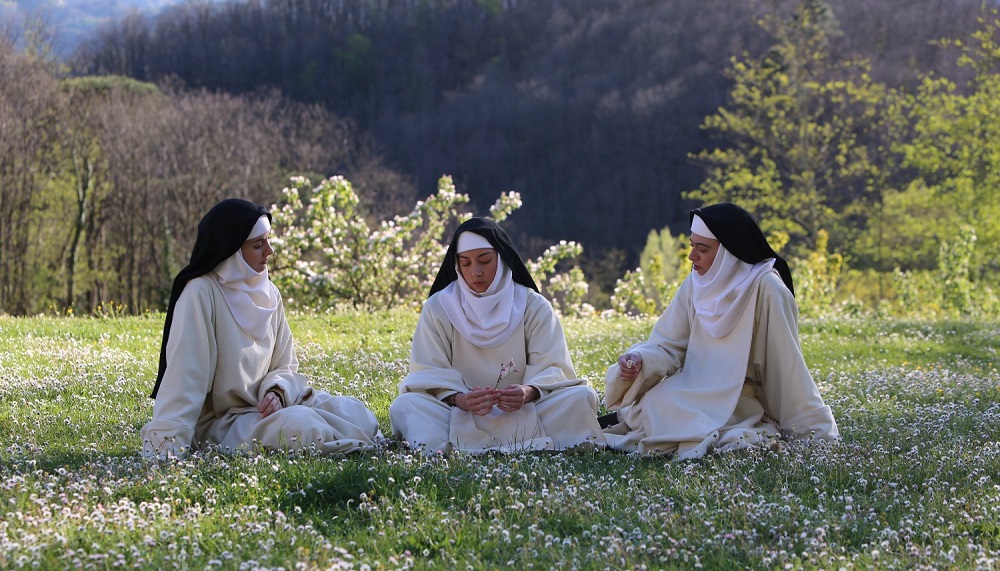 a SIFF 2017 review
Bawdy Hours an Impressive 14th Century Comedy Treasure
After Life After Beth and Joshy, I can't say I thought the next thing on writer/director Jeff Baena's agenda would be to adapt Giovanni Boccaccio's 14th century masterwork The Decameron into a ribald, R-rated comedy. After all, neither of those previous efforts would lead anyone to believe the filmmaker was the second coming of go-for-broke Italian maestro Pier Paolo Pasolini. Yet, Baena proves to be someone more willing to break convention and attempt the unthinkable, his gloriously silly, unapologetically lewd, sexually-charged The Little Hours ample proof of that.
In a remote Italian monastery, nuns Sister Alessandra (Alison Brie), Sister Fernanda (Aubrey Plaza) and Sister Ginerva (Kate Micucci) are exceedingly good at making life miserable for their Mother Superior, Sister Marea (Molly Shannon). Father Tommasso (John C. Reilly) cannot believe the audacity of these women either, the way they find ways to circumvent their vows and then come to him for forgiveness impossible to believe.
Not that he is entirely above reproach. After meeting a stranger, Masetto (Dave Franco), out on the road, after hearing his tale of woe involving a local landowner, Lord Bruno (Nick Offerman), and the man's adulterous wife, Francesca (Lauren Weedman), he decides to bring him back to the monastery for safety. But he lies to the Sisters, telling them Masetto is a deaf mute who is there to work the grounds, a secret bit of deception he reconciles the Heavenly Father will forgive for as it's made with the best of intentions. None of which stops Alessandra, Fernanda and Ginerva from making the young man's life difficult, and not just because of the high volume of verbal abuse they throw his way. No, they want his body as well, and not just to look at with chaste appreciation.
Is The Little Hours great? No. Is it consistently funny? Heck yeah it is, the movie an anarchic fit of physical, sexual and verbal madness that only gets more explosively hysterical as events progress. Even better, Baena does a fine job of exploring gender relations within the confines of a 14th century absurdist comedy, and as good as the likes of Reilly, Franco and other male members of the cast might be, make no mistake, the women are undeniably the stars of this particular show. Shannon, Plaza, Micucci and especially Brie are all terrific, ferociously tearing the film apart as they brazenly make their respective ways through all this wacky peculiarity.
So many bits make me chuckle when I think back on them, notably a third act revelation involving a few of the nuns and a witches bacchanal that's every bit as demented as one imagines it would be. But there is sweetness amidst all the debauchery, honest human truth laced within the corsetry of the sex and abuse Boccaccio's source material revels in. I was taken aback on more than one occasion by the emotionalism that fueled much of this story, Brie's pained, pent-up aggression as she listens to her merchant father (Paul Reiser, in a delightful cameo) deliver heartbreakingly callous news simply sublime.
Baena orchestrates events with confidence and flair, allowing his amazingly talented cast room to frolic as they all work in tandem to make the material come alive with a rebellious zeal that's ingenious. If Joshy was a noteworthy improvement over Life After Beth, then The Little Hours is an even bigger leap in storytelling expertise on the director's part. Baena looks to have been so inspired by Boccaccio his enthusiasm is infectious, and while I'm not about to compare the director with the likes of Pasolini, that does not make his accomplishments here any less impressive.
– Review reprinted courtesy of the SGN in Seattle
Film Rating: 3 (out of 4)
Additional Link: