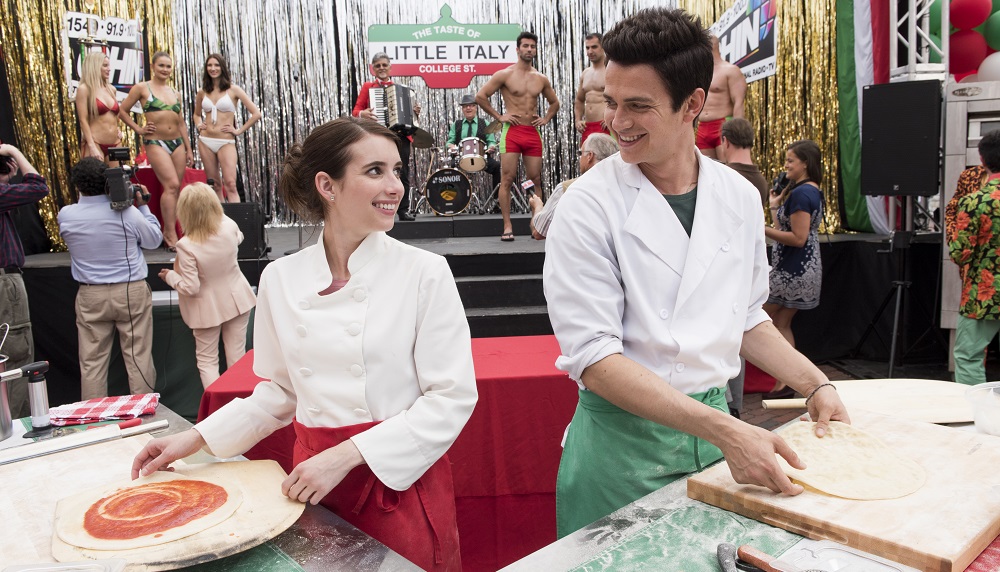 Cheesy Little Italy a Serviceably Bland Romantic Comedy
In the close-knit Toronto neighborhood of Little Italy, Nikki Angioli (Emma Roberts) has returned home after almost five years studying the culinary arts in Europe. She's reunited with her childhood friend Leo Campo (Hayden Christensen), the two known for their intense competitive rivalry, especially on the soccer field. They haven't spoken much of late because their two families, once friends, have now become arch rivals, their respective fathers owning a pair of dueling pizzerias which are in a continual battle for supremacy right in the heart of Little Italy.
There's little that is original in regards to Grumpy Old Men and Miss Congeniality director Donald Petrie's romantic comedy Little Italy. Nikki and Leo will see their lifelong friendship develop into love. Silly roadblocks will force the two to wonder if they're honestly supposed to be together or if it would be better if they go their separate ways. The reasons for the feud that has transformed their families from lifelong friends to bitter enemies will be revealed, while a culinary competition that the whole neighborhood comes out to watch will pit Nikki and Leo against one another in foodie combat whether they want to be involved or not. There's nary a surprise to be found, everything building to a requisite public display of undying affection spoken before a gaggle of total strangers while each individual's family looks on visibly choked-up and suitably misty-eyed.
Not that I minded. Roberts and Christensen are a surprisingly winning romantic pair, the former showcasing her signature charms with an effortless ease that's delightful. As for the latter, while he'll never be an actor with a great deal of emotive range, he's far more eloquent and captivating here than he's ever been before. Heck, Christensen is just good enough he almost made me forget about his unintentionally hysterical attempts to express similar exultations of love as Anakin Skywalker in Star Wars: Episode II – Attack of the Clones, the actor thankfully avoiding any mention of "sand" this time around.
The other element I grew more and more fond of as the film progressed was the clandestine relationship between Leo's grandfather Carlo (Danny Aiello) and Nikki's grandmother Franca (Andrea Martin). I'm not going to say Steve Galluccio (Mambo Italiano) and Vinay Virmani's script does anything extraordinary or unexpected with this subplot because, like everything else in the film, there's nothing all that original in regards to anything the pair has come up with. But veterans Aiello and Martin are just wonderful in these roles, and as such I found it impossible to resist either of them. They bring an old school magnetism to the picture that it sadly lacks virtually everywhere else, a piece me wondering what might have been had the primary scenario focusing on Nikki and Leo been scrapped altogether and the story had focused on Carlo and Franca instead.
I'm still not recommending anyone head out to the theatre or pay theatrical streaming VOD prices in order to give this romantic comedy a look. The level of treacle is obnoxiously high, while the inherent sitcom elements that propel the majority of the plot towards its conclusion get more and more moronic as things go along. Alyssa Milano and Jane Seymour are wasted in a pair of throwaway parts well beneath their talents, and even if both do what they can there's just nothing memorably substantive the actresses can do to make their performances memorable. This is admittedly better than what can be said for both Gary Basaraba and Adam Ferrara, their turns as Carlo and Nikki's warring fathers so broadly cartoonish every scene involving them comes perilously close to being unwatchable.
Even with that all being the case, there's no way I can come down too harshly on Petrie's sugar-coated endeavor. While this movie won't do for Roberts what the director's Mystic Pizza helped do for her Oscar-winning aunt back in 1988, and while Little Italy won't prove to be anywhere near as memorable in the long term as that fellow independently produced effort has proven to be, even with an extra large sampling of undercooked melodramatic hooey I find it difficult to find this slice of cheesy romance to be entirely inedible. I know that's not exactly a recommendation, but in this instance it's honestly the best response to the film that I find I'm able to cook up at this exact moment.
Film Rating: 2½ (out of 4)